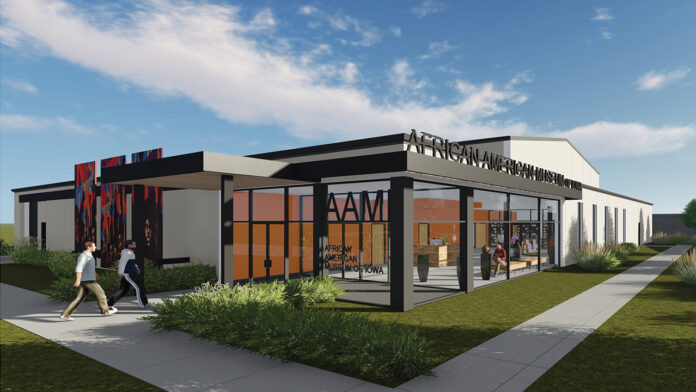 In the final round of grant funding from Destination Iowa, Governor Kim Reynolds and the Iowa Economic Development Authority (IEDA) awarded more than $4.5 million to Corridor-based projects including renovations at the African American Museum of Iowa (AAMI).
Destination Iowa is a $100 million investment in quality of life and tourism attractions. On March 9, Gov. Reynolds announced $26.88 million in funding for the final round of investment, in addition to another $15 million due to the program's popularity. This was done to invest in applications from rural communities that did not receive grants in previous rounds.
Funding is made possible through the federal American Rescue Plan Act (ARPA).
The African American Museum of Iowa in Cedar Rapids was awarded $800,000 toward major renovations and the reinstallation of the Dr. Martin Luther King Jr.-inspired "Trumpet" sculpture and garden, representing approximately 17% of the project's total funding.
"This award is further testament to the significance of the AAMI in teaching about our black heritage," said AAMI Executive Director LaNisha Cassell in a Linkedin post. "Most importantly, it enhances our ability to educate Iowans about our full history, while lifting up the voices that have gone unheard.
The museum temporarily closed in August but plans to reopen in the third or fourth quarter of 2023 after renovations, the CBJ reported in December.
Elsewhere in Cedar Rapids, the city received $3 million toward the Alliant LightLine Loop project in the Czech Village and NewBo District, representing approximately 16% of the project's total funding.
This project will replaced a railroad bridge destroyed in the 2008 flood with a new bridge connecting NewBo and Czech Village, featuring an LED-lighted tower.
In Washington County, the YMCA was awarded $750,000 for an indoor aquatic center, representing 10% of the total project investment.
In all, Destination Iowa awards were granted to 46 projects totaling $115 million that activated $480,265,783 in total investment.
"Destination Iowa has inspired communities in all corners of the state to dream big about projects that will bolster quality of life and attract newcomers," Gov. Reynolds said in a statement. "The demand is so high, especially in rural areas, that I've extended the program to help more rural communities realize those dreams."
IEDA opened the Destination Iowa program in May 2022 and accepted applications through Dec. 31. Funded projects must be completed by June 30, 2026.