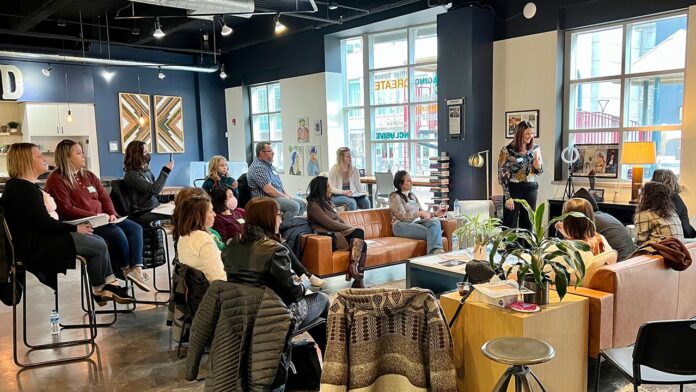 Pearson Education manager Jelena Beideman is passionate about the world of technology and engineering, and she knows some women could feel the same with the right guidance.
"I'm a curious person by nature," she said. "I like the ability that, if one chooses to always grow, there's always something to grow within the space of technology. I am one of the few women in engineering, so I'm very passionate about supporting women in this space."
Having worked in tech for more than 20 years, Ms. Beideman started her career as a data center engineer before moving into business roles — a career path she says is common for women.
"Women tend to go into more business or leadership roles, or they leave the field altogether," she explained. "There's this perception of the environment not being supportive of mothers. When my children were younger, I didn't feel that I should raise my hand for leadership roles. I wanted to fit all these different pieces that are important to me together, and I didn't feel like I could do that."
"Twenty years later, I realized this is possible, but it can only be possible if there are enough of us there to support each other," she added.
Men make up 73% of all science, technology, engineering and math (STEM) workers, according to the 2020 census. And despite a 19% increase in total STEM jobs held by women since 1970, there have been smaller gains in computer and engineering occupations, which make up 80% of the STEM workforce. Women only represent about a quarter of computer workers and 15% of employees in the engineering profession.
Wanting to address this problem, Ms. Beideman transitioned back to the engineering space — where she continues to work at Pearson Education as a site reliability engineering manager — and decided it was time to launch Her Tech Collaborative, a space where women of all stages of their career can meet to network, talk about issues such as pay equity, find mentors and learn about internships or reskilling opportunities.
"As somebody that hires cloud engineers, when I open a role, there's hardly any women or diverse candidates that apply to those roles," Ms. Beideman said. "As an organization, we need to foster and sustain a pipeline of female or female-identifying persons that want to gain technology skills."
The new group, which held its inaugural monthly meeting April 5, was made possible with help from Builders and Backers and Heartland Forward, a nonprofit think tank dedicated to economic development among inland states. Through Builders and Backers, entrepreneurs are selected for the Idea Accelerator, where they participate in a 90-day virtual program designed to flesh out ideas and business plans. 
They also receive $5,000 in grant funding to support the experimentation phase of an idea. Ms. Beiedeman used those funds to kick off events and purchase equipment, and she says the staff is great about "breaking down problems" she has identified with her business.
The first cohort group out of Iowa City will complete the program at the beginning of May.
Ms. Beideman wants to use Her Tech Collaborative to inspire the next generation of women in tech by holding engineering camps for girls.
"My goal for this collaborative is that it becomes owned by those who get engaged," she said. "The mission is to change the face of tech. It's not just a mission of just one woman. From what I'm seeing, there are a lot of us that are ready to contribute."
"If you have 30, 40 or 50 women standing behind you, supporting you and helping you along in your journey, that's a significant level of support that can change the number of women that get into engineering roles," she added.