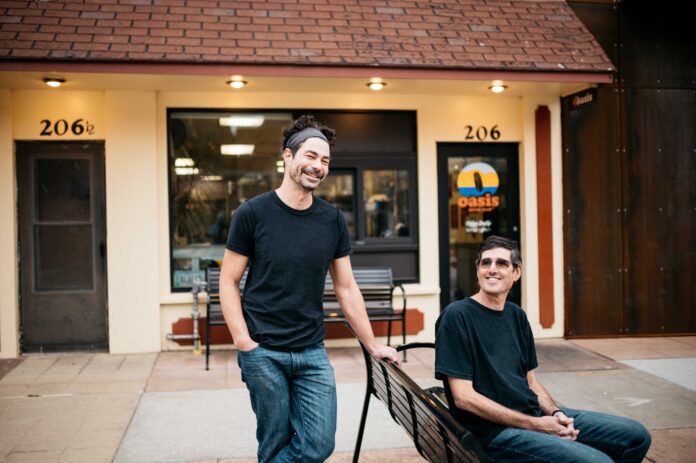 Iowa City-based Oasis Street Food is finding momentum in Eastern Nebraska, where its no-preservatives hummus is now on shelves at the three largest Costcos in the state. 
Oasis began in one Costco in Iowa a year ago and has expanded to six stores with three in Iowa (Coralville, Davenport and Des Moines) and three in Nebraska (Omaha, La Vista and Lincoln). In March the hummus made its way onto shelves at the Omaha Costco and on May 31, it appeared for the first time in the La Vista and Lincoln stores.
"This is wonderful," co-founder Naftaly Stramer stated in a release. "We are in Omaha in the Hy-Vees and Natural Grocers as well as at the University of Nebraska Omaha Medical Center and main campus. But our Costco partnership will help us get more products to our customers. Our hummus has proven to be popular in both metro areas and in college communities so these new locations are ideal for us." 
The Oasis Street Food story started in 2004. Co-founders Stramer and Ofer Sivan were craving the authentic Mediterranean food they grew up with but couldn't find locally. Using original recipes from their families, they created falafel and hummus they sold from a food cart in Iowa City. That same year they opened Oasis Falafel on Iowa City's north side. In 2018, the founders opened their second location in Omaha at 1620 Harney St.
In the years in between, as the company grew, Oasis engaged with the nationally recognized University of Nebraska Lincoln Food Processing Center. The Center provided assistance related to ingredients and shelf life. 
Fast forward a few years and the hummus has found momentum among national competitors. 
"We attribute our growth to our fans who are known for asking for our products at stores across the Midwest," Mr. Sivan said. "It really shows that people want to eat more healthy foods. As the desire for local, vegan, vegetarian, preservative-free, gluten-free, dairy-free and high-protein superfoods grows, our hummus fits the bill."
Costco sells the hummus in a larger size than other grocers. It's a 24 oz container specially made for Costco.
"You would be surprised how many of our fans tell us they go through two containers a week," Stramer said with a laugh. 
The hummus is also widely available in Hy-Vees spanning seven Midwestern states as well as at other Iowa and Nebraska-based locations
To see all of Oasis' store locations, visit oasisstreetfood.com.