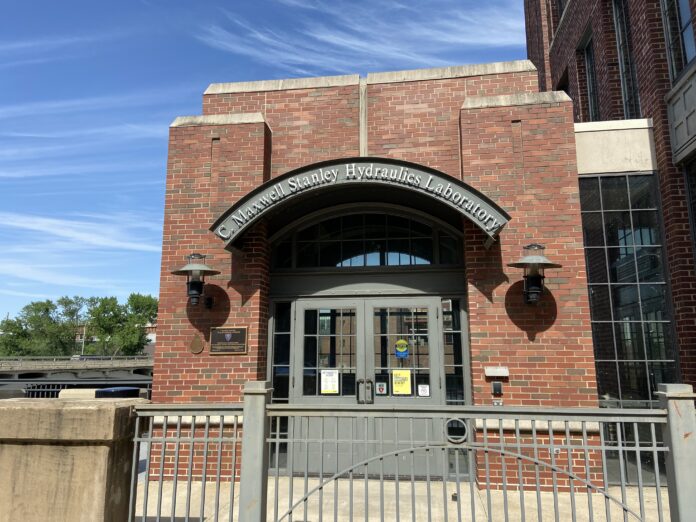 The Board of Regents recommended approval June 1 for the University of Iowa to create a Center for Hydrologic Development in the College of Engineering capable of advancing water quality forecast models.
In collaboration with the Cooperative Institute for Research to Operations in Hydrology (CIROH), established by the National Oceanic and Atmospheric Administration (NOAA) at the University of Alabama, the center's purpose is to expand the work of the Iowa Flood Center (IFC) beyond Iowa.
A main purpose of the new center is to "translate world-class water science research to operations in the next generation National Water Model (NextGen NWM), and to advance NOAA's Unified Forecast System (UFS) in delivering water-related forecast and supporting community resilience to water-related hazards," according to agenda documents.
In addition to providing educational opportunities to undergraduate and graduate students, the center will also work with the Iowa Geological Survey (IGS) to study hydrologic processes on water quantity and quality.
The NOAA and the University of Alabama are funding the center for more than $20 million over five years based on recent estimations.
Iowa Wrestling Facility, State Hygienic Lab to cost more
Market volatility, inflation and supply chain issues were cited as the reasons the already approved Iowa Wrestling Facility and State Hygienic Lab have seen sticker price increases.
The Iowa Wrestling Facility's budget is up 19% from an estimated $26.5 million to more than $31 million. The 38,500-square-foot, two-level facility will be connected via underground tunnel to Carver-Hawkeye Arena and is solely funded by UI Athletic Department gifts. Construction is expected to begin this month and finish in spring 2024.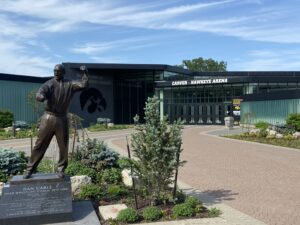 Bids for the construction project were "relatively compact which tells us they were market accurate," said Rod Lehnertz, UI senior vice president for finance and operations. "Not unlike the Hygienics Lab project, the current bidding market is very challenging."
The State Hygienic Laboratory project budget increased 22% from $10 million to more than $12 million. In January, the budget was $9.2 million. Entirely funded by Center for Disease Control grants, the university is looking to construct a new Biosafety Level 3 (BSL-3) laboratory with additional support space. Construction should begin this month and continue for one year.
Other projects
The Board of Regents on June 1 approved project descriptions and budgets for renovating the third floor of the Bowen Science Building for $16.85 million and replacing the UIHC John Colloton Pavilion for $2.3 million.
As the "most densely used research building on campus," the Bowen Science Building renovations will go toward paying down deferring maintenance, addressing physical deficiencies, reconfiguring lab spaces, incorporating localized tissue culture rooms and lab support spaces," said Mr. Lehnertz. Construction is set to begin this fall.
The John Colloton Pavilion budget will go toward replacing four high-voltage automatic transfer switches for more than $2 million, due to the devices reaching the end of their useful lives. Replacement will take place this summer throughout next year.
University officials are moving forward with expanding the Biomedical Research Support Facility (BRSF) on the UI Oakdale Campus, as well as updating West Recreation Fields.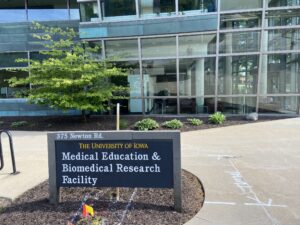 A proposed 16,700-square-foot one-story addition to the northwest corner of the BRSF would "help meet demand for wet lab research spaces," according to planning documents.
An estimated $5.3 million budget would include the construction of six turf fields, demolition of existing basketball courts and various site renovations, and minor alterations to the Hawkeye Recreation Services Building.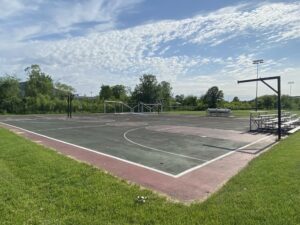 Board documents state that the current fields have physical deficiencies that, if addressed, would add approximately 60 more days of use per year for students in intramural and club sports. Mr. Lehnertz believes the upgrades would have a useful life of 10 to 20 years if properly maintained.