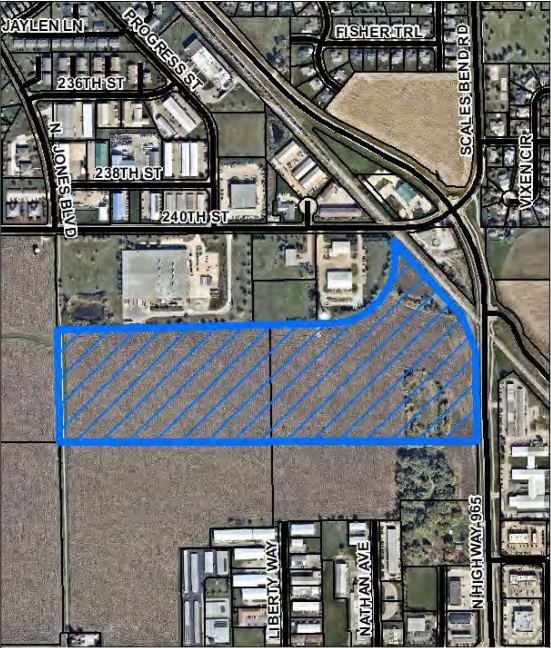 The city of North Liberty will hold negotiations with property owners to acquire land to construct a new fire station and community park, following agreement by city council members during a July 26 meeting.
Staff envision four acres of agricultural land near Centennial Park and 42 acres north of Penn Street near North Jones Boulevard as the ideal locations for a fire station and community park, respectively.
Now that both resolutions passed, negotiations with property owners can begin. This is a necessary precondition before eminent domain can be exercised.
City Administrator Ryan Heiar noted proximity to certain neighborhoods and finding a site "big enough to accommodate what we know we're going to need immediately…and then finding a piece of property that was essentially shovel-ready" were two major factors in determining the best location for a fire station.
Molly Parker, a lawyer with Shuttleworth & Ingersoll representing the family owning the land North Liberty wants to purchase for a community park, asked city council to table that resolution for several months to allow for more informal, good-faith negotiations. Council ultimately opted to pass the resolution instead.
North Liberty City Council votes on housing
City council advanced preliminary plats and rezoning amendments dedicated to adding to North Liberty's housing stock during the July 26 meeting. Here are some highlights:
The Buck Moon Preliminary Plat, located at the east side of North Dubuque Street and south of Scales Bend Road, would consist of 61 single-unit residence lots, seven townhouse lots and related infrastructure on 24.18 acres.
Rezoning of the property at the north terminus of Morrison Street could add 22 additional homes. Some residents objected prior to the meeting saying it would increase traffic.
Rezoning of 36.32 acres at the southeast corner of North Liberty Road and Oak Lane NE could facilitate development of up to 37 residential lots.
More: North Liberty green-lit numerous housing developments April 12