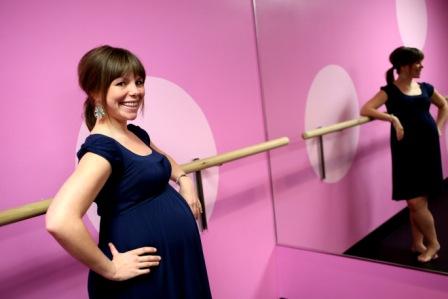 By Pat Shaver
NORTH LIBERTY—In a matter of a few weeks, Megan Snyder's life will undergo major changes.
As a 29-year-old business owner, Ms. Snyder has seen her dance studio grow in North Liberty. The business will move into its new, larger space in September. In early August, she will give birth to her first child, a baby boy.
Five years ago, at 24, she was in a similar position personally and professionally. She opened Debut Dance and married her husband, Pat Snyder, a teacher at Garner Elementary School.
Ms. Snyder's business originally started as a Pilates studio for adults, with a few dance classes for kids.
"The first year we saw the dance program growing so much," she said. "This is the fifth year and each year we've been so fortunate to experience more growth."
She switched the company's focus to a dance studio, and it now has 250 students. There are six employees, all either UI dance program graduates or former dance team members.
The current studio at 1210 Jordan St., Ste. 1, in North Liberty is about 2,800 square feet. The new building, at the corner of Penn Street and Highway 965 near the McDonalds in North Liberty, will be 6,000 square feet. The expanded dance studio will open Sept. 1. There will be a reopening event at the new studio Sept. 15.
Ms. Synder started dancing as a 3-year-old and realized at 12 she found her passion. She danced with a studio in high school and was also involved in the City High dance team and show choir.
"My junior or senior year in high school, I had an epiphany that being a studio owner would utilize all of my talents," Ms. Snyder said.
She majored in dance at the University of Iowa and was on the UI dance team. Once she finished college, her next step was an easy decision.
"In college, I wasn't the type that wanted to be the starving artist in the big city," she said, adding she wanted to have a career where she could be near family in Iowa City.
As she was writing a business plan, she had help from her mother, a business teacher at West High School in Iowa City. Her mother is also the studio's office manager.
"Once I was done dancing, she missed being in that environment," Ms. Snyder said. "If I could go back, I would take more business classes, but the real world experience is priceless."
The extra space allows for the studio to increase the number of classes it offers, Ms. Snyder said. At the location now, the business has had to turn people away because there wasn't enough space. She also sees growth through the number of classes students sign up for.
"I have a staff that loves what they do, we really promote a family environment," Ms. Snyder said.
And North Liberty is an ideal location, she said.
"This community really accepts dance. This is a great location in North Liberty, it's booming and full of young families," she said. "Just in five years, this town has changed so much."
The growth of interest in dance could be from reality television shows and parents looking for ways to keep their children active, Ms. Snyder said.
"The dance world has really changed and gained popularity," she said. "I think a reason dance has gained popularity is because it's just a great activity to get involved in. The kids gain confidence in themselves and it's a great way to learn leadership."
Debut Dance offers professional instruction in children's dance classes, ballet, pointe, pre-pointe, tap, jazz, hip-hop, acro, lyrical, dance team and modern dance technique. Whether dance students wish to dance recreationally or competitively, the studio focuses on giving students the opportunity to experience dance in a welcoming environment that improves self-esteem.
"I see us being in the space for five years and eventually I would like to open another location," she said.