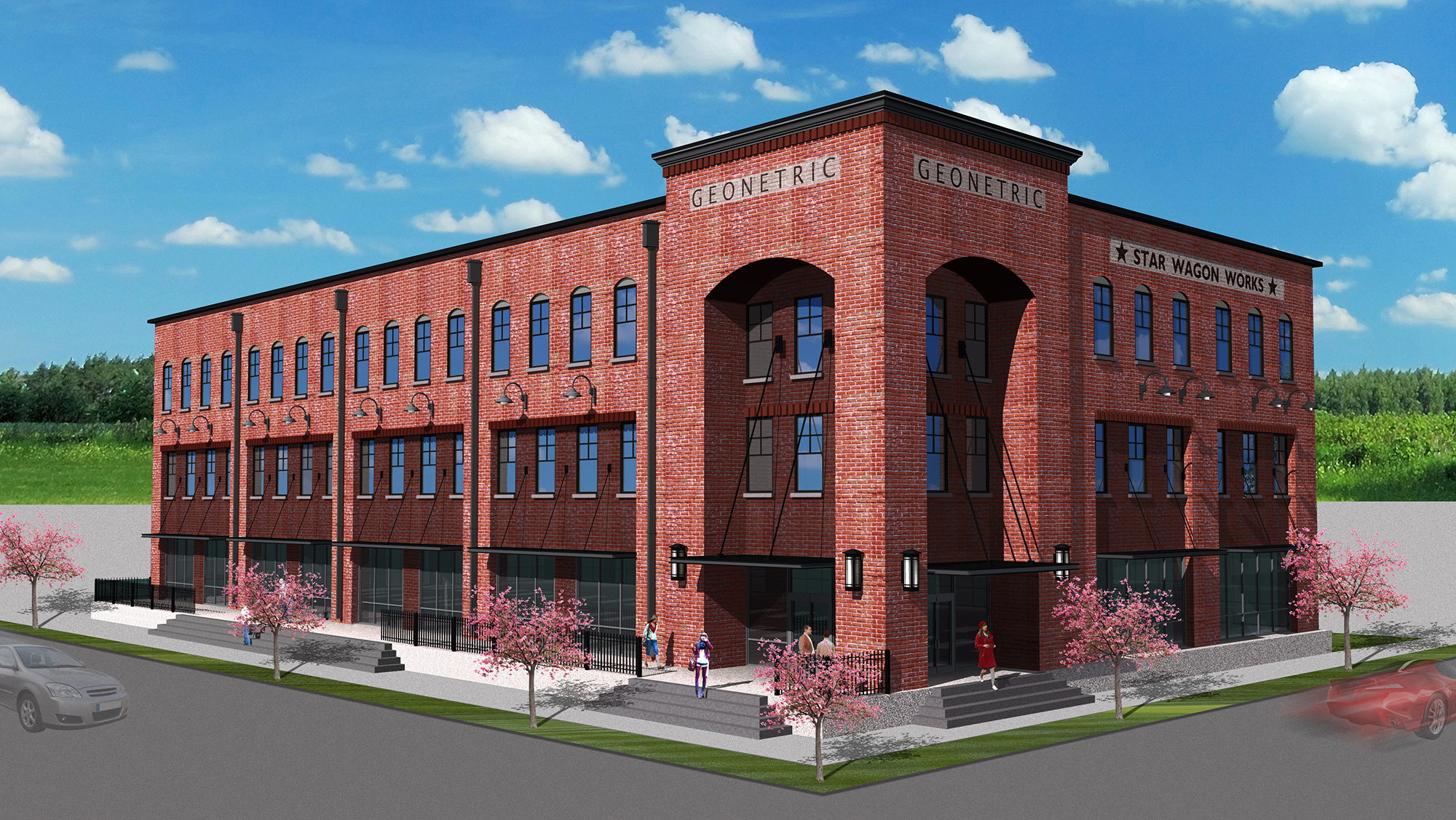 By Gigi Wood
CEDAR RAPIDS – It's a centennial goal.
Vault Coworking & Collaboration Space, 222 Third St., and Geonetric, the Cedar Rapids-based healthcare website and software developer, recently announced a partnership. When Geonetric opens its new building in the New Bohemia space early next year, Vault will manage one floor of the building, which will be set aside as a business incubator and coworking space.
Vault, which celebrated its two-year anniversary June 27, will leave its space on the fifth floor of the Guaranty Bank building, which has been provided rent-free until this month. The small business owners, entrepreneurs and other professionals who occupy the Vault now, will move to Geonetric. And while the Vault accommodates about 30 people on a daily basis, the new space will allow for much more. How much in rent Vault will be paying at Geonetric has yet to be established, said Amanda Styron, who co-founded Vault and Seed Here, an organization that works to increase entrepreneurship in the Corridor.
Ms. Styron and co-founder Andy Stoll have also led the branding effort for Iowa's Creative Corridor, the newest moniker for the Cedar Rapids/Iowa City area. The two have been involved in promoting entrepreneurial activities in the Corridor for a handful of years now and helped launch Startup Iowa, which is one branch of the larger Startup America Partnership.
Because of their early involvement with Startup America, Iowa was chosen as the only North America location for an entrepreneurial summit, which will take place Oct. 21-23. Startup America merged with Startup Weekend to create UP Global, and its first convention will take place in the Corridor. About 200 entrepreneurs from across the continent will travel to the area, to learn more about startups. Meanwhile, they will likely attend many of the events taking place for Creative Week 2013 from Oct. 19-26.  During Creative Week, several local organizations will host tours and showcase their products or give lectures. The highlight of the week, though, is the annual Innovation Expo on Oct. 23 at the Coralville Marriott, where dozens of entrepreneurs, investors and local officials gather to pitch and encourage startup business ideas.
Vault 100
Meanwhile, Ms. Styron recently announced Vault 100, a new initiative to promote entrepreneurship and increase the number of startups in the region. Area startups RecBob and Bandwidth Pool have found recent funding and other successes and credit the support of the local entrepreneurial community. That, and the number of collaborations that have taken place at Vault that have helped launch businesses, are evidence to Ms. Styron that the Vault/Seed Here effort is effective.
"There are just so many things working that as I was looking at it as the person who had to sign the lease and take on the liability, I just thought, 'we can't not go forward,'" she said. "Partnering with Eric creates this amazing opportunity to build what we've always wanted for this space, which is something that is really purpose-built, that can have more sophisticated programming and classes."
Between now and when Vault actually moves to Geonetric, there will be about a year of paying rent at Guaranty Bank.
"Between now and then, it's like, we're here and we've come a long way but we want to go here and we have to get there," Ms. Styron said. "Vault 100 is an initiative to help all of us as a community rally around getting there and to be able to track how we're getting there and see if we're making progress."
The Vault 100 goals are:
–          Connect 100 entrepreneurs through the Vault community,
–          Produce 100 events that support entrepreneurs and entrepreneurship,
–          During the next few years, launch or help launch 100 new companies and organizations.
The Vault 100 Investor membership was also started and for $100, members receive access to the space without being a resident there, 10 percent discount on classes and programs, a 10-day punch card and a bi-monthly newsletter.
The 100 new companies will be tracked. Once an entrepreneur makes a startup presentation at a 1 Million Cups event, that company will be counted toward the 100 goal.
Geonetric
Ms. Styron and Eric Engelmann, Geonetric's president and CEO, met at a NewBo Open Coffee event at Brewed Café, 1101 Third St. SE and discovered they have similar interests.
"We've been getting together and talking about how to strengthen the ecosystem based on the ideas of Brad Feld and the book, 'Startup Communities,'" Ms. Styron said. "Through the Startup America partnership we've gotten to know Brad and seen him speak a number of times. I really love what he says and agree with it so it's just a natural thing that Eric and I and Andy got together to talk about what we could do together and that has turned into a deeper conversation and much bigger partnership."
While grateful for the use of the space in the Guaranty Bank building, Ms. Styron said the new space at Geonetric will be a better fit for Vault. It will also allow Vault to be more visible.
"The (current Vault) space isn't purpose-built for the type of space we're trying to create. There are a lot of doors and walls and hallways and not necessarily that open collaborative environment that is ideal," she said.
The new space will have a drop-in café that is shared with Geonetric employees. It will be outfitted with flexible office furniture so users can create their own spaces within the incubator.
Startup summit Oct. 21-23
Startup Iowa organizers announced that UP Global, which was formed in May as the merger of entrepreneurial support organizations Startup Weekend and Startup America, will host its first, and only North America summit, in the Corridor from Oct. 21-23.
"We are truly excited that the globe's foremost thinkers around startup community building are coming to Iowa," Andy Stoll, a Startup Iowa member from Iowa City, stated in a press release. "It will be an amazing opportunity to show off all the exciting things happening across Iowa and to put Iowa at the center of this important global discussion."
More specifics on the summit's program, attendees and events will be released in the coming weeks.
"Past large gatherings held separately by these two organizations have been in Chicago, Washington, DC, Dallas, Boulder, Miami, Phoenix and Rio de Janeiro, so, we're really excited to have the next summit here in the Midwest," Startup Iowa member Amanda Styron stated in a press release.