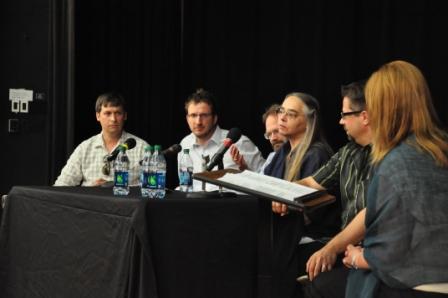 By Katie Mills Giorgio
CORRIDOR — In the last year John Richard has traveled to five continents, all in a day's work.
Mr. Richard, a documentary filmmaker who operates Bocce Ball Studios based in Iowa City, has travelled the world capturing video that he transforms into "cinematic nonfiction."
"At its core, the work is nonfiction, but in order to tell the story I use techniques that were once the province of cinema, such as music," he said.
It's an approach that has taken him to Nepal and Indonesia, where he filmed the farmers and lands for Frontier's Natural Products. He has also worked on films for an organization based in Des Moines called Above + Beyond Cancer. He climbed Mount Kilimanjaro, to create a film about individuals battling cancer and their climb of the impressive peak.
But it's not all traveling the world for Mr. Richard. Here in the Corridor, he is leaving his cinematic mark, as well. Recently, he worked with Ben Hill, the University of Iowa and the UNESCO City of Literature to create "City of Literature," a film celebrating Iowa City's writing legacy.
"It's a contemporary, robust take on the history of literature in Iowa City," Mr. Richard said. "There were a lot of ways that project could have gone but as we started working we realized not that many people knew about the history. The reactions to the film have been extremely positive."
When criticisms do come, Mr. Richard said, it is that they left something out or didn't explore a particular aspect.
"Those are my favorite comments," he said. "Those ideas could be the subject of a future film. We didn't set out for this to be the only movie about this. But I do hope it has some staying power and that people are still watching it 10 years from now."
The Creative Corridor Project is another local venture to which Mr. Richard is lending his talents.
"It's an interesting project," Mr. Richard said, noting that thus far he has created films about a small, unique moving company and one that explores "Why We Create Here."
Mr. Richard said his approach is a hybrid model, where he works to maintain the nonfiction approach to his work but also conveys the organization's particular message.
"I use those cinematic techniques to tell the stories for the companies and organizations I work with that are doing good or have a positive mission," he said. "It brings diversity to a day, week or month. Last week, I was shooting at a motorcycle rally, interviewing a paraplegic lifer at the state penitentiary and then capturing some video of a rural youth baseball field."
A constant variety of projects is what draws Kristian Day, a Des-Moines based filmmaker, to his work as well. Mr. Day runs Modern American Cinema, which works to screen documentary films across Iowa, particularly in rural communities.
Mr. Day himself is constantly exploring themes of hardship in his work.
"I consistently find themes of survival, uprising, and people taking the hardest routes in life by choice," he said. "I use the term 'fighting the dragon.'"
"Finding ideas is sort of like fishing," he said. "Sometimes you catch them when you don't expect it. I have a lot of people give me information on potential stories and unfortunately, I normally don't care about them. This sounds a bit rude, but unless I can feel a connection with it, I will most likely walk away. If I pursued something just to receive a paycheck then I will never give the story justice."
Thus far, Mr. Day has become passionate about several subjects that he has turned into films, including "Capone's Whiskey: The Story of Templeton Rye" which documents the history of illegal whiskey making in Templeton, a small town in western Iowa. His current project "Blacks Gaslight Village," was inspired by a stay at the Brown Street Inn in Iowa City.
Mr. Day said he appreciates the emotional impact documentary films can have.
"The genre has something raw about it. I feel this can be the purist form of independent cinema," he said. "You can have as little as a one person crew and that person's influence can be clearly felt in every frame."
Unexpectedly, neither Mr. Richard nor Mr. Day were formally trained as filmmakers.
Mr. Richard started as a photographer and photojournalist, after earning an environmental science degree from the University of Iowa, having worked at the Daily Iowan and Iowa City Press-Citizen before branching out to do commercial photography as a freelancer.
But while on a trip to Copenhagen, Denmark, Mr. Richard realized he needed to do more than take photos.
"I was taking photos but was frustrated that what I wanted to communicate wasn't captured," he said. "With video, there is a way of hearing people's voices that tells a different story than just with stills. Making films is an interesting way of inviting yourself into other people's lives. You get access to their thoughts in a way you wouldn't otherwise."
Mr. Day started his career in the music industry after receiving his degree from the University of Colorado at Denver. He started gaining interest in film after working as a composer for independent producers.
"I asked a lot of questions and followed their processes very closely," he said. "I made a handful of art-house short films as a way to help me understand how to shoot and edit."
The popularity of documentary film seems to be increasing, as well.
"The technical equipment needed to produce work of a decent quality has been opened up to a lot of people. And it's easier to distribute things," Mr. Richard said.
Mr. Day agrees.
"We are in a transition where there are a large number of filmmakers outside of the Hollywood scene who are getting noticed," he said. "Eventually, I don't believe there will be the term 'Iowa filmmaker' or 'Hollywood filmmaker.' That will be insignificant. The big surprise right now is that people are enjoying what they are watching. Money and big names don't make a movie. Entertainment is entertainment no matter the cost or material used."
This August, Mr. Day embarks on another cinematic adventure, when he'll open his own movie theater in Fairfield.
"Running a theater has been something in the back my mind for a long time," he said. "The new Orpheum Theater (formerly the CO-ED Twin) is an old, two-screen cinema that is 103 years old. This is an opportunity to have a screen that will play mainstream movies but also a second screen that is completely independent from major studio control."
The theater, which will open Aug. 10 for the 3rd Annual Twin Galaxies Video Game Film Festival, has undergone a lot of work since Mr. Day purchased it.
"The entire lobby has been completely renovated to a 1920's art deco design," he said.
There is also restaurant space, which will be run by Sam Auen of Tacopocalypse (a Des Moines-based organic Asian fusion restaurant.)
"It will be a place where people will want to come even when a movie isn't playing," Mr. Day said.