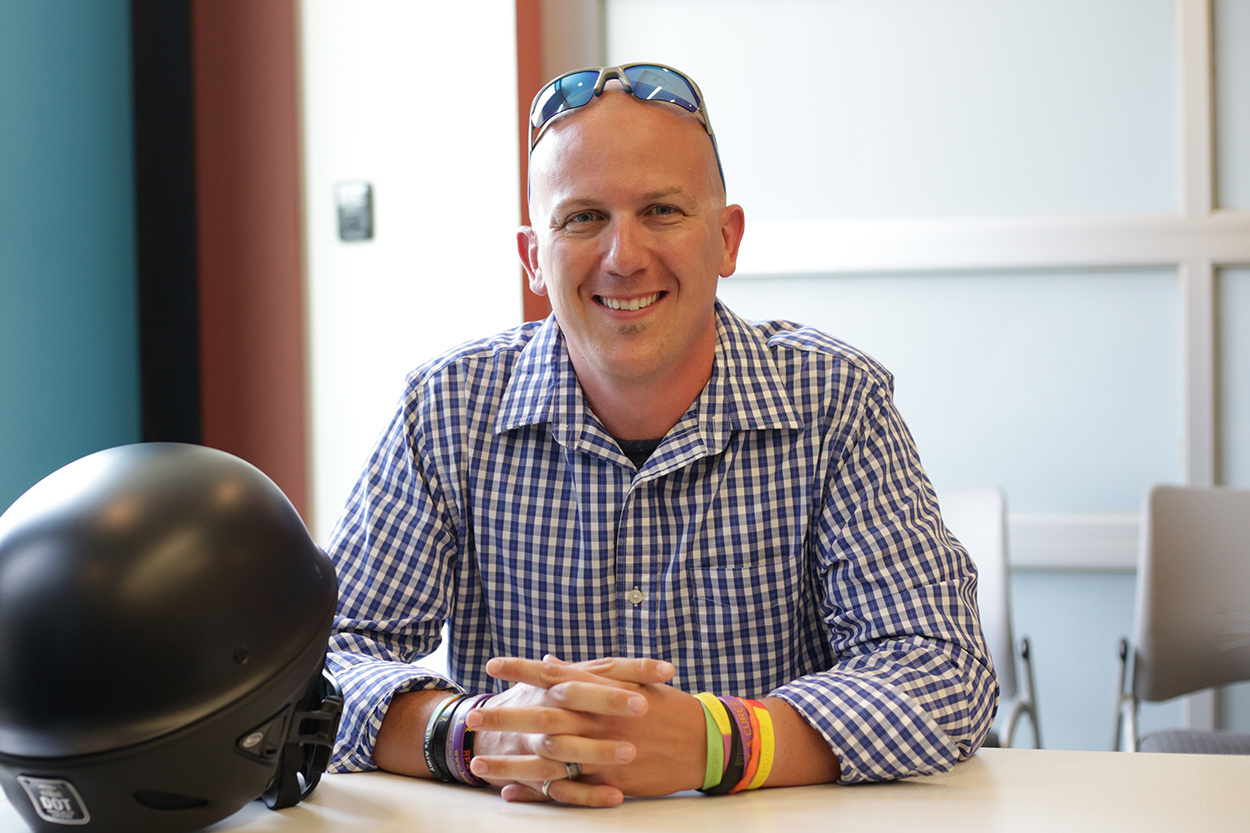 By Steve Gravelle
news@corridorbusiness.com
NewBoCo's new chief operating officer looked up the Cedar Rapids-based inno­vation and entrepreneurial hub as soon as he moved to the area in 2014.
"When I moved out here to Eastern Iowa, I was really plugged into the entre­preneurial and startup scene in Central Iowa," Aaron Horn recalled. "I reached out to them and asked who I should talk to. I've always been passionate about en­trepreneurs."
That led Mr. Horn to Eric Engelmann, the founder of Geonetric and the Iowa Startup Accelerator (ISA) who was build­ing a nexus of startup supports in the city's growing New Bohemia district.
"I remember I pulled over to the side of the road to talk to him," Mr. Horn said.
That, in turn, led to his joining the non­profit board established to oversee the ISA and other innovation programs. When the rebranded New Bohemian Innovation Collaborative launched in early 2016, Mr. Engelmann officially took the title of ex­ecutive director, and Mr. Horn was named board president in April.
He will now become the organiza­tion's first COO on Sept. 5, and oversee NewBoCo once Mr. Engelmann leaves on an eight-month sabbatical, beginning in December.
"Aaron has been involved with this entire project since the beginning," Mr. Engelmann wrote in an email to the CBJ. "His organizational and leadership skills will be critical in continuing to grow and meet the needs of our community. He brings a new perspective, but also skills that complement my own."
An Adel native and Iowa State Uni­versity graduate, Mr. Horn, 37, moved to Swisher in January 2014 to serve as chief information officer for Radiology Proto­cols. The Iowa City firm developed cloud-based imaging protocols for hospital ra­diology departments and researchers. He left the firm in April 2015 to become IT director for Iowa Interstate Railroad, the Cedar Rapids-based line linking Chicago and Council Bluffs.
"I went into a company that did health care software, then I went into the railroad industry," he said. "It was an awesome experience. [The railroad] has some of the exact same needs from a technology standpoint, and it has some unique needs that only a railroad has."
Mr. Horn is also co-founder and pres­ident of Beat Cancer Today, which was formed in 2009 with other Iowa families to provide financial support for child­hood cancer research. His oldest son, Eli, was three-and-half years old when diag­nosed with neuroblastoma in 2009; he died in 2013 while undergoing a stem-cell transplant.
"We're still in the fight," he said. "We saw how little money went to childhood cancer research. That was something us parents were super-passionate about."
Mr. Horn, who earned a degree in en­trepreneurship and management infor­mation systems at ISU and was a 2016 CBJ Forty Under 40 honoree, has stayed close to startups through his career.
"Entrepreneurs and startups can be extremely nimble and creative," he said. "That suits me best. If I need a solution built, I'm probably going to reach out to a startup because they can typically do it cheaper, better, quicker. That's how I used those connections when I was at a bigger company."
At NewBoCo, Mr. Horn will be charged with devising strategies to launch and grow its programs to support new and in­novative businesses.
"It's been the kind of the writing on the wall that someone to help with execution is going to be needed, to support some of the new innovative projects our team has come up with," Mr. Horn said.
Among the early priorities he expects:
The Delta V Code School for adults who want to learn about writing code language. Mr. Horn said the program offers courses for those considering a career change or who just want to learn more about writing code – "from never-touched-a-code-in-their-life to a really deep dive."
The Corridor Angels Investing Network, for SEC-approved investors interested in new Iowa-based companies. "Aaron will dive in and help grow them to be significant and independently viable programs that can solve issues – such as access to early-stage capital – in a much bigger way in our community," Mr. Engelmann wrote.
The Social Good Accelerator program "for new and existing nonprofits that want to spin up a new program" or otherwise improve operations. Social Good hasn't launched yet, "but we've communicated that is definitely something we want to do," Mr. Horn said.
He anticipates a smooth transition as NewBoCo's 19th full-time employee.
"A big part of my role is just helping figure out where their bottlenecks are and just jumping in and helping them," he said. "We've got a lot of programs at NewBoCo and as we get more, it's just really critical that we do a good job on executing."