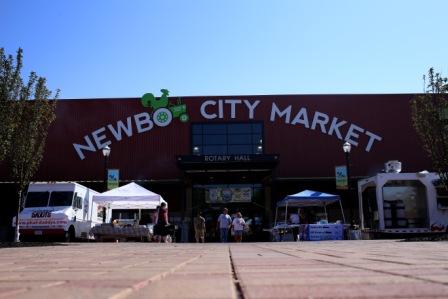 By Pat Shaver
Photo by Rachel Jessen
The NewBo City Market in Cedar Rapids has had a productive year.
The market, which opened in October, is the only one of its kind in the state, said Kristie Wetjen, market executive director. The market was voted the Most Innovative Community Service Project in this year's Best Of the Corridor survey.
"We took a building that was a blight to the neighborhood and turned it into a beautiful city block that people want to come and hang out in," she said. "I think aesthetically the change to the neighborhood is huge."
The NewBo City Market is located in a reclaimed, flood-ravaged industrial site in Cedar Rapids' New Bohemia district. The market fills an entire square block at the crossroads of 12th Avenue and Third Street SE, across from emerging performance spaces, restaurants, shops and creative work spaces.
A variety of permanent vendors at the market sell items such as ice cream, fresh produce, meat, cheese, plants and flowers, baked goods, popcorn, pasta, beer and wine, coffee and a variety of prepared foods.
"We're servicing the community at several levels, with fresh local food; and providing a place for local businesses or entrepreneurs to get their feet in the game before they go out into the community and open a store front," Ms. Wetjen said.
The market has 24 permanent vendors, with space available for a few more.
"There's already one business getting into a storefront and is going to be leaving the market. I don't think a lot of people understand that we are a business incubator. We don't see businesses leaving as a loss, we see it as a success story," Ms. Wetjen said.
Christopher Ryan Confections is moving to a 1,500-square-foot store front near Lindale Mall, she noted.
There is also a frequently changing variety of guest merchants at the market that alternate with the seasons and even day to day. The market features an outdoor gathering space where outdoor markets, concerts, fairs and performances take place.
Ms. Wetjen started as executive director in April, and noted the staff is fairly new.
"At this point, honestly, we're winging it," she said. "There have certainly been challenges; it's a brand new organization with really no model. There are models out there but they are all hundreds of miles away. We're just finding our way though as things come up."
There are four full-time employees, 10 part time and a long list of volunteers.
"One goal is to continue to building on the events we're doing that aren't farmers market related. There are still a lot of people out there that haven't been here yet. We understand that not everybody comes for the farmers market or just to see the market so we have to continually offer new things," she said.
In September, they are planning a fundraising event to help build a playground at the market. The BBQ & Brew event July 20 was a success, she added.
"I think our biggest goal as we approach year two is to be able to provide more services for merchants within the building, to provide them resources so we're really helping them with the business," she said.
The 18,000-square-foot building which is home to an array of anchor merchants representing a variety of Iowa foods, as well as an open, a flexible space which will be used for seasonal markets and fairs, special events, indoor performances and private parties.
"The feedback we've gotten from the public as a whole has been tremendous. They want us to be open more and provide more," she said.
Recently, market leaders decided to expand Thursday hours to 11 a.m.-8 p.m. because customers wanted lunch options and vendors saw that as an opportunity for more business.
The Kirkwood Test Kitchen at the market is a teaching facility and community learning center for hands-on culinary and nutrition education. A modern center with four learning stations and a demonstration area, the space is a hub for culinary enthusiasts looking to learn to eat healthy.
The NewBo City Market is operated by Cedar Rapids City Market Inc., a 501(c)(3) non-profit corporation, formed in 2009 to promote flood revitalization, access to healthy food, regional agricultural development, and job creation. The NewBo City Market opened after the completion of a $6 million capital campaign.
NewBo City Market
1100 Third St. SE, Cedar Rapids
(319) 200-4050
Hours:
Thursday: 11 a.m.-8 p.m.
Saturday: 8 a.m.-8 p.m.
Sunday: 10 a.m.-6 p.m.