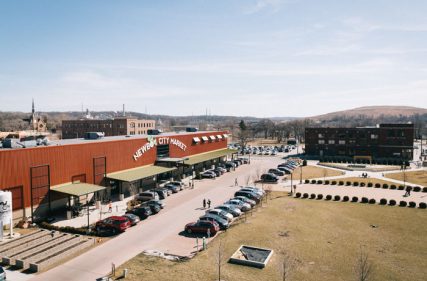 An aerial view of the NewBo City Market and yard in Cedar Rapids. CREDIT CBJ
By CBJ News Staff
news@corridorbusiness.com
NewBo City Market in Cedar Rapids will host Farmers Markets and Food Trucks, beginning the first week of May, to support small local businesses and farmers while maintaining social distancing guidelines and state regulations regarding COVID-19.
The market will host Food Truck Tuesday every Tuesday from 11 a.m.-2 p.m., beginning May 5, in the market's yard and parking lot. A variety of food truck vendors will set up at a minimum of 10 feet from each other and serve carry-out only meals. Guests will not be allowed to dine at the market and will be asked to order, pickup and take their food off the premises in a timely fashion.
The market will host "Just the Essentials" Farmers Markets every Wednesday, from 5-7 p.m., and Sunday, from 11 a.m.-1 p.m. This outdoor market will feature a variety of local farmers selling only essential items such as fruits and vegetables.
The farmers market is a rain or shine market. For inclement weather, vendors will be placed under the awning. At both Food Truck Tuesdays and Farmers Market days, social distancing will be of utmost importance to maintain the health and safety of both local food producers and patrons. Hand sanitizer will be available at each vendor table as well as at least one station set up with sanitizer for the public. All guests are encouraged to wear face masks and only one person should approach a vendor table at a time.
Parking will be available, but there will be no public access to the NewBo City Market building, per state guidelines. CBJ