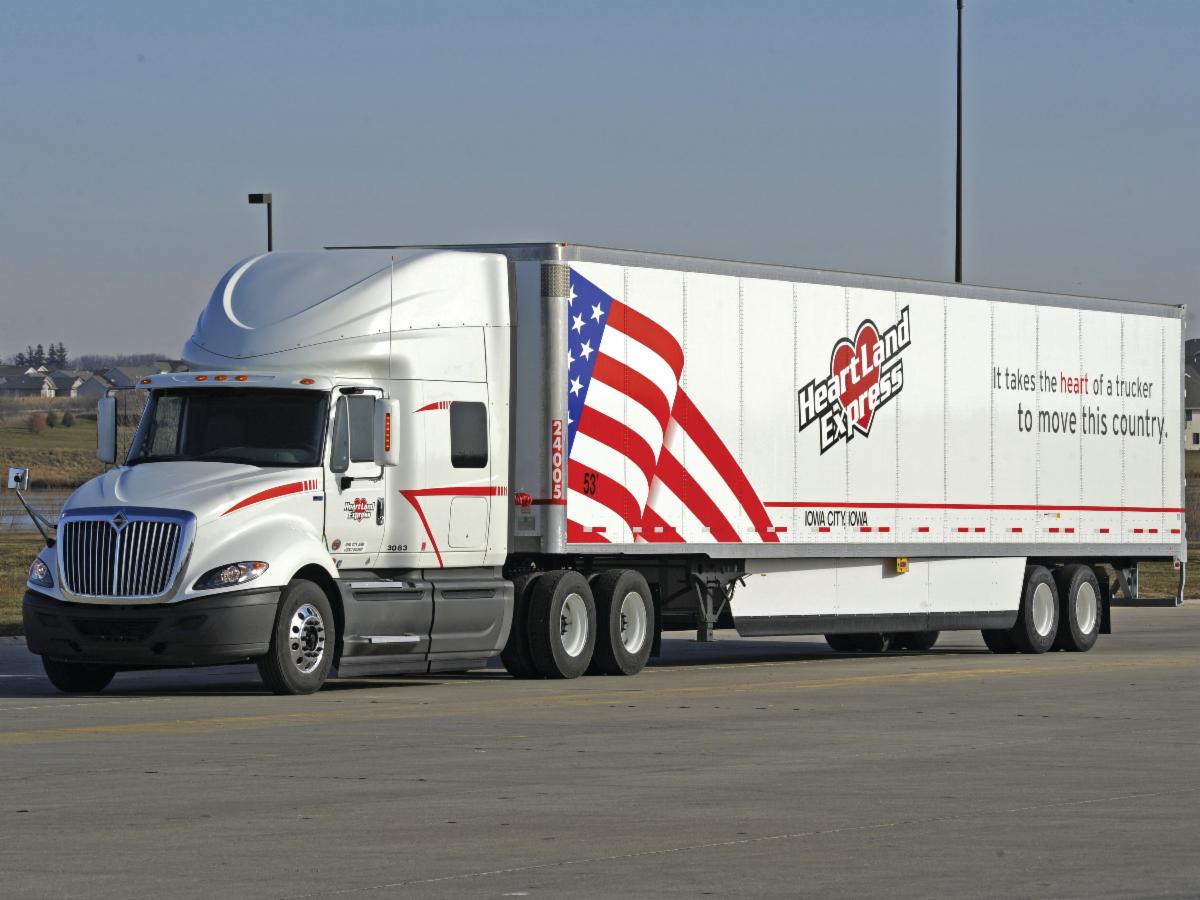 A Heartland Express truck shown in an undated photo. PHOTO HEARTLAND EXPRESS
By Katharine Carlon
katharine@corridorbusiness.com
While essential items like groceries and medical supplies continue to move, the coronavirus pandemic has disrupted manufacturing supply chains and shut down entire sectors of the economy, leaving Corridor trucking and logistics companies bracing for impact.
"For about five or six weeks, since this thing began, [trucking companies] had been operating just like every other day," said Brenda Neville, president of the Iowa Motor Truck Association, adding that though trucking initially saw a boost thanks to a frenzy of activity, including panic buying, freight volume was now headed "toward a cliff."
"Iowa truckers have stepped up to deliver the products everybody needs," Ms. Neville said. "But the truth is that, because of buying habits and businesses closing, there's going to be a very noticeable slowdown."
According to Iowa Department of Transportation figures, the slowdown has already begun. After registering roughly 5% increases in state truck traffic between March 13 and April 2, Iowa DOT reported just a 1% increase for the week of April 3-9.
That's in line with the latest national DHL Supply Chain Pricing Power Index, which reports that "as fast as the freight frenzy came, it left us even quicker." The index shows that national freight volumes are now officially below normal and, according to FreightWaves Research Analyst Andrew Cox, "the worst is ahead of us on the volume front."
Not only are most consumers staying home and curtailing spending, but Iowa Gov. Kim Reynolds, like most governors, has issued a series of emergency orders shutting down businesses from flower and furniture stores to malls and restaurants.
The result is that while the market for essential items will stay robust, "delivering whatever is needed on daily basis doesn't take all the trucks in the world," Ms. Neville noted. "Those segments closing down, shutting down, are going to take a toll, and because of the scope of the pandemic event, everyone in the supply chain is going to be impacted, especially trucking."
Heartland Express Chairman and CEO Mike Gerdin is seeing the impact firsthand. After first riding the wave of demand as consumers rushed to the store, the North Liberty-based carrier is now experiencing a sharp contraction.
"As recently as three weeks ago, we had all the freight in the world that we could haul," Mr. Gerdin said during a CBJ-hosted webinar on April 14 (see page 5). "But after everybody got done with the surge, now it's dropping off, and it's dropping off very quickly and very severely."
Some industries continue to do well and move freight, Mr. Gerdin said, including brewers, as Americans consume alcohol even with bars and restaurants shuttered. Big box retailers like WalMart, Sam's Club and Costco are also thriving. But the transportation of other goods, like automotive parts have stopped completely, large retailers like TJ Maxx and Ross Dress for Less have closed their doors and major client Tempur-Pedic has stopped shipping.
In a video presentation last week, Mr. Cox warned that with one in 10 Americans having lost their jobs over the past three weeks, "I don't think there's a floor in sight for volumes."
Even those who are still employed are less willing to spend money with the threat of job loss ever-present. Manufacturers are also struggling, he said.
"If they're [trucking companies] not able to convert to medical equipment, they're not going to be able to move any freight," Mr. Cox said, adding that in addition to a slowdown, carriers were likely to also continue facing high insurance rates and new pressure from shippers and brokers to lower rates.
Both Mr. Cox and Ms. Neville said they expect to see an acceleration of closures and shutdowns in the industry, although Ms. Neville said she was not aware of any mass layoffs or closures of Iowa companies to date.
"There is some potential because the reality is, freight is slowing down," she said.
Supply chains squeezed
Nate Selberg, executive director of Cedar Rapids-based logistics firm BLX Expedited Carriers, said the industry is "100 percent disrupted, I'm not going to lie."
BLX, which typically works with clients in manufacturing, first began feeling the impacts of the COVID-19 outbreak in February, as the Chinese New Year and the coronavirus outbreak in that country combined to hold up deliveries of raw materials and components for factories here. The pandemic hitting U.S. shores has only intensified the issue.
"No one anticipated materials not being available for that long and it shut down a lot of manufacturers, which had a huge impact when it comes to the shipping world," he said.
The outbreak has also delayed sea vessels transporting materials around the world, leaving air freight as the only alternative. That has become "exponentially expensive," according to Mr. Selberg, as airlines have slashed flight schedules.
"There are indications of stress throughout the networks and one of the things we're seeing is prices are increasing," said Michael O'Donnell, a supply chain expert and manufacturing program director at Iowa State University's Center for Industrial Research and Service (CIRAS) during an April 8 webinar. "A lot of the air freight throughout the nation runs in the bellies of passenger planes … since passenger planes have dropped so drastically, the capacity of air freight has dropped drastically at the same time."
At BLX, getting things from A to B has been hindered by rapidly rising costs and restrictions on goods coming out of Italy and other EU countries that have necessitated creative solutions, like rerouting shipments through Mexico.
Even amid the chaos, however, Mr. Selberg said BLX had carved out a niche for itself moving personal protective equipment and other medical supplies in "a situation where everything has to get expedited." The company is working with clients to deliver truckloads and shipments of masks and other sanitary products – and has been able to turn them around quickly thanks to less traffic on the roads and a COVID-19-inspired loosening of driver restrictions, including hours-of-service relief.
"Things are slower than what it typically is, but we're in such a niche, we're not getting hurt as badly as other people," he said. "Certainly not as bad as those with contracted loads with certain manufacturers – that's when you really see the pain."
Gerald Moore, chief operating officer for freight management company Hybrid Transit Systems of Cedar Rapids, said the effects of COVID-19 on the industry have been "drastic," with 60% of his staff working remotely, and both volume and activity down 15-20% as of a week ago.
Still, he feels fortunate to be involved primarily with the ag industry – 70% of Hybrid's traffic involves everything from delivering raw seed corn to finished processed foods, working with customers like Cargill and Ingredion – with a minimal 2-3% exposure to manufacturing.
"We're fortunate to be in the right industries," Mr. Moore said, adding that doesn't mean it's business as usual. Mr. Moore said in addition to the majority of employees working off-site, the company has gone on high alert, sanitizing the entire building two to three times daily, shutting down vendor access and other steps.
"Nothing is huge in its own right, but when you add them all up … it's been difficult, even though we are very, very fortunate in comparison to some of our competitors."
According to an April 10 webinar hosted by FTR Transportation Intelligence, analysts expect pain in the freight industry to continue for some time. Its forecast calls for a 10.8% bump in the goods transportation sector in the third quarter, "but nothing close to what I would call normal levels," said FTR CEO Eric Starks. He suggested that noticeable improvement is unlikely until the fourth quarter.
Mr. Gerdin said he also expects the second quarter to be disastrous and the "third quarter might not be very good, either."
"The economy is just going to grind to a slow halt here," he said. "We haven't seen the worst of this thing yet by any means. … As soon as we can open things up, I think it will recover quickly, but it's all a matter of when things get opened up again."   CBJ