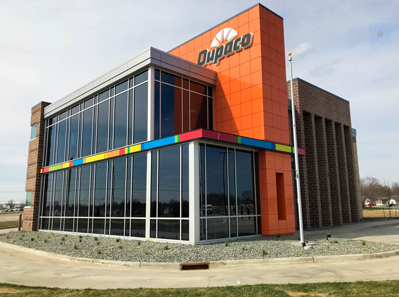 The Dupaco Learning Lab branch in Marion. CREDIT Dupaco
By CBJ News Staff
news@corridorbusiness.com
Dupaco Community Credit Union is planning a new interactive Learning Lab branch in the Corridor.
The new branch is planned at the fast-developing Edgewood Town Center, where Fleet Farm opened its first Corridor store last year. Designed to facilitate financial education of Dupaco members more than simply to handle transactions, it will closely resemble the Dupaco Learning Lab branch at Squaw Creek Crossing that opened in May of 2018, Dupaco Chief Marketing Officer David Klavitter said.
"Learning labs are designed to foster conversations with members about making good money decisions," Mr. Klavitter said.
The lobby of the 7,200-square-foot Marion facility features a video ATM machines members can use to speak to Dupaco member service representatives who usually work at a central facility (but are currently speaking to members by video from home for social distancing). The remaining space is mostly designed for member education on financial decisions and planning, primarily through conversations with staff.
On April 2, Dupaco acquired the 1.25-acre Edgewood Town Center site at 4615 Cross Pointe Blvd. NE from the Joe Ahmann-led Buffalo Land Co. Dupaco paid $1.16 million for the site.
Site selection has become more important as credit unions and banks open fewer branches and provide more services digitally, Mr. Klavitter said. Dupaco "looks at where our members live, and how they transact with us and use us," in selecting the best locations.
The Dubuque-based credit union doesn't yet have a firm timetable for development of the facility, Mr. Klavitter said, and is currently focused mainly on meeting member needs in the COVID-19 crisis. CBJ