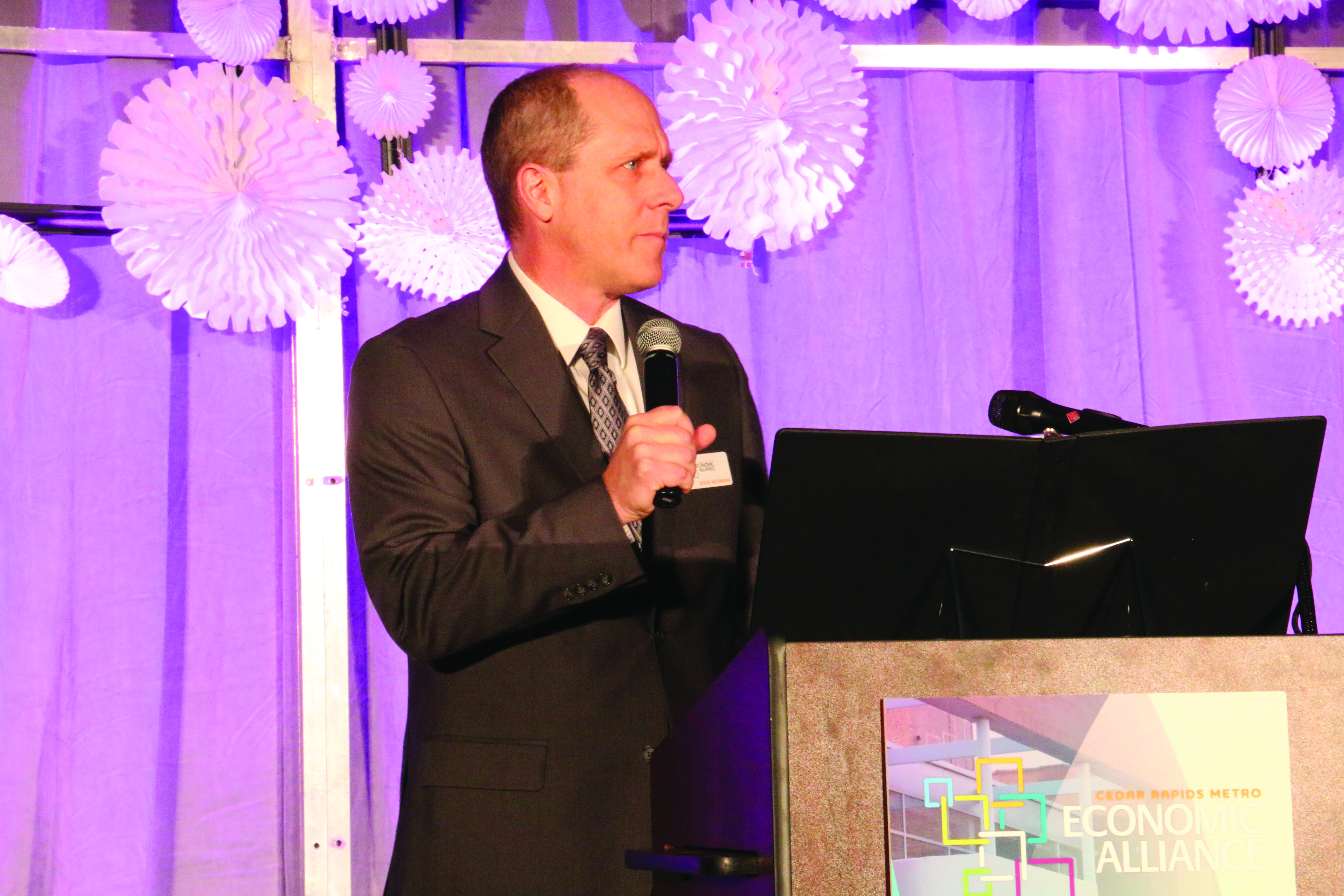 Doug Neumann, executive director of the Cedar Rapids Metro Economic Alliance, welcomes attendees to its annual meeting in February. PHOTO ADAM MOORE.
By Dave DeWitte
dave@corridorbusiness.com
A pair of key appointments unveiled May 3 set the stage for what leaders say will be a reenergized relaunch of the Corridor's first workforce and economic development joint venture.
Jennifer Daly, 45, was named the first president and CEO of the joint venture formed in 2016 between the Cedar Rapids Metro Economic Alliance and the Iowa City Area Development (ICAD) Group.
At the same time, the Economic Alliance board of directors named Doug Neumann, 47, executive director after observing him in action as interim president and CEO for just over one year.
There was no mistake to the timing of the announcements. The region has serious workforce needs, which are closely entwined with its economic development efforts.
"Clearly from a board perspective and from the perspective of our 1,200 business members, there's certainly going to be a major focus on developing a great relationship with Jennifer and making sure workforce development is as strong as it can be," Mr. Neumann said. "This is a chance to for us to really relaunch this joint effort with ICAD around the regional initiatives."
Ms. Daly said workforce development has become the leading issue for economic development agencies across the country, and it's been no different in her role as CEO of the Greater Peoria Economic Development Council in Illinois. The council serves a five-county region similar in size and population to the Corridor.
"For us, a lot of it is about alignment – introducing local students to careers in the most critically needed areas, and giving them the chance to advance their skills in those areas," Ms. Daly said in an interview with the CBJ. "The people who grew up in a community are the most likely to stay in a community or move back to that community to find a career."
The joint venture had been without a permanent leader since plans were announced in January 2015 and a nonprofit entity, the Iowa's Creative Corridor Economic Development Corp., was launched Jan. 1, 2016. Mr. Neumann assumed the interim CEO position with the Economic Alliance in April 2016 following the resignation of Dee Baird.
"We are thrilled to be able to relaunch and move the strategic direction forward for the joint venture," said Tom Goedken, who co-chairs the joint venture board with Lydia Brown. "A lot of hard work has gone into creating this entity, and we have now found the right person to lead it into its next successful phase."
Mr. Neumann said he had the opportunity to meet with Ms. Daly during the hiring process. He was impressed by her expertise in workforce development, and her experience managing change in Peoria.
"The model of how they restructured economic development there [in Peoria] is what we want to do here," Mr. Neumann said, referring to that area's regional approach.
Ms. Daly said her work with the Greater Peoria Economic Development Council included building an organization from three regional economic development-related organizations after a period of upheaval in regional development efforts. The organization now has a full-time staff of eight.
"Regional economic development, first and foremost, needs to be there to support the efforts of local economic development officials and entities," said Ms. Daly, adding that the services provided by the Greater Peoria group include marketing, training and providing resources such as market and labor force data.
Both Ms. Daly and Mr. Neumann bring a wealth of familiarity with the Corridor in addition to their professional experience to the positions.
Mr. Neumann has more than 10 years experience at the Economic Alliance and its predecessor organizations, serving as executive vice president for about five years and leading the organization's Downtown District efforts. He also served as opinion page editor and a reporter at The Gazette in Cedar Rapids more than 11 years, and held varying roles in government and with the Downtown District, including a city staff role with former Mayor Lee Clancey.
Ms. Daly, a University of Iowa psychology graduate and former Coralville resident, is a co-founder and the former executive director of programs for the Iowa Children's Museum. She served as executive director of the Mount Pleasant Area Chamber of Commerce and Area Development Commission before moving to Illinois, where she also served as executive director of the Morton Economic Development Council and Morton Chamber of Commerce.
With the reallocation of some roles to the joint venture, the Economic Alliance remains focused on its roles as an advocate for businesses in public policy, in providing member services and in supporting the downtown area, among others.
Being promoted from interim CEO to regular executive director "makes this a very immediate and natural transition," Mr. Neumann said. With that transition, he said he'll be able to focus more on long-term goals, strategies and vision.
The Economic Alliance announced earlier this year that it had the most successful membership drive in history and set a monthly record for new members in January.