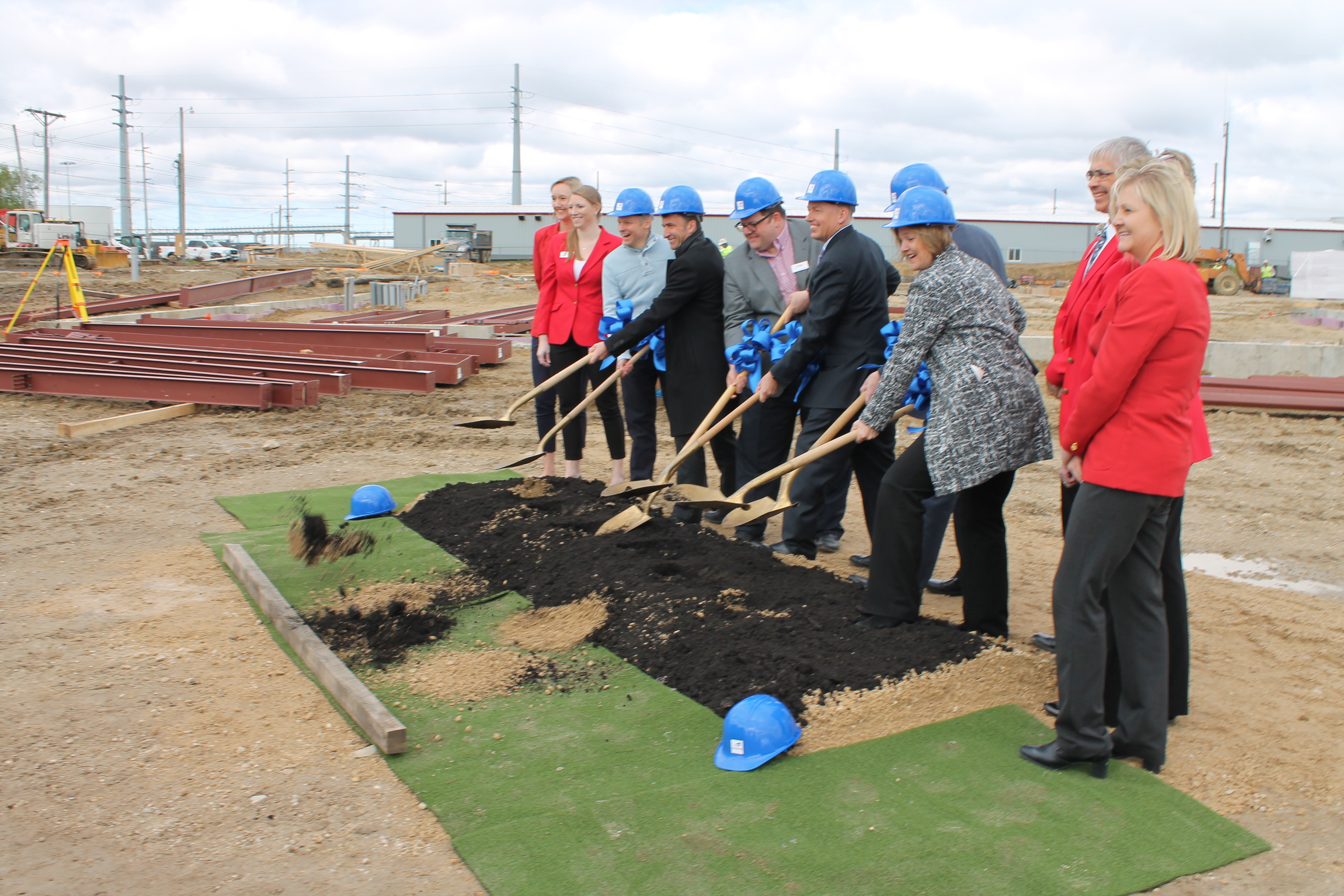 Leaders of Lesaffre Yeast Corp. and members of the Cedar Rapids Metro Economic Alliance Ambassadors performed the official groundbreaking for a new baking ingredients blending facility on May 2 at 950 60th Ave. SW, Cedar Rapids. PHOTO DAVE DEWITTE
By Dave DeWitte
dave@corridorbusiness.com
The fifth-generation French company that has been producing Red Star Yeast for more than a decade in Cedar Rapids is taking a new direction with its latest expansion.
Work began this spring on a new blending facility for Lesaffre Yeast Corporation's Saf-Pro line of baking ingredients just west of Red Star Yeast at 950 60th Ave. SW. The new plant  will produce customized baking ingredients with the goal of expanding Lesaffre's presence in the growing market for 'clean label' baked goods.
Commercial bakeries, like other food manufacturers, are responding to the demand for baked goods customers view as healthier, according to Arnaud Deniaud, director of technical services and new product development for Lesaffre.
Although the trend is most associated with small bakeries producing artisanal goods, Mr. Deniaud said large commercial bakeries are also shifting more production toward European-style breads with less fat and sugar.
A recent report from Ireland-based Research and Markets projects the global baking ingredients market will grow at a compounded annual growth rate of 5.4 percent starting in 2017, reaching $16.91 billion by 2022. It said growth will be driven by demand for healthier foods, convenience foods and functional baked goods, along with growing demand for gluten-free foods and improved baking ingredients such as enzymes, emulsifiers and modified starch.
"Definitely, we believe there is a growing trend toward more traditional artisan types of bread in the North American market," Mr. Deniaud said.
Flour, salt, water and yeast are the fundamental ingredients of breads, he said, while the other ingredients are more customized. Lesaffre offers those other ingredients, which are generally referred to as bread improvers, under its Saf-Pro line.
Among the ingredients in Saf-Pro bread improvers are enzymes extracted from plants and microorganisms. The enzyme variety affects the softness, shelf life, crust coloration and other characteristics of a baked good. The blends can also include other ingredients, such as dough strengtheners or relaxers.
The capability to quickly respond to commercial bakeries' specific needs with shorter turnaround and shipping times is a key reason for locating the plant in Cedar Rapids, Mr. Deniaud said. From there, products will be shipped nationwide, mainly by truck.
"A lot of these products are coming in from France now, and we will be making them in the U.S.," Mr. Deniaud said.
The Cedar Rapids site also offered synergies with the existing Red Star Yeast and BioSpringer yeast extract plants, he noted.
Lesaffre's North American operations are based in Milwaukee, where the company also operates a baking center that develops and tests new products.
Since the opening of the Red Star Yeast plant in 2005, Lesaffre's employment in Cedar Rapids has grown from about 130 to nearly 180. The biggest jump came with the opening of BioSpringer North America, a yeast extract plant, in 2008.
Lesaffre Yeast Corporation President Tom Benner shared his pride in the existing facilities and their performance at a groundbreaking ceremony on May 2, saying, "their operational performance has earned this additional investment in this facility."
Mr. Benner said that even though the plant opening remains 18 months away, Lesaffre's supply chain team is already planning the sourcing system to supply it with ingredients.
Knutson Construction, Garling Construction and Hawkeye Electric will be building the facility. Shive-Hattery provided engineering services.
City leaders were impressed not only by Lesaffre's continuing growth in Cedar Rapids, but also the deep history of the 160-year-old family-owned company. Mr. Benner said Mayor Ron Corbett told him the plant's economic impact has a strong multiplier effect because of all the materials and services it uses. Hosting a leading international company like Lesaffre, which supplies yeast to a third of the world's baking market, "is an honor," Mr. Corbett said.