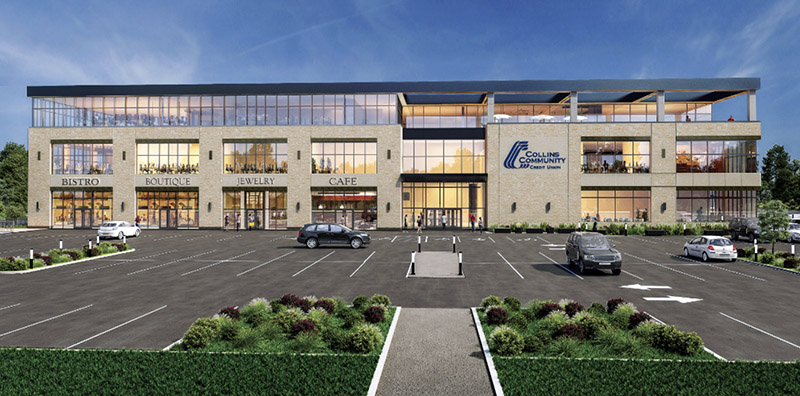 A rendering of Collins Community Credit Union's new headquarters building, to be built in Cedar Rapids' growing Northtowne Market development. CREDIT ASPECT INC.
By Katharine Carlon
katharine@corridorbusiness.com
When it opens in 2020, Collins Community Credit Union's new corporate headquarters will unite hundreds of support staff under one roof, improve efficiency and offer plenty of room to spare, whether for the community or future growth.
The gleaming, modern headquarters – full of open, flexible spaces and suffused with natural light – will also be a fitting symbol of the 78-year-old Cedar Rapids-based institution's leap into the future.
"For the last seven years, we've been really been positioning ourselves for the future, and making sure have we have the necessary tools for our team members, who are being required now to increase their knowledge and expertise with the financial world changing quickly," said Stefanie Rupert, president and CEO of CCCU, which announced plans in August for the approximately 80,000-square-foot building at 1005 Blairs Ferry Road NE, across from Target.
"This demonstrates to our membership and to the community that we're well-positioned for growth, for technological advancement and for the future."
The planned headquarters is part of the 35-acre, $70 million Northtowne Market development, and Ms. Rupert said it has recently expanded to encompass about 101,000 total square feet, up from 98,000 announced this summer. Between 75,000-85,000 square feet will be set aside for the headquarters building, with the rest available as leasable retail and office space.
"We thought, 'let's really optimize footprint of location, not only for our own growth, but for our tenants,'" Ms. Rupert said of the project, which will be developed by an ownership entity comprised of CCCU, Hunter Companies and Ambrose Development Inc. "This is meant to be a destination place for our membership and the community at large."
With 17 branches stretching from West Des Moines to Dubuque and more than 300 employees, CCCU has grown to become the state's fourth-largest credit union.
Out of that rapid growth and expansion grew the need for a new headquarters, Ms. Rupert said, as well as a fresh take on the member and employee experience.
"We wanted to change the game a little and have the experience be about finan­cial literacy, optimizing technology and leveraging people's expertise," she said. "The landscape of financial services has changed dramatically, and we think that's going to continue. So many technologies – mobile apps, online banking — make it really easy to do transactions from the couch. We want to be sure the people in our building are well versed in financial management, wealth management, re­verse mortgages, saving for college educa­tion … and deliver services in the way our members expect."
Ms. Rupert said the expectations of the credit union's membership are changing as millennials become a powerful customer and employee bloc. Today, she said, 56 percent of CCCU's employees are in the millennial age bracket, with an average employee age of 47.
"It's important for us to have the right features and functionality for attracting members and work teams, so we asked ourselves what design features would help us attract and retain workforce," she said, adding that in addition to a large, flexible work environment, the new building will offer workout space, a "market concept" restaurant with fresh, healthy fare, and a third-floor rooftop area for staff meetings.
Ms. Rupert is also asking departments to help design their own workspaces with stand-up desks, collaborative spaces and other features.
"It was important we include their viewpoints in design and features," she said. "Our working conditions are pretty tight right now and have been for a while. But they aren't complaining. The countdown is in sight and it never has been in the past."
Ms. Rupert said another advantage of the new building will be opening the space up to community groups and organizations to host meetings, events and gatherings. The atrium will be accessible as a community room, complete with a TV, video and sound systems, and a kitchen off the back to accommodate catering needs.
CCCU's current 42nd Street main branch will close when the new headquarters opens, with customer service staff occupying the first floor of the new three-story building. Upstairs, support staff from the institution's marketing, video teller and call center departments, among others, will finally be assembled under one roof.
Ms. Rupert said there are no plans to close any other existing branches. CCCU is conducting feasibility studies on appropriate uses for the 42nd Street location and plans to eventually search for a partner to redevelop the site.
"We may keep a presence there, but it's too early to say," she said. "There will be some surprises down the road. We're working on some things that are not public yet."