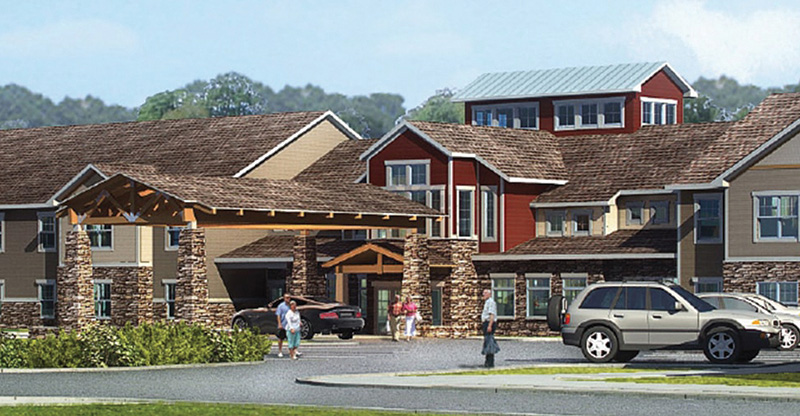 A rendering of Terrace Glen Village in Marion, the site of FSB's newest branch office. IMAGE PIVOTAL HEALTHCARE
By Katharine Carlon
katharine@corridorbusiness.com
The trend toward convenience and access has led to banking kiosks springing up in grocery stores, apartment complexes and even high schools in recent years. Now one Marion-based bank is bringing the concept to senior living, in the hopes that the convenience of its physical presence will be too tempting for residents (and employees) to ignore.
"If they're our customers, hopefully it makes banking that much more convenient," said Lynn Chia, vice president of marketing for Farmers State Bank, which won approval from the Iowa Division of Banking last month to establish what it calls a "convenience office" at Terrace Glen Village, a continuing care community at 3400 Alburnett Road in Marion. "And if they're not, obviously, we hope they say, 'This is too convenient to pass up.'"
The bank's office near the facility's lobby is open and staffed each Wednesday between 1-4 p.m., Ms. Chia said, offering a full range of services from opening accounts and handling deposits to taking IRA contributions and setting appointments with trust and investment advisors.
"Pretty much any [banking function] you need to do, we can do each Wednesday," she said.
Though the idea is not unprecedented – an internet search reveals that banks across the country have begun opening small branches within retirement communities – the concept is new to FSB, and perhaps the Corridor. Ms. Chia said she was not aware of any other area banks that have opened similar outlets in retirement communities.
"They [Terrace Glen] approached us about the possibility of doing this, and we didn't try to say no, because we thought it was a good idea," she said. "They're right in our backyard – about a mile and a half from our main branch – and anytime we can make access to financial solutions easier, that's what we want to do."
The partnership between FSB and Terrace Glen Village began when community officials requested the bank, which was involved in the financing of the senior living project, consider opening a branch on the property.
"It's something our sister properties are also offering as a perk – allowing residents to not have to travel outside the community to do their banking," said Chelsea Freie, director of marketing at Terrace Glen, which is owned by Scenic Development LLC of Overland Park. "It's not terribly common, but it's something we feel is important."
A study conducted for Samsung this summer found that 77 percent of consumers prefer face-to-face interaction for at-length discussions with their bank – a number that skews even higher in older age groups. The same study found that while three-quarters of consumers aged 18–29 use mobile banking, only 29 percent of those aged 60 or older do the same.
Terrace Glen Village opened on Sept. 1, featuring 50 independent living units, 34 assisted living apartments and a 40-bed skilled nursing facility with a rehab wing.
"We just opened, but more and more people are visiting [the branch] now that we're filling up," Ms. Freie said. "I know that several have decided to use FSB as their main banker … and I can only imagine they will see more business as we get more residents moving in."