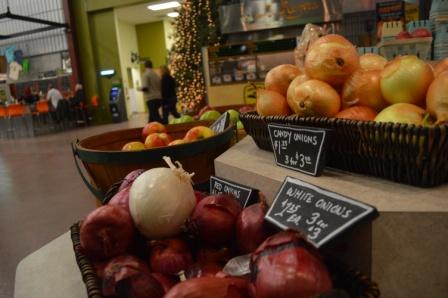 Story and photo by Cindy Hadish
CEDAR RAPIDS – Gastronomic changes are coming to a Cedar Rapids hot spot.
Several new restaurants are planned for the Czech Village/New Bohemia Main Street District, while other food establishments have ended their run.
One of the most noticeable differences involves a replacement for Capones restaurant and bar, which closed its doors in September 2012 after an inspiring opening in 2011.
Kory Nanke, who owns other restaurants including Red's Public House and the Syndicate Epicurean Pub, both in downtown Cedar Rapids, plans to open the NewBo Alehouse in the historic Village Bank & Trust building, 1201 Third St. SE.
"A lot of stuff is happening down there," Mr. Nanke said of the neighborhood, which rebounded after the devastating floods of 2008.
With a planned opening in late February or early March, NewBo Alehouse will feature 25 beers on tap, plus another 200 beer selections, along with mostly American-style pub food, such as burgers and appetizers, he said.
The restaurant seats about 200 guests in the main portion of the former bank, and will be open for breakfast, lunch and dinner, seven days a week.
Mr. Nanke also plans a sushi restaurant in the bank's addition that seats another 130 or so. A time frame for opening NewBo Sushi hasn't been set.
Both restaurants will offer synergies with the neighboring Parlor City Pub & Eatery, 1125 Third St. SE, and the Chrome Horse Saloon, 1202 Third St. SE, Mr. Nanke noted.
"They'll have the ability to play off each other," he said, suggesting that patrons park in one spot for an appetizer at Parlor City, food at NewBo Alehouse and drinks at the Chrome Horse, for example.
Just up the street, Bata's Restaurant, 1006 Third St. SE, potentially could offer outdoor seating, after the neighboring White Elephant building was purchased by a group of investors. The historic building, 1010 Third St. SE, might be moved to provide that courtyard space, with further details on those plans coming later this spring.
An announcement also is forthcoming on the replacement for Morgan Creek Produce Market.
One of the most visible vendors and the only one offering fresh fruits and vegetables in NewBo City Market, 1100 Third St. SE, Morgan Creek closed its booth on Jan. 1.
Owners Bill and Robyn Rieckhoff, who operated the stand with Robyn's father, Bob Vanous, cited difficulties in predicting which items would sell at the market – open just three days per week – along with the logistics in operating both the market booth and Morgan Creek's seasonal produce stand on Highway 30.
Kristie Wetjen, market executive director, said temporary vendors will fill the prominent space left by Morgan Creek until a permanent vendor is found.
"It's hard at this time of year to find anyone," Ms. Wetjen said, noting that local growers already are committed to other venues, such as the indoor Mount Vernon Farmers Market.
Across the Cedar River, an early March opening is planned for Sauce Bar & Bistro, with seating for about 40 customers at 1507 C St. SW.
Co-owner Lenny Sims said slow-roasted sandwiches will be the main feature of the new bistro and bar, in a building that previously housed an appliance company and a Harley-Davidson business.
"Everything will be seasonal," he said, citing salads and meat such as pheasant among potential offerings. "Everyone wants to eat healthier and we're really big on that."
Mr. Sims, who has worked in the bar and restaurant industry for more than 20 years, said quick lunches with finer dining at night will be the primary focus, along with local wine, beer and foods.
Co-owner Chris Robinson, who also has years of experience in area restaurants, will be the bistro's chef.
Mr. Sims said at least one Czech appetizer will be served, at the request from others in Czech Village, since the late fall closing of Al's Blue Toad, 86 16th Ave. SW, which featured Czech cuisine.
"Czech Village is a really good location because it's still growing," he said. "It's still coming back from the flood."
In addition to the NewBo Alehouse, Mr. Nanke, who also owns the neighboring Red Frog, 88 16th Ave. SW, is considering opening another restaurant to replace the Blue Toad. No timeline has been set, he said.
In the more immediate future, Quinton McClain hopes to open the highly anticipated Lion Bridge Brewing Company in mid-to-late February.
Mr. McClain said the brewery will start with five different craft beers produced in-house in the former Kuncl Mall, 59 16th Ave. SW. Lion Bridge's kitchen will provide beer-compatible food, with seating for about 100 customers inside and eventually, another 30 outdoors.
Paint has been removed to expose glazed brick on the interior walls and other details are being finalized in preparation for the opening.
"It's really beautiful and has a lot of character," Mr. McClain said of the 1930s-building, which most recently housed Joens Bros. Interiors, Maria's Tea Room and Merle Norman Cosmetic Studio.
The brewery will be open 3-10 p.m. Wednesday through Friday; 11 a.m.-10 p.m. Saturdays; and 11 a.m.-5 p.m. Sundays, with private events scheduled on Mondays and Tuesdays.
While he is in talks with business owners to eventually provide local brews for other eating establishments and bars, Mr. McClain plans to stay small.
"I don't want to be the largest brewery in Iowa," he said. "I just want to provide really great beer."