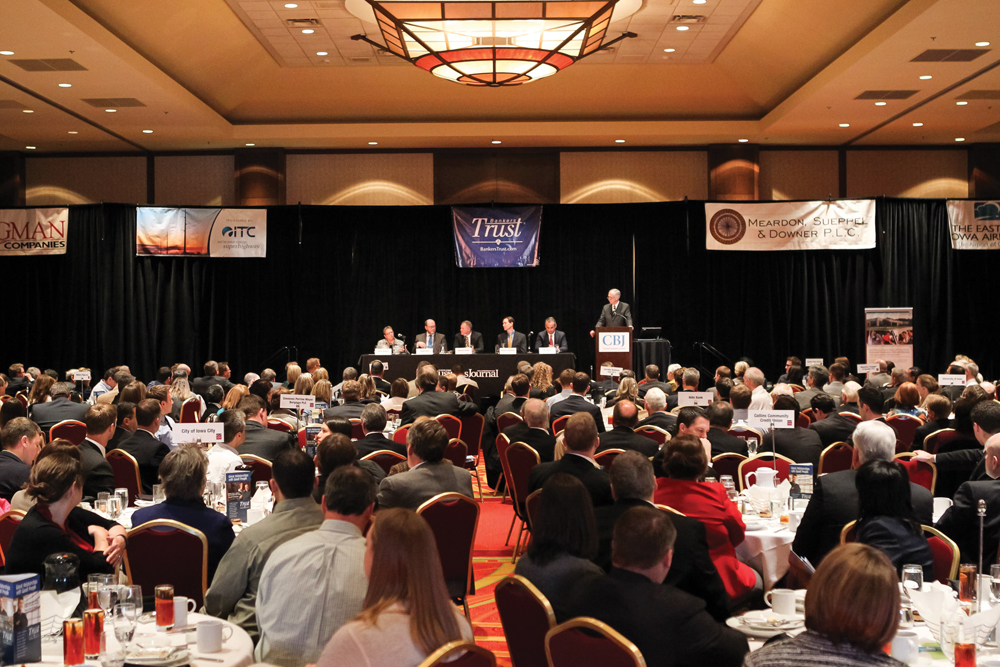 By Gigi Wood
CORALVILLE – It was a different sentiment this year.
The Corridor Business Journal's Economic Forecast Luncheon took place Jan. 15 at the Coralville Marriott. The event had 614 in attendance, a record breaker for the event.
The CBJ began hosting the Economic Forecast Luncheon in 2007, so as one might imagine, the discussion during many of those years was focused on the recession. The luncheon, which includes a keynote address from a financial expert, followed by a panel discussion by local business leaders, offers a unique perspective on the local economy.
Michael Gerdin, CEO and chairman of Heartland Express, has been a repeat guest on the panel because of his insight into the trucking industry and his pragmatic attitude; he doesn't sugarcoat it. And his trucks are on the road when retailers and other industries are making orders, which only happens when customers are buying, so Mr. Gerdin often knows how the economy is faring before many others do.
He is usually one of the more lively speakers on the panel, albeit serious, even grim at times. Last week, it was a different story; he was smiling and optimistic.
"My outlook is the most positive it's been in five years," he said at the event.
His attitude matched that of the keynote speaker, Federal Reserve Bank of Chicago President and CEO Charles Evans. Mr. Evans, who, after his talk, was peppered with questions by reporters from the Wall Street Journal, Bloomberg News who had flown in for the luncheon, did not use the much ballyhooed phrase "cautiously optimistic" to describe the economy.
"The recent data on economic activity generally have been encouraging," he said during the event. "Importantly, the labor market has improved. True, the December jobs report was disappointing last Friday. But, taking a broader perspective, payroll employment growth averaged more than 200,000 jobs per month between August and November and the unemployment rate has fallen to 6.7 percent."
He painted a picture of the economy for the audience, addressing employment, inflation and interest rates, as well as monetary accommodation and other policies. His picture was not entirely rosy, though.
"Much of the decline in the unemployment rate in 2013 reflected people dropping out of the labor force as opposed to finding new jobs," Mr. Evans said. "In addition, the level of activity in many sectors of the economy, while improving, still has some way to go before returning to what we would consider normal. Construction — both for housing and nonresidential buildings — comes to mind. And, as I will discuss in more detail, growth still faces some important headwinds, meaning that it could be some time before we close the so-called resource gaps in the economy."
Mr. Evans came to the Corridor to speak at the Economic Forecast Luncheon in 2010. Back then, he said the economy was starting to recover and focused on unemployment numbers and jobs creation.
"Unemployment remains very high and many businesses are still producing and selling much less than they did two years ago," he said in 2010. "Employment is often the last piece of the puzzle to fall into place during a recovery. This will certainly be true this time … Even though output was increasing, employment still fell substantially during the second half of 2009. Toward the end of the year, however, the pace of job loss moderated significantly. Some of the businesses that cut their payrolls most deeply during the recession have begun to rehire workers. Others have accommodated recent increases in demand by hiring temporary workers; that's the first stage in the process."
This time, he focused on how monetary policy needs to have enough oomph so the economy can recover at a faster rate.
"In terms of monetary policy strategy, after four years of weak and inadequate growth with low inflation, we need extraordinary monetary accommodation to finish the task at hand," he said. "The public must have confidence in the Fed's ultimate resolve to successfully address economic challenges. We need to be both bold and committed to following through. Simply put, we have to use enough club (golf analogy) and be willing to hit the ball with a full swing; a half-hearted effort will bring us up short."
The business leader panel included Mr. Gerdin; Robin Walenta, West Music's president and CEO; Daniel Reed, University of Iowa's vice president for research and economic development; Rich Czarnecki, John Deere's global director of its large tractor product line; and Ken Brown, Modern Companies' president and CEO.
Mr. Reed talked about the challenges of sequestration and said the number of businesses at the UI Research Park is increasing. Mr. Czarnecki said Deere is optimistic about sales as the need for increasingly efficient equipment continues to escalate. And Ms. Walenta discussed how West Music is expanding nationally.