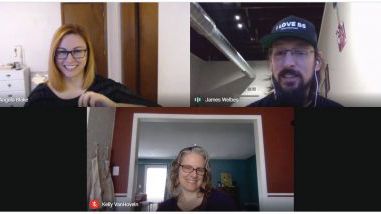 How do you effectively network when everyone is staying at home? It's a question that has challenged all corners of the business community to think differently – and, in some cases, to think bigger.
Small business owners and corporate CEOs alike have turned to virtual events to cultivate professional connections. Event organizers have found that there is a new willingness to experiment and find new ways to network through a computer screen. Though a virtual approach has its limitations, it is also proving to have advantages over in-person networking.
"The mantra we hung onto is 'what does this make possible?' Rather than focus on what we couldn't do, we celebrated what new opportunities were created by going virtual," said Tracy Schuster, ILC Program Director, an event held through the Iowa Lean Consortium (ILC), a program of CIRAS at Iowa State University which used to be a 100% in-person event.
Adherents of the continuous improvement method can now attend one of six meeting locations across the state or in Omaha. Ms. Schuster had previously considered an online version, but the pandemic made the pivot a necessity last April.
ILC members are able to smoothly replicate their agenda-less meeting format with video conferencing. The monthly event is now open to any member regardless of region. Facilitators are assigned to breakout rooms so the group can be divided into manageable conversations.
The group has maintained its democratic process of voting on topics that are of interest each meeting day. Ms. Schuster even found a free tool called IdeaBoardz that electronically replicates the Post-it note method of collaboratively generating discussion threads.
"What I love about our virtual coffees is how it brings people together in new ways," she said. "Before, you would only be introduced to people in your area. Now professionals can increase their network of lean practitioners throughout Iowa. We'll return to in-person when the time is safe, but we'll definitely keep virtual as well."
Empower by GoDaddy used the pandemic as a springboard to launch a virtual marketing bootcamp this past December. The bootcamp idea had previously been shelved due to expenses for rental space and food. But launching the class as an exclusively digital offering was a game changer.
"I took the same costs as booking a venue and used them on Facebook ads as well as a year's subscription to an event software," explained Maurice Davis, program manager with Jane Boyd, which administers Empower. "We were able to deliver a low-barrier summit that delivered high-value content."
The bootcamp attracted around 100 people, nearly all from Iowa. Participants had access to five hours of content over five days. Workshops touched on lead generation and Instagram Reels, with supplementary e-books on ideal customers and social media strategies. Due to the event's success, Mr. Davis is already considering how to organize a hybrid version down the road.
ImpactCR, the Cedar Rapids Metro Economic Alliance's arm for young professionals, had a few false starts as it tested the online networking waters. The organization tried converting several regular events before introducing brand-new ones.
The program first transferred its three staple events – Siren Wednesdays, BigWig Lunch Talks and Leaders Roundtable – into live-streamed talks or virtual challenges. But these efforts petered out by early summer. The main draw of exploring businesses and connecting with new people wasn't easy to replicate. So Jordan Atwater, a young professional recruitment specialist, went back to the drawing board.
"Instead of networking, we found success by shifting to professional development," Mr. Atwater said. "For example, we partnered with Foundation 2 to offer a webinar on mental health that was well received. We also did a seminar on personality tests in the workplace and had a recruiter discuss how those tests can be applied to hiring and retention."
ImpactCR found a sleeper hit in a forum for House and Senate candidates from multiple parties. All speakers were asked three questions geared toward young professionals and then the "floor" was opened for a Q&A.
"This event wouldn't have been possible without a virtual format," said Mr. Atwater. "We had four sessions with 50 attendees each time. It was a valuable opportunity to engage with government leaders and discuss relevant issues."
James Welbes, a brand strategist and owner of the coworking venue The Space, also took the plunge with a completely new event. His Business Development YouTube Club uses the model of a book club. Participants watch the same video clip on their own time and then meet for an hour to discuss.
"The idea started with my own obsession of watching YouTube videos about business development. I would enjoy a video but then want to talk to someone about it," explained Mr. Welbes. "We've met three times so far and had four to five people attend. The smaller group is working well because everyone has the opportunity to share their thoughts and have a good conversation."
When asked for their advice on hosting a virtual event, all four organizers were in agreement – take the Nike approach and "just do it."
"Do your best to make your event as engaging as possible, but don't overthink it," stressed Mr. Davis. "Acknowledge that there is always more to learn. Plus, people are very forgiving right now. The faster you get in there and skin your knee, the faster you can improve the next time."
"This is a good time to explore. If you miss the mark, learn and reboot," Mr. Atwater added. "Remember the saying 'perfection is the enemy of good.' Sometimes good for 10 people is exactly what attendees are looking for."