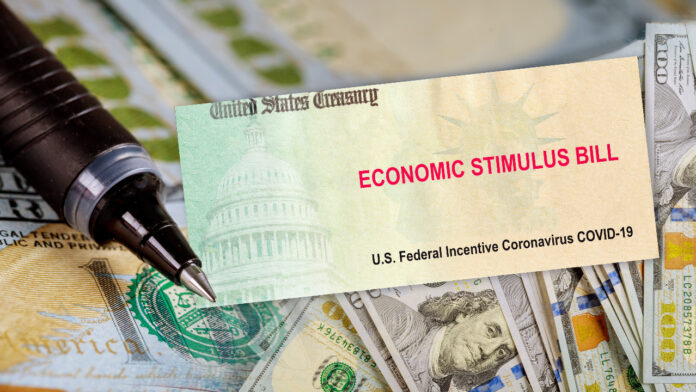 Last year, the U.S. Small Business Administration's Paycheck Protection Program issued 5.1 million loans totaling $525 billion to businesses and industries across the country, saving millions of jobs and enabling untold business owners to avoid closing their doors as the COVID-19 pandemic brought the economy to a screeching halt.
Another $300 billion has been allocated for PPP loans this year as the program moves into its second round, with 400,000 second draw pandemic relief loans worth $35 billion approved as of last week. Though many of the kinks in the first round's application and issuance process have been ironed out, some local bankers say new program rules are leading to a moderate decline in PPP applications.
"Currently, we're seeing about a fourth as much activity as what we did in round one back in 2020, with the number and the dollar amount of where we're at right now," said Jason Neighbor, vice president of retail operations of Farmers State Bank. "The restrictions that the government has put on the second draw notes has been a little bit more challenging for some businesses to be able to qualify for and confusing for some individuals and some businesses, so I'm not sure they are fully aware whether they qualify or don't qualify."
The application process for second draw PPP loans was opened Jan. 13 to smaller community-based banks and those likely to serve low-income and minority communities. It has since been opened to all participating financial institutions.
There are a few new caveats in this round, however. Primary among them: To qualify for a second draw PPP loan, businesses must be able to demonstrate a 25% drop in revenue for 2020 as compared to 2019 – either comparing comparable fiscal quarters or the entire fiscal year. And that caveat is preventing some businesses from qualifying for the loans.
"What we're seeing is, I would say, maybe a third of our first round (loan recipients) would not qualify for the second round," said Steve Crane, president and CEO of the Farmers & Merchants Savings Bank in Iowa City. "Some may have actually had a better 2020, which is kind of amazing to me. But when you think about it, there are some industries that benefited from the pandemic. Or in some cases they might have had 10% less in revenue one quarter, but they never hit 25% in any of those quarters. Their losses just weren't substantial enough to qualify."
The maximum loan amount has also been capped at $2 million for second draw loans, down from $10 million for first draw loans. Loan amounts are based on 2.5 times a business' annual payroll, or 3.5 times payroll for bars and restaurants.
"Right now, we're about an average of about $20,000 less per loan (for second draw loans)," Mr. Neighbor said. "We averaged a little over $100,000 on each loan in 2020. But now in 2021, we're averaging about $83,000."
Another key element in the lower loan amounts is that based on new criteria, most farmers are now eligible for PPP loans, but their loan amounts are capped at just $20,833. "So that's going to pull down the average loan amount as well," Mr. Neighbor said. "The way that the calculations were made for PPP loans really kind of eliminated a majority of the farmers from obtaining those types of loans (in 2020), and they've made adjustments so they can actually get the PPP funds this time."
But in many cases, farmers may not even be aware the program is available to them.
"A lot of farmers, if they're not being contacted by their financial institutions, I question whether or not they didn't even know anything about it, to tell you the truth," Mr. Neighbor said. "I had a conversation with one customer the other day, I was at a basketball game and said, 'Hey, have you thought about doing this?' He said, 'Well, what is that?' He wasn't even aware of it."
"What we did here is, we reached out to all our farm clients, so I think some of them knew about it, just from the news and so forth," Mr. Crane said. "But there was definitely some that we reached out to and they were not aware of it. They usually know about some of the other state subsidies and other government programs, but maybe not the SBA type of thing."
At least one financial institution has seen dramatic benefits from issuing PPP loans. Heritage Bank in Hiawatha has actually acquired a number of new business clients from the program, Vice President Joel Rochleau said.
"I think we've exceeded our expectations," Mr. Rochleau said. "We looked at the loans that we did the first round, and we were trying to see how many businesses would qualify for a second round of PPP. And we have exceeded the amount already of applications that we did the first round. Part of that is either because of COVID, or because of the derecho, a lot more businesses were affected (by revenue losses), for at least one quarter.
"The other advantage for us is we're a smaller bank, we're under $1 billion in assets," he continued. "So we had an advantage of being able to start inputting applications [early]. We did get a few non-customers who reached out to us, because their bank may have over $1 billion in assets, and they were concerned that the funding would be gone, which it isn't. I think we've gone through maybe a third of the funding so far. So it gave us an advantage to actually pick up some new client business."
One more factor benefited banks like Heritage, Mr. Rochleau said: The SBA is paying considerably higher loan origination fees to banks than were paid in the first round of the PPP. "We've had some smaller loans, under the $10,000 range, and we're getting a $2,500 origination fee from SBA for those loans," he noted. "So even for someone that's only going to get $4,000 or $5,000, it's encouraged banks to lend to those type of clients."
For many local businesses the PPP has literally served as a lifeline, covering vital expenses to keep their doors open. Naftaly Stramer, co-owner of Oasis Falafel in Iowa City, said he took out a first draw PPP loan last May and recently applied for a second draw, which is pending until the first draw loan is forgiven.
He said while the PPP has had its complications, it's been a key factor in maintaining his restaurant's operations. Oasis saw a revenue drop of 75% in the second quarter of 2020, followed by a 61% drop in the third quarter.
"Before 2020 we never even had a quarter where we lost money, and now we're losing money every month," Mr. Stramer said. "But with the help of PPP and other programs, we can keep the place open, and we hope by the end of the year, things will start coming back to normal. Even if we opened the restaurant now, people would just stay home. I anticipate through the end of 2021, we will continue losing money. And those programs, I think, are definitely helping with employees and expenses."
Mr. Stramer said the program could be improved if there were fewer stipulations on how the funds could be used once allocated. Current PPP standards prescribe 60% of loan proceeds must be used for payroll, and the remaining 40% can be used for other operational expenses.
"Instead, the government could be saying, we want to help you, you decide what to do with the money based on those categories," Mr. Stramer said. "You can use it for this and this and this, and then you could decide how much you want for each category, it would be way better. But you know, I'm not upset with the government, because they really didn't have time to think about what they were doing, they had to act so fast, and they wanted to save the economy. I'm just thankful they did it."
PPP loan recipients can't qualify for a second draw PPP loan until their first draw loan has been forgiven by the SBA, but for the vast majority of recipients, that forgiveness has already been granted. As a result, Mr. Rochleau said, many business owners are more receptive to pursuing another PPP loan after the first loan's proceeds have been fully spent and forgiven.
"For the most part, the forgiveness process went pretty smoothly," he said. "So that helped for people that took out loans the first time, wanting to do it again, there's not the worry at all. They know what they need to do for documentation to get the forgiveness taken care of a second time around.
"I had one business in particular, the first round probably saved them to stay open for the second round, and it's going to probably save them to stay in business. I know that I'm very grateful I've been able to help them out."
"I think it's a great program, a needed program," Mr. Crane added. "And I think in certain circumstances, if they didn't have that program there, there would be a lot more challenges in the business community, possibly not being able to survive, like restaurants, bars, that type of thing. I think in certain industries, it really filled a needed gap for these businesses."