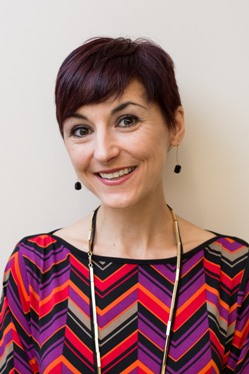 Natalie Ditmars
Attorney
Bradley & Riley, PC
Age: 33
Although Natalie Ditmars grew up in Western Iowa, she is firmly grounded in the Corridor.
"Natalie's achievements are all the more remarkable and admirable because she grew up outside the Corridor, in Council Bluffs," fellow Bradley & Riley attorney Vernon Squires stated in his nomination letter of Ms. Ditmars.
After graduating from law school at the University of Iowa in 2005, Ms. Ditmars took a job at a small firm in Cedar Rapids where he clerked during law school.
"Once I got up here, I loved it," she said.
When she joined Bradley & Riley in 2007, the firm encouraged her to get involved in the community.
"That was the impetus; then it was a great way to get to know people in the community," she said. "It's great to live in a place like this that has so much opportunity."
She has volunteered for such diverse organizations such as Leadership for Five Seasons, the Cedar Valley Human Society, Waypoint, Access Iowa, Junior League and Big Brothers/Big Sisters. As secretary and former president of the Cedar Rapids Library Foundation's board of directors, she helped raise funds for the new downtown library.
"When I started on the library board, it was a sleepy group," she said. "Then the flood hit and we had to step it up."
Ms. Ditmars' desire to be an attorney began as a young girl when she went to her father's law firm and gazed at all of his files stacked up in his office. Now, she has plenty of files and cases of her own.
"Every day is a little different," she said of her profession. "There's constantly a new challenge."
Although she received her bachelor's degree at Iowa State University and her law degree at the University of Iowa, her loyalty remains with the Nebraska Cornhuskers.
"I was raised a Nebraska fan," she said. "It hasn't wavered."
Neither has her commitment to the Corridor.
"I'm not going anywhere," she said. "I have a lot left to do here."
– Angela Holmes