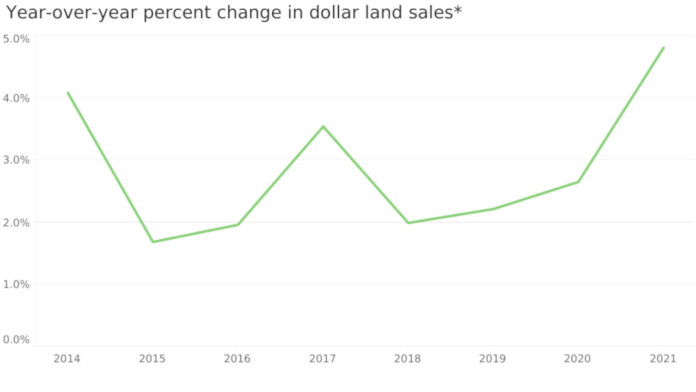 The national land market had its best year in nearly a decade in 2021, as land sales rose 6% and outperformed the pace of acquisitions of other commercial real estate types, according to the 2021 Land Market Report from the Realtors Land Institute (RLI) and the National Association of Realtors (NAR).
Land sales of RLI and NAR members rose on average by 6% in 2021, the best performance since land sales of members of these associations was collected by surveying the members in 2014. Historically-low mortgage rates in 2021 that drove home sales, the historic net absorption of multifamily and industrial commercial space, and the resiliency of the retail property market arguably drove the demand for land, which is the physical foundation for real estate development.
Land sales outperform sales of commercial real estate properties
The increase in land sales among RLI and NAR members surpassed the increase in dollar sales volume of transactions for commercial real estate properties such as single-family rentals (5%), industrial properties (4%), and apartment buildings (2% Class A and 3% Class B/C). The strong growth in land sales clearly outperformed the decline in transactions of retail, hotel, and office properties of RLI and NAR members in 2021.
Residential and industrial land sales: Hottest land markets
By type of land, residential, industrial, and recreational land were the hottest land markets, with Realtors reporting an average sales increase of nearly 5% to 7% during the course of 2021. Land prices for office/retail use also rose nearly 4% in 2021 after staying flat on average in 2020. Residential land sales accounted for 59% of all land sales in 2021.
According to NAR's Realtors Confidence Index Survey, a monthly survey of the transactions of members engaged in residential real estate, residential land for the buyer to build on accounted for nearly 4% of the combined sales of residential properties (single-family homes, condominiums, manufactured homes, residential land), up from about 3% in 2020.
As of 2021 Q4, the underlying value of the land of real estate owned by households totaled $15 trillion, up from $13 trillion in 2020 Q4, according to Federal Reserve Board data. NAR estimates that the land value accounts for 40% of household real estate assets after the value of the structure based on replacement value is deducted from the total value of the real estate assets held.
Top five land markets of Realtors
The states with the largest shares of land sales were Texas (15%), Florida (13%), California (6%), Georgia (5%), and Arizona (5%), garnering 44% of land sales in 2021. Iowa totaled .9% of the nation's land sales in 2021.
Iowa is also among the nation's least expensive real estate markets, with residential land prices hovering at $15,000 per acre.
Land market 2022 outlook
NAR chief economist Lawrence Yun noted in the report that he expects 2022 to remain a good year for the land market.
"Even with rising interest rates, I expect sustained growth in land sales and prices this year, driven particularly by the demand for multifamily and single-family housing needs," Mr. Yun said. "The shift from just-in-time to just-in-case inventory management amid supply chain issues will continue to drive the demand for land for new warehouses. Moreover, agricultural grain prices will remain elevated due to the war in Ukraine and thereby boost demand for farmland."
Realtors reported that the development of residential lots has been hampered by zoning regulations. Fifty percent of Realtors reported that zoning regulations have become more difficult in the past five years. The development of residential lots is essential to addressing the housing shortage, with 6.8 million units underbuilt since 2000 as of 2020.