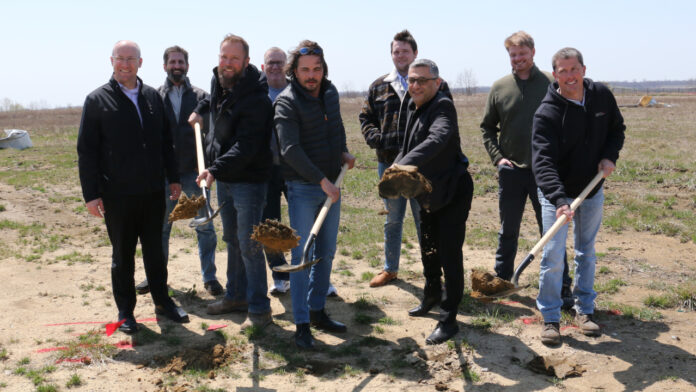 Twenty40 Building Concepts officially broke ground Tuesday on a $4.2 million, 40,000-square-foot office and warehouse facility at 6407 Partners Avenue, in the Marion Enterprise Center (MEC).
The facility will support the company's continued residential development work in Marion and the surrounding region.
Twenty40 Building Concepts was founded by Chad Pelley, Cory Pelley and Stefan Doerrfeld in 2019 as a multi-faceted development company that builds and manages a diverse project portfolio.
Mr. Pelley said the new building will accommodate the company's corporate headquarters while providing additional space for complementary tenants, including a roofing contractor that's already purchased space in the new building. He said he hopes construction is completed by the end of 2022.
Nick Glew, president of the Marion Economic Development Corporation, said the MEC was first developed in 2010 as a partnership with the city of Marion, "so when projects were ready to go, the development side of things weren't in the way to slow things down."
"It's been a great partnership with the city," Mr. Glew said. "We've got several other great projects we hope to break ground this year, even while things are expensive and inflation and all the other reasons that it's hard to build. We're excited to see continued investment here in our community."
Marion mayor Nick AbouAssaly said he was on the board of the MEDCO Holding Company when the MEC was established.
"The whole idea was to create more opportunities for businesses to locate here, to grow here, to create employment opportunities and to help drive the economy of Marion," Mr. AbouAssaly said. "I think it's really worked out well, and we're so glad to see local people doing well and investing in our community."
The company will join existing tenants in the MEC, including Electric Specialty Manufacturing, Spee-Dee Delivery, Elplast America and Legacy Manufacturing. A certified shovel-ready office and industrial park, the MEC is located along Highway 151 at the eastern gateway to the Marion community.