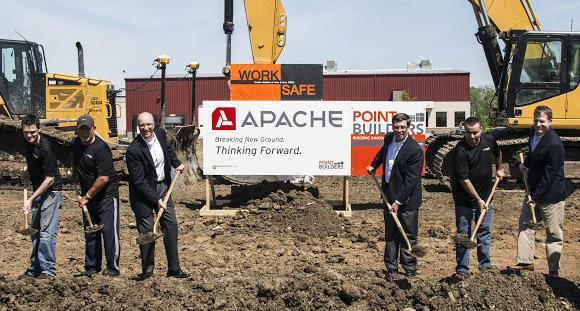 Apache employee-owners including CEO Tom Pientok are shown breaking ground on a 90,000-square-foot expansion project in 2015. CREDIT APACHE
By Dave DeWitte
dave@corridorbusiness.com
Apache Inc., the Cedar Rapids-based sup­plier of industrial belts and hoses, will become part of a business family that in­cludes auto parts giant NAPA under a deal announced last week.
Motion Industries, a subsidiary of pub­licly traded Genuine Parts Co., has reached a definitive agreement to acquire Apache in a deal expected to close Nov. 1. The sale was announced simultaneously with a deal for Genuine Parts to acquire Monroe Mo­tor Products, a regional auto parts distribu­tor based in Rochester, New York.
Motion Industries is a leading distribu­tor of industrial parts and has a long sup­plier-distributor relationship with Apache, the companies said in a press release.
Apache President and CEO Tom Pien­tok said in a press release that the com­panies are an excellent cultural fit, and that becoming part of Motion will ensure Apache's employees and customers will be well cared for in the future.
"We have had a great relationship with the Motion team for many years and this step is really a continuation of our growth strategy," Mr. Pientok said. "We will pre­serve and build on the long-standing rep­utation of the Apache name and we'll now have access to greater capabilities for ac­celerated growth."
Founded in 1963, Apache has added a Dallas facility and undertaken a proj­ect to double its capacity in Cedar Rap­ids in recent years. The employee-owned company was ranked No. 12 on the CBJ's Largest Privately Held Companies list in 2016. It had about 139 local employees before the expansion, which was expect­ed to add about 15.
The Apache acquisition will add about $100 million in revenue to Motion Indus­tries while the Monroe Motor Products ac­quisition will add about $25 million.
Genuine Parts had annual revenues of $15.3 billion in fiscal 2016, and sales for the first three quarters of fiscal 2017 are up 4.7 percent from the same period of fiscal 2016. Financial terms of the deal were not disclosed.