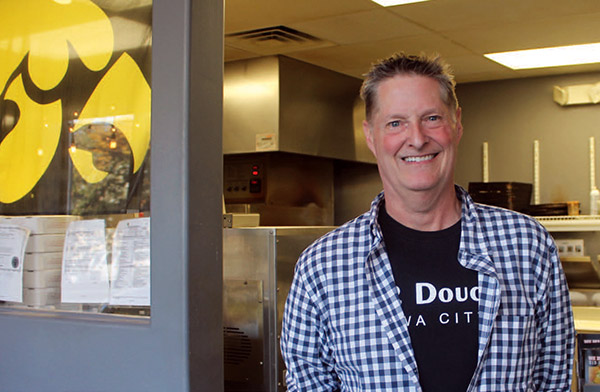 Jon Sewell, owner of D.P. Dough and chairman of the board for the newly launched CHOMP food delivery service, hopes to compete with delivery giants like Grubhub by keeping it local. PHOTO KATHARINE CARLON
By Katharine Carlon
katharine@corridorbusiness.com
It's a David-and-Goliath story that might only happen in a place like Iowa City. Then again, it might be one of the first salvos in a coming revolt against the giant food delivery companies controlling a $20 billion (and growing) market.
CHOMP, a locally-owned and operated restaurant delivery service that launched last week, was born almost as soon as Grubhub – the biggest player in food delivery – purchased all 27 markets served by Groupon subsidiary OrderUp in August. Rather than allow the Chicago-based delivery behemoth to steal their proverbial lunch money, Iowa City and Coralville-area restaurateurs set aside their competitive natures to create a new online delivery service.
"I think this is something we're going to see a lot more of," said Jon Sewell, who co-founded CHOMP and convinced 20 local restaurant owners to buy into the homegrown concept – literally – by each contributing capital to get it up and running. "Restaurant owners are getting pushed to the limit."
Mr. Sewell, owner of D.P. Dough's Iowa City franchise, said getting his competitors to sign on was an easy sell after Grubhub made the removal of OrderUp's respected local management team its first order of business.
"And then they raised their commission rates by 100 percent," he said. "That's what started the ball rolling for CHOMP."
OrderUp, which had dominated Iowa City's food delivery market, charged restaurants using their own delivery crews 7.5 percent on orders made through its app and 15 percent for orders delivered by OrderUp drivers, according to restaurateurs interviewed by the CBJ. When it took over the market, Grubhub informed former OrderUp clients it intended to double prices beginning in November, charging 15 percent for orders through its online service and app and up to 25-30 percent for orders delivered by its drivers.
Grubhub spokeswoman Katie Norris said in an email that restaurants using the company's service worked with dedicated account advisors "to find a tailored, negotiable commission rate that works for that individual restaurant's needs," adding "there isn't a standard commission rate for restaurants on Grubhub."
Yet, area restaurant owners said they saw little evidence Grubhub had an appetite for negotiation when it came to town.
"We were paying a reasonable commission, but as of Nov. 13, mine will over double from what it was before," said Keith Brophy, owner of Sparti's Gyros, one of the four restaurants open for orders during Chomp's "soft opening" last week. Mr. Brophy's commission rates are set to jump to 15 percent, "and that's just for them to take orders; we have our own delivery staff."
Mr. Brophy, like other restaurateurs interviewed, said those rates were simply unaffordable and left margins paper thin.
"I'm not saying they [Grubhub] are a bully, but they're a huge company and they know they can charge those rates," he said. "We were in a position where I'd rather have lost the sales I gained through them than pay twice the commission I paid previously."
Ms. Norris said Grubhub was responsible for $3 billion in sales for its restaurant partners in 2016, growing monthly takeout revenue by an average of 30 percent. Restaurant owners concede they can't do without online and app-based delivery service, a market that is expected to grow 79 percent to $55 billion annually by 2022, according to investment firm Cowen. But with Grubhub, the market leader, and other giants like DoorDash, Postmates, UberEATS and Amazon all vying for a slice of the pie – and Facebook announcing plans just last week to launch its own service, Order Food – small owners are getting lost in the delivery wars.
"CHOMP is a way we can get some control," Mr. Brophy said, a sentiment echoed by Naftaly Stramer, co-owner of Oasis Falafel.
"When they called me and started laying out this thing, I said, 'Hey this is a great idea. I'd love to be involved,'" Mr. Stramer said, adding that he was "amazed" to see the project come together in the nine-week span between the acquisition announcement and CHOMP's launch. "All of us [restaurant owners], we're entrepreneurs. We think a little differently. So when we start doing something, we need to see results … and we did."
Using the same organizing principles he used in his previous career as a hospital CEO to help rural hospitals save money on expensive services like MRIs through cost-sharing, Mr. Sewell structured CHOMP as a kind of collective with all 20 founding restaurants buying company shares and all having a seat at t he board table.
"We're all in the same boat. It makes sense to partner up," said George Etre, who co-owns Formosa, Takanami, El Patron and Iowa Chophouse in downtown Iowa City. "I think we all feel comfortable with restaurant owners leading the way. None of us are trying to get anything. We're not trying to gouge each other. We're not going to raise the rates and leave town. We're all committed and there is strength in numbers."
Mr. Etre said the line of communication that has been opened between restaurant owners – many of whom did not know each other before – opens up opportunities to collectively organize on other issues such as credit card fees.
"Up until now, I had not known any other restaurant owners," Mr. Sewell agreed. "Restaurant owners are usually fiercely independent. What was shocking to me was the enthusiasm about this service. Everybody really seemed to enjoy working collaboratively to build this."
After last week's successful soft opening involving four restaurants with pre-existing delivery crews, CHOMP plans to add six more for next week. About 35 restaurants appear on the site as either active or "coming soon," Mr. Sewell said, and another 25 or so are considering joining.
Mr. Stramer said Oasis was happy to join fellow restaurant owners and invest in an alternative to the big guns in the industry. "We took a risk. It may not work, but that's part of being in business," he said. "It's a really unique solution, a solution I can say would maybe only happen in Iowa City."
But Mr. Sewell believes Iowa City may be in the vanguard of a larger movement: "I think, with commission rates going up, other restaurants are going to do similar things. I believe nationally, Grubhub overplayed their hand and have created opportunities for services like CHOMP to start."