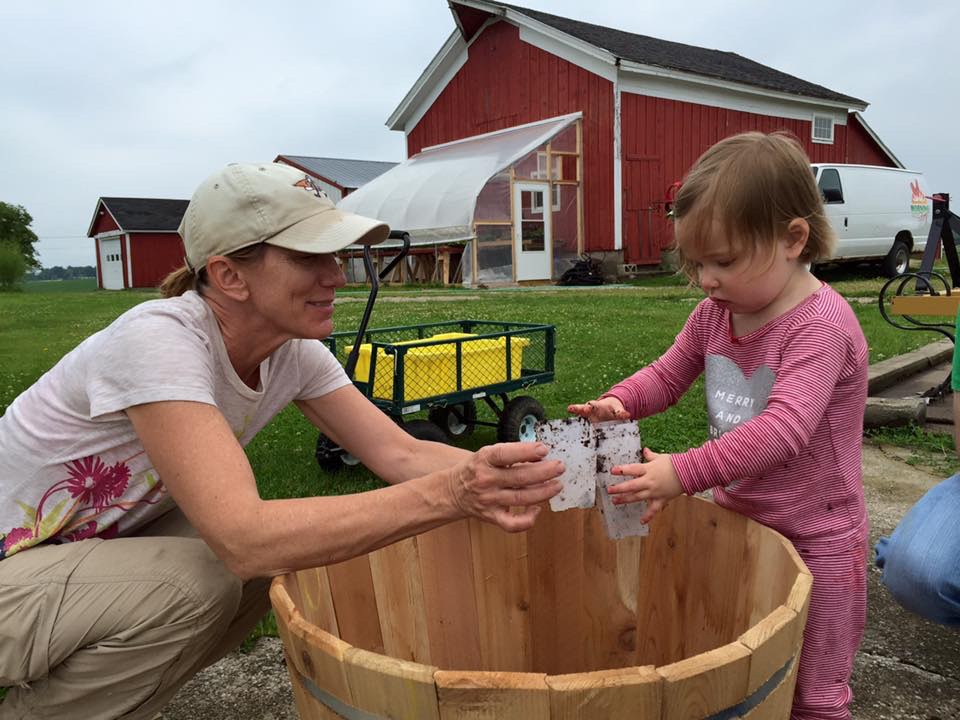 Donna Warhover helps her granddaughter, Mavis, add soil to pots on Ms. Warhover's vegetable farm, Morning Glory in Mount Vernon. Photo / Erin Bedwell
By Chase Castle
Community supported agriculture is gaining traction in the Corridor, where more than a dozen local farm operations have partnered with consumers to provide fresh, locally grown foods. Yet the Mount Vernon-based community supported agriculture (CSA) group Morning Glory hopes to take its success one step further.
Through a new partnership planned for this summer with Harvest Oil & Vinegar in Coralville, the CSA will offer shareholders a combination of customized recipes and opportunities to socialize in-store to help feed the Corridor's buy-local movement.
Morning Glory has roots reaching back to 2013, when Donna and Bill Warhover purchased a small farm in Mount Vernon. The fledgling operation quickly grew the number of vegetable shareholders who bought into Morning Glory's CSA, and now has around 30-60 active shareholders per season, depending on the year. The group aims to recruit 100 shareholders this summer.
Presently, Morning Glory shareholders for a particular season receive weekly emails informing them what that week's share will include, along with links to related recipes. Shares are then picked up during specified times from one of three farmers market locations in Iowa City, Cedar Rapids or Mount Vernon.
As the newest Morning Glory share pickup site, Harvest Oil & Vinegar plans to offer complimentary snacks, cocktails and "mocktails" for shareholders to enjoy. The experience, organizers say, will ideally not only drive more traffic to Harvest Oil, but will also help the business become a gathering spot for like-minded consumers.
For Ms. Warhover, the addition of another pickup location where shareholders can socialize and exchange ideas should also make community supported agriculture more accessible to a new audience.
"We actually kind of … do this already as far as providing recipe ideas and things like that, but not to this level," Ms. Warhover said. "What this partnership is really going to do for us is make the CSA shares that they would get every week really doable for a lot of people."
To further enhance the CSA's appeal, this summer's shares will also be packaged with recipes from Becky Schmooke, a self-described food consultant, chef and community agriculture supporter.
When she was diagnosed with Type 1 diabetes in 2011, Ms. Schmooke began to pay special attention to the quality and necessity of certain ingredients. The following year, the Iowa City native established Becky's Mindful Kitchen, which now serves as a home-based cooking school offering youth and adult classes in Solon.
After starting a Facebook group to connect local farmers and prospective buyers, she eventually met Shauna Cornelius, who currently manages Harvest Oil & Vinegar.
"We're just a great fit together," Ms. Schmooke said. "And Shauna and I have been talking about doing something like this for a while now."
Ms. Schmooke is quick to point out that she is not a dietitian or nutritionist. However, as a culinary enthusiast and avid supporter of eating unprocessed foods, Ms. Schmooke said drafting recipes specific to Iowa's latest CSA shares was a natural fit.
"It's a passion of mine to get people to want to buy from local farmers, but the problem with community supported agriculture is that sometimes local people get this produce and they don't know what do to do with it," Ms. Schmooke said. "So this is the hope that I'll provide new recipes and fresh ideas."
The concept of pairing recipes with pre-packaged foods also builds on the success of the New York-based startup Blue Apron and similar companies, which deliver weekly pre-portioned meals complete with ingredients and cooking instructions. With an opportunity to reach more customers with locally grown fresh food, Ms. Cornelius said the model has great potential.
"As three females that run this business, we're crazy busy with family and life, so if we can make healthy eating [more available] for this community, we might really be onto something," Ms. Cornelius said.
This year's summer shares will begin the first of June and run through the end of September. Ms. Cornelius said a subscription to this summer's 17 weeks of shares will be sold at $460, or about $27 a week.
For that price, shareholders can expect a range of vegetables that may include staples such as turnips, beets, tomatoes and broccoli to slightly more exotic produce like kohlrabi and bok choy.
Once this summer's harvest arrives, Ms. Schmooke and her team will consider the quantity, quality and possible uses of this year's crops before finalizing the recipes that will be given to shareholders.
Although the details of the season have yet to be decided, Ms. Schmooke will likely pay special attention to sauces that are flexible and pair well with various side dishes. One innovation she's excited to share uses a combination of serrano honey, garlic-infused olive oil, Sriracha hot sauce and raw honey, which cooked together create a hot sauce glaze.
"And that's a sauce you can pour onto brussels sprouts, broccoli, cabbage and roasted vegetables, and it just elevates it to a new level," Ms. Schmooke said.
With this spring's shares set to kick off later this month, the Morning Glory CSA will host a meet-the-farmer event from 1-3 p.m. April 8 at Harvest Oil & Vinegar to answer questions of prospective shareholders and discuss related food and farming opportunities.