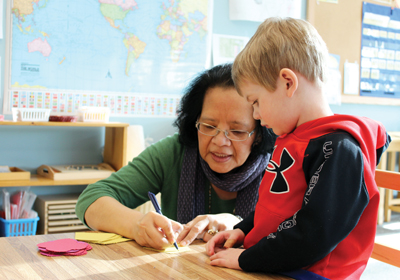 By Molly Altorfer
CEDAR RAPIDS – Once the winter weather breaks, members of the downtown business community shouldn't be surprised if they see a troupe of smiling 5-year-olds and their teachers holding hands while walking to the Cedar Rapids Museum of Art or the Cedar Rapids Public Library.
While many children are bused from surrounding elementary schools to experience these cultural enrichments, students enrolled at Cedar Valley Montessori School, located at 110 Fifth Ave. SE, have the ability to access them on a far greater frequency, owing to the fact that they attend the only school located in downtown Cedar Rapids.
"A key part of a child's education is its relationship to the environment," said Stacy Cataldo, head administrator at Cedar Valley Montessori School (CVMS). "Our students are introduced to an urban environment that not all kids get to experience. We use the skywalks, library, river walk, Theatre Cedar Rapids and more. We have all kinds of downtown resources at our disposal for their continued education."
Cedar Valley Montessori School was founded in 1971 and began with 10 children. It found its home in downtown Cedar Rapids in the late 1990s. Today, in its 43rd year, the school educates more than 125 students through toddler, preschool and kindergarten programs that align with the philosophy of Maria Montessori, an Italian teacher whose method of education was popularized at the turn of the last century. The Montessori Method encourages a child's growth as a whole individual – intellectually, socially, spiritually and physically.
"We talk all the time about what Maria Montessori 'said, did and wrote,'" Ms. Cataldo said. "And we try to be true to those things in everything we do. A Montessori education is a completely individualized approach – that's why it's different from other preschools and kindergartens."
CVMS employs a staff of 19, including six "lead directresses," all of whom have a bachelor of arts in elementary or early childhood education and hold a Montessori teaching certification. Ms. Cataldo noted that teacher observations of students are central to crafting an individualized educational plan for each student, and teachers particularly tune into a child's learning interests.
Lisa Stephenson, a former board president, has enrolled three children at CVMS. For the past 10 years, the Stephenson family has had at least one child enrolled. She agrees that the downtown location is beneficial to a student's education.
"The students and the school reap immeasurable benefits from the downtown location," she said. "I know my children feel a real connection to the heart of their city and consider Greene Square Park to be 'their park' and the Cedar Rapids Public Library to be 'their library.' And that's just the way I think it should be. There are so many wonderful resources for the students and the school to take advantage of in the downtown area, and a field trip is never more than a skywalk away."
Like so many other downtown businesses and organizations, CVMS and the adjacent facilities in the Ground Transportation Center were decimated in the flood of 2008. For nearly two years, CVMS was relocated to First Baptist Church –Church of the Brethren Childcare Center in northeast Cedar Rapids. But CVMS school administrators and parents were eager to return to its Transit Way location downtown, which is owned by the city of Cedar Rapids.
Ms. Stephenson, board vice president at the time of the flood, worked with the city on the logistics of the school's return to its downtown location, as well as the renovation of the facility. As Ms. Stephenson and Ms. Cataldo surveyed families of students, there was an overwhelming urge for the school to return to downtown Cedar Rapids.
"While everyone was very grateful for the opportunity to operate out of the northeast side location, my hope was always to return downtown," said Ms. Stephenson, who said that concerns about future floods and lack of green space were outweighed by the overall downtown location. "As a central location, being downtown caters to all quadrants of Cedar Rapids, as well as being conveniently located to the interstate, which is good for our Corridor families. The response was overwhelmingly in favor of returning to downtown."
CVMS administration and families were successful in returning the school to its downtown home for the start of fall 2010-2011 classes. The city of Cedar Rapids received funding from the Federal Emergency Management Agency (FEMA) to restore the building to its pre-flood condition and CVMS parents and staff raised additional money that also helped add classrooms and an indoor gymnasium.
The school's return also helped local vendors who were rebuilding post-flood. For instance, CVMS and nearby The Prairie Soup Company have teamed to offer children and families healthy lunch options, delivered fresh each day for student lunches. Additionally, Ms. Cataldo notes that CVMS purchases its supplies from downtown area businesses and its staff frequents coffee shops and other vendors.
Ms. Stephenson, whose last child will graduate from CVMS this spring, is grateful for the type of education offered at the city's only downtown school. "My children have learned to love learning and have left CVMS with an understanding and appreciation of not only their ABCs, but also of art, geography, the sciences, music and foreign language," she said. "They have been exposed to various cultures and a wonderfully diverse student population. CVMS works very hard to instill an understanding and awareness of age-appropriate social issues and teaches the children to 'give back' to their community, which I feel is invaluable."