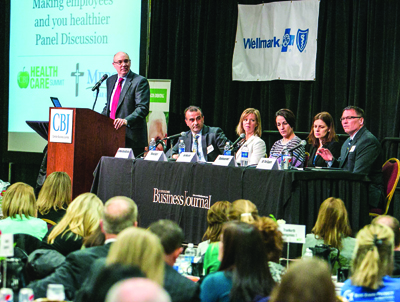 By Dave DeWitte
With the health care environment changing rapidly, speakers at the Corridor Business Journal's 2014 Health Care Summit described what employers are doing and more steps they can take to remain competitive in benefits.
Overshadowing remarks at the half-day conference Feb. 14 at the Cedar Rapids Marriott was the continuing implementation of the Affordable Care Act, or Obamacare, which was four months into the implementation of health insurance exchanges that the uninsured can use to shop for coverage.
Speakers on the HealthCare Reform Implementation panel said confusion and misinformation still swirl around the complex law, which aims to ensure all Americans have access to health insurance and imposes financial penalties on those who don't obtain it.
"There are a lot of urban myths, like "you are my employer and you have to provide me with health insurance," said Bob Mreen of TrueNorth Companies, Cedar Rapids, explaining that TrueNorth has dedicated a lot of time to "calming" health care benefits clients.
Switching to a defined contribution model, in which the employer pays a fixed amount toward health insurance, and dropping health care coverage, even though it can involve a federal penalty, are two of the main ways employers can adjust, experts said.  Most employers are still studying how to respond.
"We don't see discernable trends yet," said Cliff Gold, co-founder and chief operating officer at CoOportunity Health, a new nonprofit health insurance cooperative serving Iowa and Nebraska.  "We don't see a lot of (employers) moving to defined contribution plans or moving to get out of insurance.…this is Iowa. Things tend to move slowly."
Mr. Gold said he has observed more "shopping behavior" than CoOpportunity expected from employers in light of the fact that two major health insurance providers in the state allowed small businesses to move up their policy renewal dates so that the policies were not required to conform to the Act with the resulting impact on premiums. CoOpportunity has enrolled more than 1,000 employers for January and February effective dates, Mr. Gold added.
Moving slowly is not a bad idea within limits, according to speaker Steve Flood, senior vice president of Des Moines-based Holmes Murphy & Associates, whose presented "Obamacare and What the Future Will Bring."
"Everybody who's on a holding pattern…. That's OK," Mr. Flood said. "But you don't want to be in a holding pattern on a path that's unsustainable."
Employers may take advantage of the Act's provisions to "swim in a cleaner pool" of health insurance risk, Mr. Flood said. The Act gives employers the tools to "make the pain of change less than the pain of staying the same" for insured employees, he said, using the example of a 50-year-old male who's been postponing a colorectal screening procedure, but likely would accept the screening if required to pay an additional $100 or $200 per month toward health insurance.
"You have the tools if you have the courage to do this," Mr. Flood said.
Employers who stay in a holding pattern and do not clean up their pool run risks of becoming a employer of last resort for employees with health habits such as smoking that can drive up health costs, according to Mr. Flood,.
The universal enemy in the health-care crisis is the rise in chronic disease such as diabetes and depression, according to Mr. Flood. In a typical employee risk pool, Mr. Flood said 15 percent of employees account for 85 percent of all claims due primarily to chronic disease and ineffectiveness in managing it.
The valuable opportunities for employers to reduce chronic disease claims by using predictive data analysis was a theme addressed by several speakers.
Mike Reier, CEO of Minneapolis-based Benovate, described his company's predictive system that can determine when employees or groups of employees are at risk based on aggregated health data, much in the way that it has developed predictive models that prevented server crashes on IT networks.
By knowing when risk factors such as blood pressure and weight are trending toward chronic disease, Mr. Reier said Benovate can intervene with needed programs such as stress reduction or improved dietary care. The company has also created a technology platform that allows employees to earn incentive points at work and at home for health practices such as improved diet and exercise.
"We can start to really make a meaningful difference in the cost structure," Mr. Reier said.
The design and importance of wellness programs and Iowa Blue Zones work sites was discussed by an expert panel, "Making Employees and You Healthier."
Panelist Jen Musick, chief health and wellness officer at Hiawatha-based Health Solutions, discussed the importance of not only setting wellness goals, but tracking outcomes and looking at the whole wellness picture. An employee might, for instance, meet all of the biometric targets such as weight, body fat and blood pressure, yet still face health risks because they are socially isolated.
Although dissatisfaction with the Act is high, several speakers seemed to be in agreement that it will drive innovation and changes in health-care approaches that are yet to be seen.
Walmart's use of a "buying power" approach, negotiating with one hospital in Arkansas to perform a large number of orthopedic procedures within outcome parameters in exchange for lower prices, was just one approach mentioned by panelists for driving down costs.  Many approaches will likely fail, Mr. Flood said, but others will succeed.
Mercy CedarRapids was presenting sponsor of the event. More than 330 registered for the event, which included the Worksite Wellness Awards luncheon sponsored by Holmes Murphy.
Jennifer Hall, associate director for outreach at the Healthier Workforce Center for Excellence at the University of Iowa, presented Worksite Wellness Awards to the following organizations:
Marion Hy-Vee – Most Improved Score
City of Cedar Rapids Central Fire Station – Best Overall Score, under 50 Employees
Lil' Drug Store – Best Overall Score, 50-99 Employees
 Midwest Metal Products – Best Overall Score, 100-249 Employees
City of Cedar Rapids City Services Center – Best Overall Score, 250-750 Employees
Mercy Medical Center – Best Overall Score, over 750 Employees