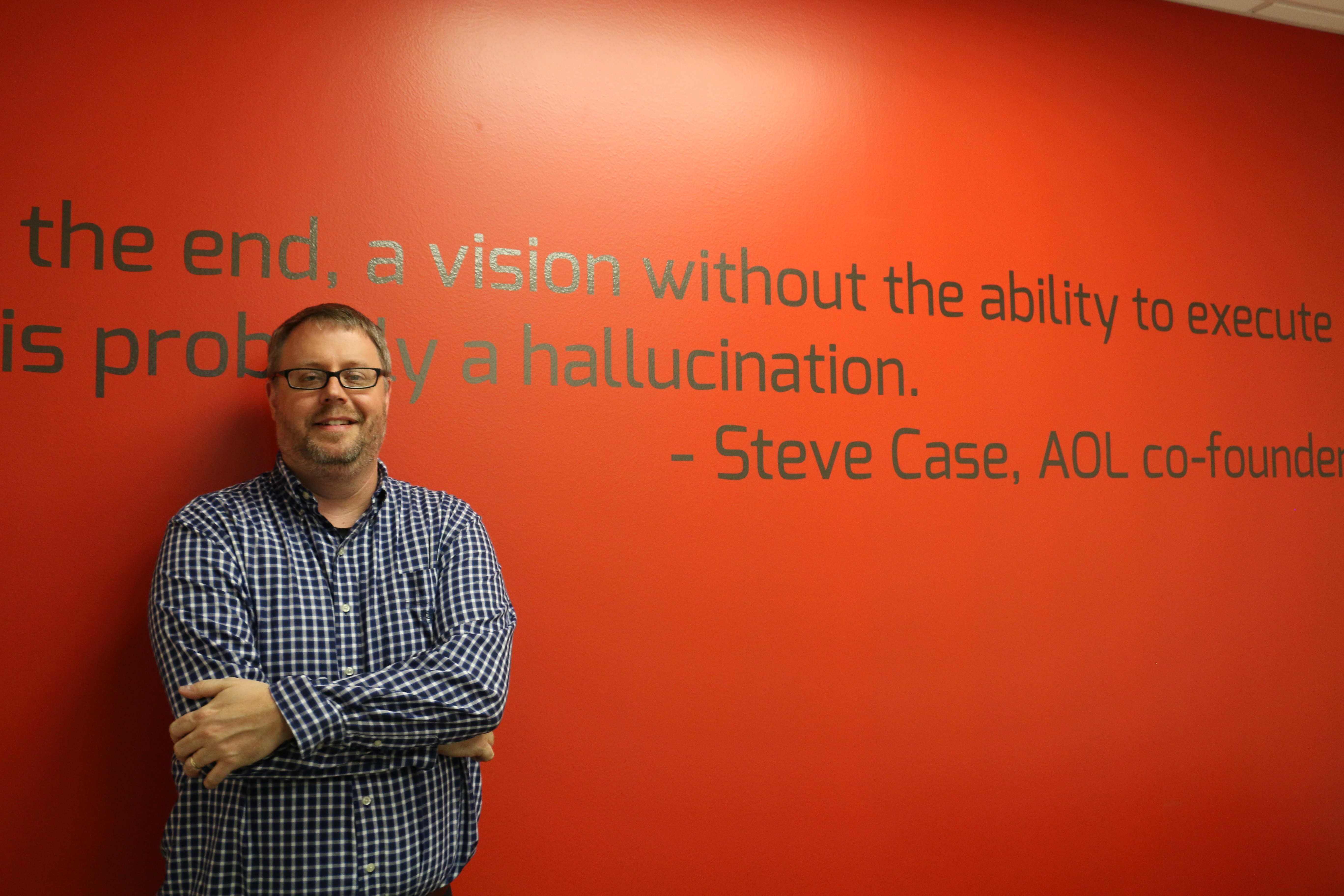 NewBoCo Executive Director Eric Engelmann discusses the Corridor Angel Investors group on March 10 in a conference room at NewBoCo. Mr. Engelmann says the group's systematic process will provide investors with improved deal flow, and help de-risk their startup investing. PHOTO DAVE DEWITTE
By Dave DeWitte
dave@corridorbusiness.com
The Corridor's search for a better matchmaking system to pair startups with potential investors has led to the formation of a locally based angel investor group.
Corridor Angel Investors, with backing from nonprofit NewBoCo and the city of Cedar Rapids, began meeting in February. The group has six members, and a goal of reaching 100 members by year-end.
Angel investors are typically affluent, early-stage investors with a track record of success in business or their profession that allows them to provide feedback and guidance to entrepreneurs. Getting them together in a group is a way to "de-risk" and improve the funnel of deals they can review.
"Most investors would like to have a process [for reviewing deals] that's repeatable, and a way to see a lot of deals," explained Eric Engelmann, one of the group's founders, and chairman of the NewBoCo board.
Mr. Engelmann saw a robust local angel investment group as the last link missing in the Corridor's entrepreneurial ecosystem. He said a recent effort to form a local chapter of the Des Moines-based angel investor group Plains Angels was discontinued because that group had a different investment philosophy than the local investors.
One difference was the desire to focus investments in Iowa, if not locally.
"Most investors want to be in Iowa because they want to be hands-on with it," Mr. Engelmann said. Although some might prefer to focus strictly on Corridor startups, he said the number of opportunities would be too limited without going statewide.
Mr. Engelmann, founder and chairman of Geonetric in Cedar Rapids, has invested in startups, and has seen the challenges startups coming from NewBoCo's Iowa Startup Accelerator face in securing funding. The ISA's startup teams are steered toward a fairly well-known list of "the usual suspects" for funding assistance, he said. Without a systematic process for pairing investors with startups, however, entrepreneurs could end up making a lot of phone calls before securing an investment.
"The program has been here for three or four years, and so now they're getting ready for sizeable investments," Mr. Engelmann said of the startups graduating from the accelerator. "Back then, it [having a local funding source] was a luxury; now it's a necessity."
Startup investing can be risky. A high percentage of investments yield little or no return, Mr. Engelmann noted, but a minority yield "home run" returns that can beat conventional investments and more than compensate for the rest.
"It's a rollercoaster," he said. "It has its ups and downs, but it's an exhilarating ride."
The Corridor Angel Investors group aims to smooth out the ride by helping to educate angel investors and creating a repeatable process for screening, analyzing and investing in startup opportunities.
Sessions for angel investors are expected to be offered at this year's EntreFEST, with hopes for "almost an entire track" for investor education at future editions, Mr. Engelmann said.
NewBoCo General Counsel Frank Camp helped design the group's process for screening and due diligence review of investment opportunities. Screening will determine which funding pitches go before investors, while the due diligence process will delve deeper into verifying the representations of the entrepreneur and market potential of their venture.
Corridor Angels is expected to consider investments in startups seeking up to about $500,000, Mr. Engelmann said, and will focus on the areas of education, health care, agriculture, manufacturing and a few other niches.
The group initially will focus on the Creative Corridor's seven-county area, but may later go statewide. Startups recommended by leaders at NewBoCo and the Entrepreneurial Development Center of Iowa in Cedar Rapids will have a leg up in terms of getting their pitches heard by investors.
Individual investors will have the choice of which deals they want in on, and how much they invest. Members will be required to be accredited investors under Securities and Exchange Commission rules, generally meaning they must have net worth of at least $1 million, or annual income of $200,000.
Meetings will be held quarterly, with annual dues of $300 charged to cover the group's expenses. The next meeting will be April 27 at 4:30 p.m.
The Angel Capital Association lists about 20 affiliated groups in the Midwest, most of them in cities considerably larger than Cedar Rapids. Pipeline Angels, an investor group made up of women with extensive business experience, is the only one listed in Cedar Rapids. Formation of the Pipeline Angels chapter was announced last April by the ISA and Iowa Women Lead Change (IWLC) in advance of Pipeline Angels founder Natalia Oberti Noguera's speaking appearance at IWLC's annual Eastern Iowa Conference.
The new angel investor group arrives at a time when new online investing platforms are providing funding opportunities for startups without ever meeting their backers face-to-face, Mr. Engelmann noted. Investing in local startups through the angel approach is opposite of that, he said, and can inspire hometown pride by spurring investment and opportunity in the local economy.
"It's different than just putting your money in a slot machine and pulling the handle," he said.