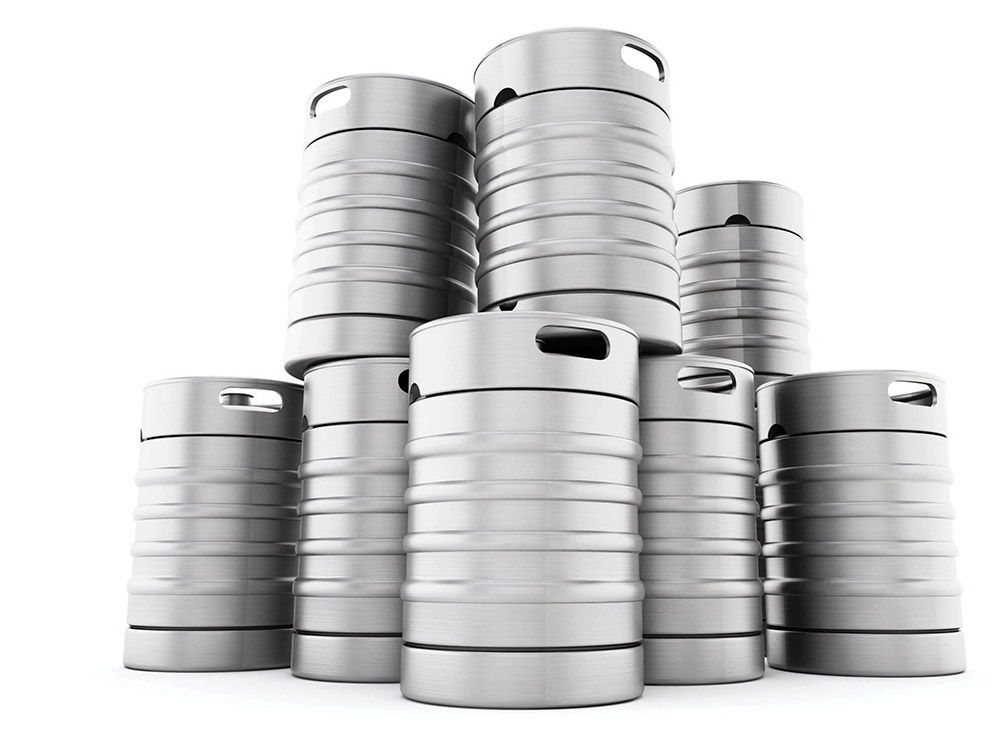 Corridor steel and aluminum users battle uncertainty, volatility with new import tariffs
By Katherine Carlon
katharine@corridorbusiness.com
Businesses around the Corridor expect new tariffs on steel and aluminum to have wide-ranging effects, from the obvious – increases in the costs of making farm equipment, industrial machinery and construction materials – to those that are less evident, but still pack a wallop.
Especially for beer drinkers.
"Long story short, the tariffs are definitely a concern in a low-margin industry like ours," said J. Wilson, the self-styled "minister of Iowa beer" for the Iowa Brewers Guild, which advocates on behalf of about 90 members and brewers planning to enter the state's burgeoning craft beer industry. "Stainless steel is already expensive and that impacts not only keg costs, but brewing and fermentation vessels for startups and expansions," Mr. Wilson said, adding that the nation's only keg maker, American Keg Company, had already laid off a third of its workforce citing the impact of tariffs on American steel prices.
The spot-market price of hot-rolled coiled/sheet steel used widely in manufacturing hovered around $850 a ton as of last week – a 45 percent increase since October.
President Donald Trump's 25 percent tariffs on steel and 10 percent tariffs on aluminum went into effect late last month, with the president calling the nation's $568 billion trade deficit an "assault on our country." Although Argentina, Australia, Brazil, South Korea and the EU won last-minute reprieves – and Mexico and Canada are temporarily exempted as the administration attempts to renegotiate the North American Free Trade Agreement – the tariffs apply to about half of all U.S. steel and aluminum imports, including those from China, Russia, Taiwan, Japan and India.
The hard-hit U.S. steel industry has cheered the move. But they've largely been cheering alone with stock markets shaking, farmers facing retaliation and manufacturers fretting about their profits.
The uncertainty in the state's brewing industry, which had been on track to triple production to 146,000 barrels annually by 2019, according to a 2015 Iowa Wine and Beer Promotion Board study, offers a kind of microcosm of the issue.
Kalona Brewing Company, which uses U.S. and Canadian aluminum to can its products, is watching the situation carefully, though General Manager Elliot Lamb said the brewery is prepared to ride out the storm for now.
"We buy cans in such a large quantity and have such a large supply, I'm not worried yet," Mr. Lamb said. "If this is short-term, it won't really affect us."
But long-term, Mr. Wilson said, "aluminum [tariffs] will carry an impact in Iowa, as our businesses are small and not able to buy cans at great volume compared to larger breweries, who are also concerned."
The Beer Institute, an industry trade group, claims the tariff will raise the price of a can of beer by about 2 cents a can or 12 cents a six-pack. That might be pocket change for the average consumer, but it adds up quickly for brewers who buy cans by the pallet, each of which contains more than 8,000 cans.
Mr. Wilson said a number of Iowa breweries, including Kalona, Confluence (Des Moines), Firetrucker (Ankeny), New American (Ankeny) and Twisted Vine (West Des Moines) have begin canning product for off-premise sales, and many more have installed "crowler" machines in their taprooms so customers can take beer home with them. Those 32-ounce vessels are also made of aluminum.
"The cans could have a small impact on the cost of a six-pack at the cash register," he said, "but it's also possible that it will simply hurt the brewer eating the cost."
A view from the cab
Brewers are far from the only group worried about how tariffs could impact their industry. The measure landed with a thud in ag-centric Iowa, with the state's entire congressional delegation penning a letter to the president arguing that "tariffs are a tax on families and hardworking Iowans cannot afford a trade war." Iowa is also home to more than 6,000 manufacturers who collectively employ more than 14 percent of the state's workforce, according to the Iowa Economic Development Authority (IEDA).
"When you speak of a broad brush tariff on aluminum and steel, it creates havoc in the marketplace, as you've seen," IEDA Director Debi Durham told the Des Moines Business Record last month (see sidebar). "Iowa is very sensitive to this steel and aluminum issue, because you have to look at our own backyard."
One of the biggest steel users in that backyard, Moline-based Deere & Co., is bracing for impact, with a JP Morgan analysis projecting the tariffs could ding the farm equipment manufacturer's fiscal 2019 earnings by 6 percent.
In a recent interview with CNBC, Deere CEO Samuel Allen said his largest worry was retaliatory tariffs on U.S. agricultural exports, adding the company would absorb the costs of higher steel prices while cutting elsewhere to offset the impact.
Deere, which buys most of its steel from domestic mills, believes it can wait out fluctuations in pricing – especially since many of its steel contracts are indexed on a three- to six-month lag to steel spot prices, according to company spokesman Ken Golden.
"We believe it is possible that the U.S. market has already seen the biggest impact of the tariffs in existing pricing," Mr. Golden told the CBJ in an email. But with the cost of materials representing about 50 percent of net sales of Deere equipment, he cautioned that "if Deere is impacted by increases in material costs, these increases would be considered in future decisions concerning pricing or structural cost reductions."
Volatility in the steel market is making it difficult for smaller companies that don't have Deere's reach and buying power to budget and plan for the future. Cedar Rapids-based Modern Piping Inc., a mechanical contractor specializing in piping, plumbing and HVAC, is struggling not just with rising costs, but costs that shift quickly – sometimes multiple times a week.
"What I would say is our vendors are coming back and some of them have raised rates as much as 5 percent on steel," said Craig Montz, Modern Piping's operations manager.
What's more, he said, "quotes are coming back good for five days only, which becomes a big challenge on our end or on our end user's end. … It makes it difficult to estimate prices because we can't always hold them."
Beating the market
Even though unpredictability in the metals market is roiling Corridor companies, a few, like Peterson Iron & Metal in Coralville, could stand to benefit if reduced foreign competition drives up prices and demand for domestic steel and aluminum. There has already been a "frenzy" of sales activity for steel, said Emily Eckert, general manager for Peterson, which recycles scrap metal for resale.
"Steel, we're just pushing it out the door as people worry about prices rising," Ms. Eckert said, adding that the aluminum market still has some shaking out to do in light of Chinese threats to enact a 25 percent duty on U.S. scrap aluminum. More than half of U.S. scrap aluminum exports land at Chinese ports.
"It's nerve-wracking because we don't know how to price it yet. For now, what we see on the scrap side, we anticipate the aluminum and steel market to rise, but it may not, depending on what happens with 232" – she said, referring to a Section 232 investigation to determine the effect of imports on national security, which the Trump administration used to justify its tariffs.
"I want to wear a shirt that says 'Today's a Gamble,' because we don't know exactly what will happen," Ms. Eckert added. "Not knowing what the market is going to do is something we're not used to."