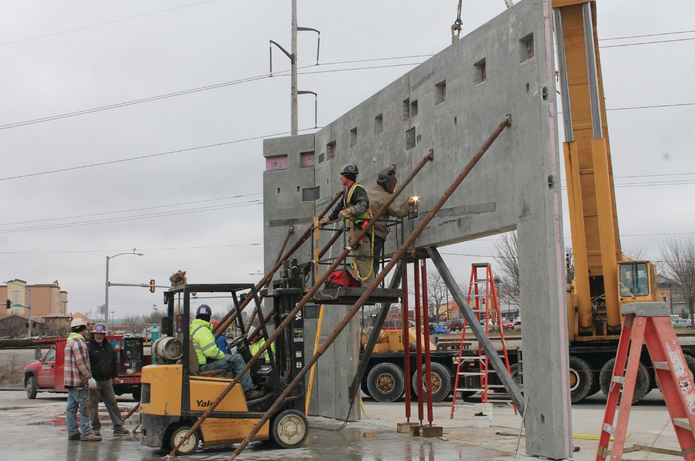 A Zero Energy-produced wall panel is lowered into place on the Coralville Strip in a 2015 photo. PHOTO ADAM MOORE
By Dave DeWitte
dave@corridorbusiness.com
Zero Energy Wall Systems of Coralville plans a financial reorganization with venture capital investors after filing a Chapter 11 bankruptcy petition.
The maker of proprietary high-efficiency wall systems indicated it was forced to file for bankruptcy protection when a lender filed a foreclosure action against it. The business, which employs more than 60, is continuing to operate and take orders.
MidWestOne Bank filed a mortgage foreclosure petition against Zero Energy Wall Systems on March 5, asking that the company be placed under control of a receiver, according to court records. Scott Long, Zero Energy's CEO and CTO, said the petition for reorganization in bankruptcy will prevent foreclosure and allow the company to proceed with plans it already had under way to secure venture capital financing.
Mr. Long said Zero Energy Wall Systems has grown its revenue from $1.2 million three years ago to more than $10 million, has orders booked through the third quarter and is taking orders for the fourth quarter. Although he declined to discuss the issues with the bank in detail, Mr. Long said they arose over the company's rapid rate of growth and how much of it the bank was willing to finance.
Demand for the company's wall systems has been strong, Mr. Long said, and the company's specialized ordering technology makes it a good candidate for venture capital. He expected the venture capital round to close within 60-120 days.
Mr. Long said many creditors have been supportive of the company's goal to bring in venture capital. The company's Chapter 11 filing lists TIF obligations to the city of Coralville, training funds from Kirkwood Community College and Iowa Economic Development Authority assistance as its largest unsecured obligations.
In a later statement to the CBJ, Mr. Long pledged to continue the innovative legacy started by his father and turn the business around.
"My father dedicated his entire life, up to his passing in 2013, to commercializing these products to change the way the world builds. I have worked for 21 years to add advanced manufacturing and CAD/CAM-based systems to the process to assure that this happens," he wrote. "Under no circumstances will I allow a bank dispute to derail 38 years of my family's work to assure more durable energy efficient products are available to the U.S. market. This is an obstacle in the process that will soon be forgotten."