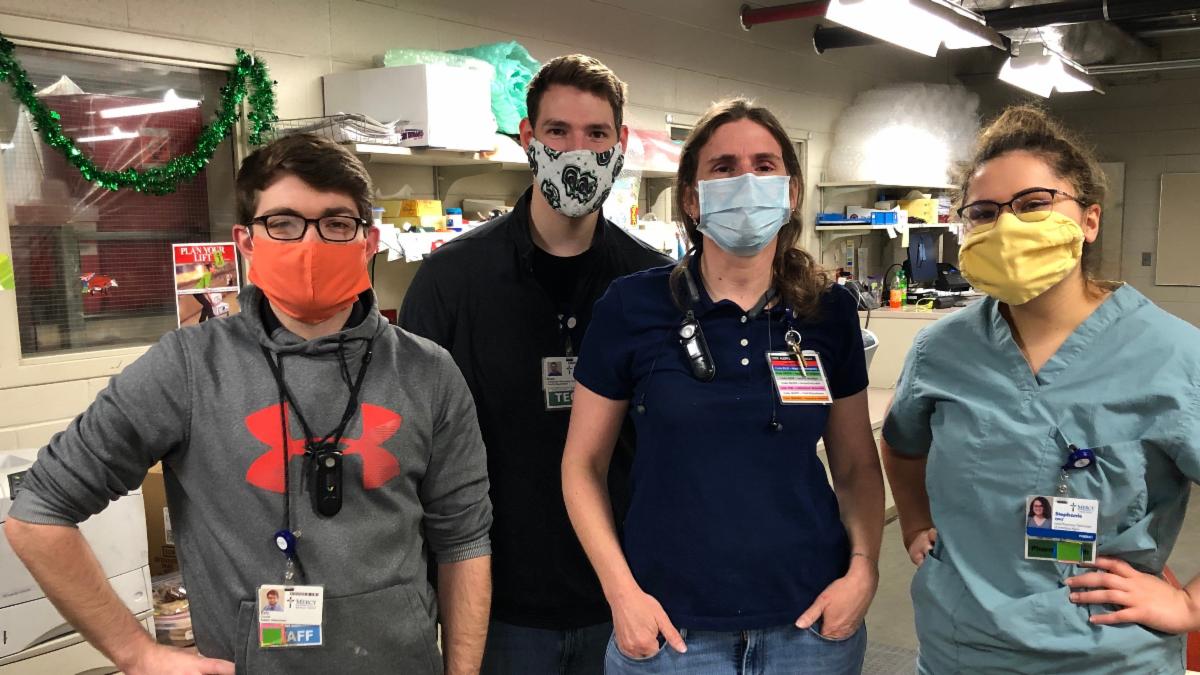 Mercy Medical Center staff show off their masks in a series of social media posts regarding the new "Step Up, Mask Up" campaign. CREDIT Mercy Medical Center/Twitter
By CBJ News Staff
news@corridorbusiness.com
Mercy Medical Center in Cedar Rapids has launched an initiative encouraging employees and community members to wear a mask when outside of the home, as federal health officials begin contemplating the same.
The new "Step Up, Mask up" campaign from Mercy encourages everyone to wear cloth masks outside as a first line of defense in slowing down the spread of COVID-19. Masks can help shield an individual's respiratory droplets from infecting those around them – an important preventative tactic as researchers discover that as many as 25% of those infected may remain asymptomatic, according to a recent NPR interview with Centers for Disease Control and Prevention (CDC) Director Robert Redfield.
"We are incredibly thankful for the sewing volunteers who have stepped forward these past couple of weeks to support Mercy, and other health care organizations, in making cloth masks by the thousands," Dr. Timothy Quinn, Mercy's executive vice president and chief of clinical operations, said in a release announcing the new campaign. "We'd encourage the community to support one another, as well, by making masks for family members, friends and neighbors. As a community, we are at a critical time in reducing the spread of COVID-19. Our goal is to create a wave of support for each other in the community by asking everyone to wear a mask."
Dr. Quinn emphasized that masks cannot supplant hand-washing and social distancing in preventing the spread of the disease.
As part of the new initiative, Mercy is making homemade masks available to its employees and patient visitors as they arrive, beginning today. Those receiving masks are asked to follow sanitary procedures to select, wear and launder them. Hospital officials noted that homemade masks are not to be used as personal protective equipment for staff, but are appropriate for low-risk situations.
Individuals who wish to make masks for Mercy, or for others, may download a pattern and instructions from Mercy's website. Completed masks may be dropped off by pulling up to the hospital's 10th Street entrance and putting masks into a collection box. Drop-off ours are 8 a.m.-5 p.m. on weekdays. Those with further questions are encouraged to contact Isaiah Corbin in Mercy's Volunteer Office at icorbin@mercycare.org.
The debate over community mask usage has been growing as of late. While common in other hard-hit countries, the CDC has stood by its recommendation that only people who have COVID-19, those who may have contracted the illness and their caregivers should use masks, amid fears that it could exacerbate shortages of masks used by health care providers. That hesitation appears to be falling, however.
U.S. Surgeon General Jerome Adams today told ABC's "Good Morning America" that the CDC has been asked to review its guidance on wearing masks.
"We've learned there's a fair amount of asymptomatic spread and so we've asked the CDC to take another look at whether or not having more people wear masks will prevent transmission of the disease to other people," Dr. Adams said. "Even if you do wear a mask, it can't be at the expense of social distancing."
It was unclear if any other Corridor hospitals would be joining the campaign as of this deadline.
It appears that other Corridor hospitals will be waiting for new guidance from the CDC before joining the campaign. UnityPoint Health – St. Luke's, Mercy Iowa City and University of Iowa Hospitals & Clinics all said that they continue to follow CDC and Iowa Department of Public Health guidelines — meaning general mask usage by the public is not (yet) recommended. CBJ
UPDATE: This story was updated April 2, 2020 to reflect complete statements from area hospitals.