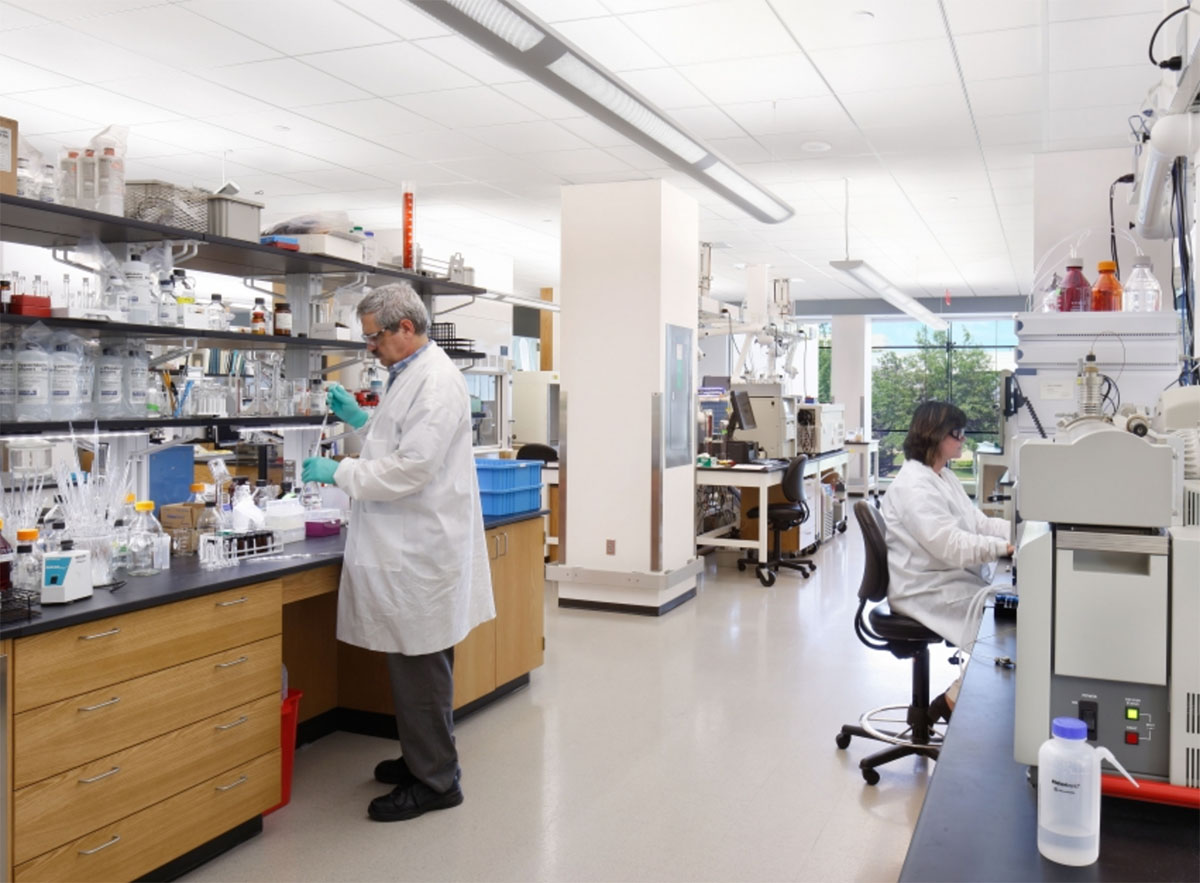 Staff work inside the State Hygienic Laboratory in Coralville in a file photo. The lab is now operating three shifts to meet COVID-19 testing demand. CREDIT HDR
By CBJ News Staff
news@corridorbusiness.com
University of Iowa faculty and staff are receiving an assist from Iowa State University as the demand for COVID-19 testing at the State Hygienic Lab – part of the UI's Office of the Vice President for Research – increases amid the spreading pandemic.
Staff at the lab, which serves as the state's public health and environmental laboratory, have been "working tirelessly" to quickly process the results of tests from hundreds of clinics and hospitals across the state of Iowa, Vice President for Research Marty Scholtz told the UI's news service this week.
The lab has already processed nearly 3,000 tests, as of March 30, and is now working three shifts a day to meet the demand.
They are now receiving help from Iowa State's Veterinary Diagnostic Laboratory (VDL), which is helping to expand testing capacity at the State Hygienic Lab through the sharing of techniques, equipment and the reagents needed for analysis.
The VDL provides state-of-the art molecular diagnostic assays that detect infectious agents of livestock, poultry and pets. It processes upwards of 90,000 cases each year and conducts more than 1.25 million tests annually to ensure the safety of the country's food supply, according to Iowa State's news service.
The additional equipment will allow State Hygienic Lab to run more tests simultaneously and grow its capacity to process a greater volume of tests if, as expected, the number submitted continues to grow exponentially, according to Dr. Karen Harmon, a clinical associate professor in the VDL.
"This means the hygienic lab is in a much better position to ramp up testing as needed," Dr. Harmon said in a release. "To have the opportunity to help a human testing lab in this way has been very rewarding for us."
The collaboration between VDL and the hygienic lab was facilitated by Gov. Kim Reynolds' office and the Iowa Economic Development Authority, according to the news services.
"We're incredibly grateful to Gov. Reynolds, IEDA and Iowa State for helping us supplement our equipment inventory," said Mike Pentella, director of the State Hygienic Laboratory. "With our staff working around the clock, this will allow us to deliver results for more tests more quickly, allowing for the best possible outcomes for Iowans."
Earlier this month, the Iowa General Assembly approved a $525,000 supplemental state appropriation for the State Hygienic Lab, while the Iowa Department of Public Health has provided $375,000 through an amended contract with the lab. CBJ