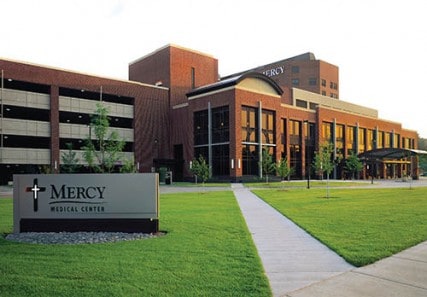 Citing a substantial drop in revenue during the COVID-19 pandemic, Mercy Medical Center in Cedar Rapids has confirmed it is requiring staff furloughs and leaves of absence.
A total of 48 employees are being placed on temporary furloughs, while 157 staff and leaders will be required to take paid or unpaid leave. The hospital said the furloughs are occurring in non-clinical areas and some clinical areas with lower patient volumes, while staffing volumes in high-need area such as those serving COVID-19 patients will remain high.
"This is an exceedingly difficult decision," Mercy Medical Center president and CEO Tim Charles said in a prepared statement released to the news media. "We are mindful of the very human impact this has on affected employees and everyone in the organization. This is not what we had envisioned for this year but, unfortunately, it's something we and so many hospitals are facing right now. Our full intention is that these temporary changes will strengthen our ability to achieve our mission and serve the community well into the future."
The hospital remains financially healthy, but needs to make the cuts to remain so, the statement said. It cited revenue shortfalls resulting from the state's requirement that hospitals suspend elective services last spring, and the slower than expected return of patients for elective services since that time.
"Unfortunately, government support has been limited and has only covered a small fraction of the revenue that has been lost," the statement said. "The signal from Washington is that additional relief will not be forthcoming soon, if ever."
The statement follows recent news that Mercy Iowa City, which is not affiliated with Mercy Medical Center, is laying off 29 staff due to reduced revenues, and closing an inpatient mental health unit.