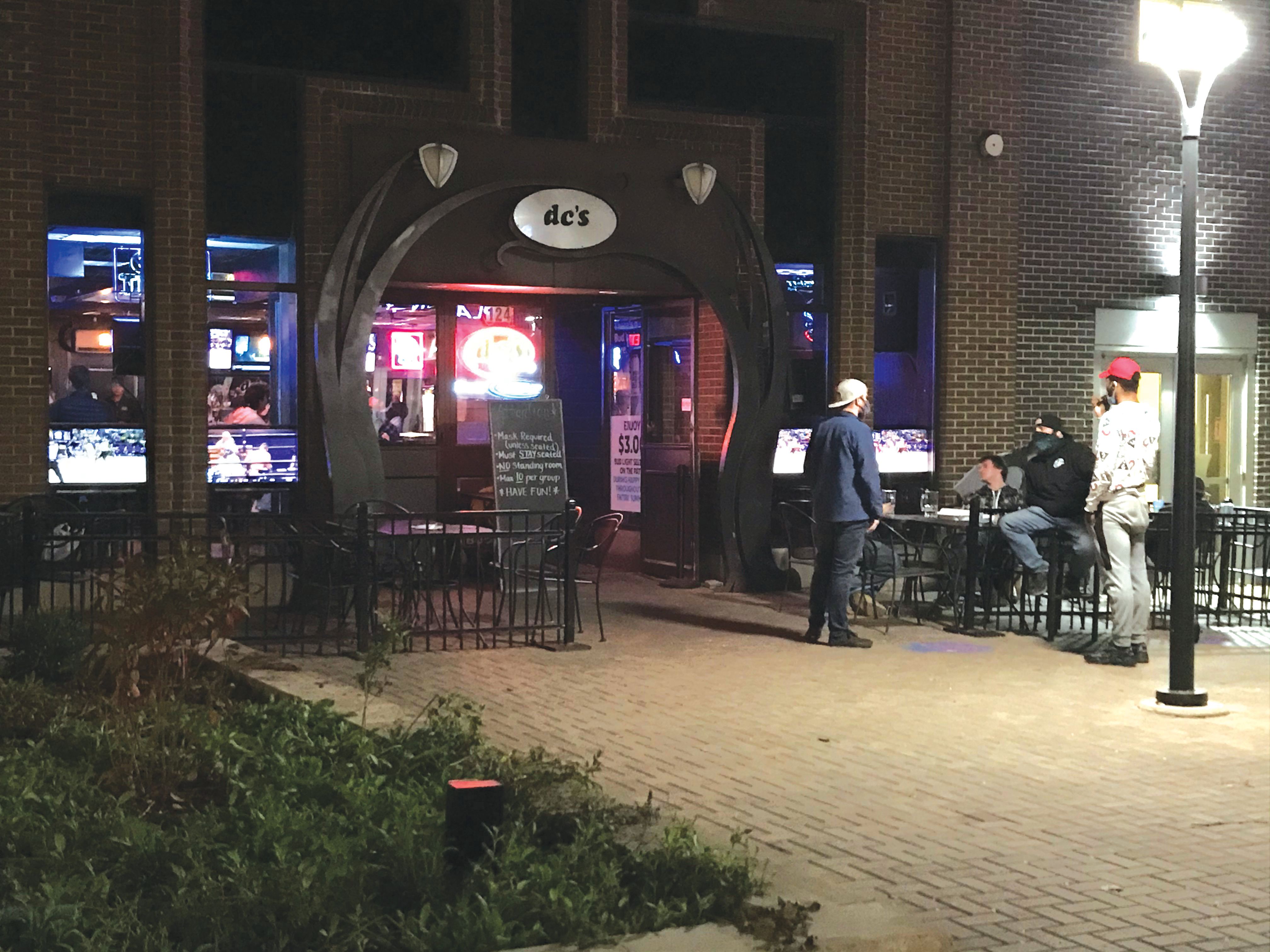 DC's on Iowa City's Pedestrian Mall was serving customers the night of Sept. 30. But bar owners that do not serve food have been closed by order of Gov. Kim Reynolds for five weeks and counting, leaving many of them desperate and demanding answers. PHOTO KATHARINE CARLSON
Five weeks into an enforced shutdown due to a surge in COVID-19 cases, Bob Franklin is staring at expenses of $45,000 for October alone and barely enough sales revenue to cover his monthly insurance payment.
The owner of Elray's Live & Dive at 211 Iowa Ave. in Iowa City, was forced to shut his doors on Aug. 27 after just four weeks of operation when Gov. Kim Reynolds issued an emergency public health disaster proclamation closing bars that don't serve food in Johnson and five other counties for a month.
Though restrictions were lifted early in four of those counties, Johnson and Story counties – home to the state's largest university populations – have remained closed, due to weekly extensions of the order.
For Mr. Franklin, who also owns a national chain of 17 Tin Roof food and music venues, the long, grinding pandemic coupled with the forced closure has meant ongoing layoffs, accumulating bills that include $20,000 a month in rent and expenses, plus $22,000 in property taxes due last week, and "my entire life savings – gone."
"The same government that mandates I shut down also mandates that I keep paying rent, keep paying insurance, keep paying taxes," said Mr. Franklin, who calls the shutdown "PR theater" and bad strategy for containing the virus. "What is the point of sacrificing such small, independent businesses? We are being crushed."
Mr. Franklin is far from alone. Downtown Iowa City bar owners say they are hemorrhaging money, losing staff and throwing away thousands of dollars in inventory each week as the shutdown continues.
They are frustrated with the governor, who has tended to issue week-to-week proclamations announcing the continuation of closings late on Friday afternoons, giving them little time to plan. They are frustrated with state government, which has, so far, offered only one-time grants of up to $10,000 to compensate them for their trouble – not enough, in most cases, to cover their monthly rent downtown. And they are even frustrated with one another – a reality that spilled out in late September when Gabe's Iowa City posted a sign on its door berating competitor Bo James for "not following the rules" and helping spark the shutdown.
Photos of unmasked University of Iowa students congregating outside Bo James on the weekend of Aug. 22 are widely believed by local bar owners to have contributed to the governor's decision to close drinking establishments in Johnson County.
Bo James was one of six businesses cited by the Iowa Alcoholic Beverages Division Sept. 23 for violating aspects of the governor's shutdown order, including maintaining six feet of distance between patrons, failing to ensure drinkers were also served food, and not ensuring customers were seated at a table, booth or bar while consuming alcohol.
Bo James owner Leah Cohen did not return a request for comment from the CBJ.
Iowa City Nighttime Mayor Joe Reilly says he is getting an earful from local bar operators, and he doesn't blame them for feeling singled out and confused.
"There is a lot of frustration about lack of communication, about standards for reopening and why it doesn't seem to be tied to certain metrics. Why are counties with higher positivity rates open?" Mr. Reilly said.
As of Sept. 30, 15 Iowa counties had higher positivity rates than Johnson County, which stood at just over 3.4 cases per 100,000 population, according to the state's coronavirus website.
Mr. Reilly said Ms. Reynolds' Aug. 27 bar closure proclamation was a "day-of" notice that came just as September rent was due. Last week, following another last-minute notice extending the closings another week, owners paid October rent. Six months of property taxes were due Sept. 30. While the state has announced a new round of the Iowa Small Business Relief Grant Program targeted at bars suffering financial hardship due to the shutdown, the maximum award remains just $10,000, which he said would only cover a fraction of business owners' expenses.
"It's strange that there is a targeted closure, but not targeted relief," Mr. Reilly said, adding that most operators went above and beyond to comply with COVID-19 safety regulations, in some cases adding plexiglass barriers at bar areas or between tables and voluntarily closing down when case numbers spiked in the county. Elray's, for instance, delayed opening for more than a month after restrictions first lifted on bars to ensure it was providing a safe environment for customers.
"The community has repeatedly jumped in to rescue itself," Mr. Reilly said. "Now we've invited 30,000 [UI students] back to the county, and perhaps they were not immediately acclimated to this 'new normal.' But this approach is not giving people individual agency to adapt, adopt and manage. They were just shut down with no wiggle room to even try to manage."
Mr. Reilly and others wonder why bars were singled out, while other crowd-drawing businesses such as casinos and shopping malls remain open.
"The issue is completely young adults socializing and they aren't going to casinos or the mall," responded Pat Garrett, communications director for Ms. Reynolds. "That is what the contact tracing is showing us."
Mr. Garrett asked that other questions be sent by email, including what metric the state is using to make closure decisions, whether the state might offer additional financial assistance to impacted businesses, and what bar operators could do proactively to reopen. He did not reply to those questions by this article's deadline.
A lack of communication from state officials has been a consistent source of irritation for Jason Zeman, owner of Eden, Studio 13, the Iowa City Yacht Club and Players, who has been prolific on social media advocating for bar operators and demanding clearer direction from the state on how and why it is making closing decisions.
"I have talked to several bar owners and we want to know: What metrics are used?" he wrote on Facebook after the latest closure extension. "What can we do to reopen? If closing a part of our economy really makes that big of a difference, doesn't it make sense (and would be better financially and socially) to give that portion of the economy a chunk of money, keeping them closed (but financially viable) everywhere until this is over?"
In an interview with the CBJ, Mr. Zeman said he and other owners had made significant investments in safety before reopening. Although the industry has "bad actors," the vast majority of local owners tried hard to reopen responsibly, he added.
"I'm not commenting on public policy, but the issue is basically that we are being scapegoated," he said. "There has been no conversation or justification from the state about what they are doing and why … Why can you drive 10 minutes away to a county where the positivity rate is higher, order a drink, and that's OK? Hundreds of people can pack into malls or casinos and that's OK … How does having a burger in front of you stop COVID? We are just trying to understand what we're looking at and not getting any help."
One thing that would be helpful, according to owners, is knowing before close of business Friday whether establishments will be closed again the following week. Mr. Zeman said he has ordered food inventory several times, only to have to dispose of it due to a late-breaking proclamation.
"I can't order on a Saturday," he said. "This almost feels like punishment and we have no idea what to even look for."
Mr. Zeman said it was impossible to pin the blame for a spike in COVID-19 infections on bars when the UI brought tens of thousands of students back to campus all at once – a sentiment seconded by Brian Flynn, owner of Joe's Place, at 115 Iowa Ave.
Mr. Flynn said he agreed with the governor's initial shutdown of most businesses this spring, "but my gut reaction to the letter put out by the university is that they got it really wrong."
In an open letter to the Iowa City business community in August, UI President Bruce Harreld scolded bar owners, saying he was "exceedingly disappointed" in some of them and chiding them for "your choices to disregard the proclamation from the governor."
Mr. Flynn dug deep to pay extra staff to keep people socially distanced and handed out hundreds of free masks to patrons. To be made the villain of what he said was a predictable spike in cases when students returned came as a "shock."
"The fact you can come into a bar and drink if you order a cheeseburger goes to show [the shutdown order] really doesn't matter," he said, adding that of the 30-40 bars in downtown Iowa City, the order impacts only nine or 10 establishments. "And to give you an idea, we watch people leave [bars serving food] and going straight to house parties."
Like other owners, Mr. Flynn is watching bills stack up, tossing inventory at the last minute and living in maddening uncertainty.
"But the biggest impact is my staff is not able to work," he said. "They are calling and asking, 'Should I be looking for another job?' and I don't know what to tell them … Typically at this point, we'd be four weeks into football season and very busy. This is systematically destroying businesses."
Mr. Zeman said bars and the hospitality industry as a whole needs a robust relief package on the federal level and, at minimum, taxes waived locally if it is to bear the brunt of the pandemic.
For now, though, owners are having to rely on one another. Mr. Zeman, for example, is splitting profits from Players, his only open business because it sells food, with the Deadwood, which remains shuttered.
Deadwood owner Ben Mummey is a friend, he said, but more than that, "People put everything on the line for these businesses. Bars are more than places to get a drink. And Ben was already struggling. He told me, 'If we have to close again, that might be it.'"
Bob Franklin said he is personally at the end of his rope, having spent more than $100,000 since the beginning of the pandemic with little ability to earn.
"Bringing back 30,000 college students to the university caused a spike for some reason and here I am shut down again, owing rent and taxes on a property that can't be used to generate revenue," he said. "We are business owners who have houses on the line. We have families. In addition to my personal expenses, I'm having to carry large commercial business expenses when I've only been able to generate revenue, on a restricted basis, for four weeks."
Mr. Franklin said putting the hammer down on bars is politically popular but ineffective because the only way to stop the virus' spread is "keeping 350 million North Americans from getting within six feet of one another" – something, he said, human nature resists.
"We're still allowed to host private parties and guess what?" he said. "We just had a birthday party and when it was over, they all jumped on a party bus and went to a bar in Cedar Rapids."