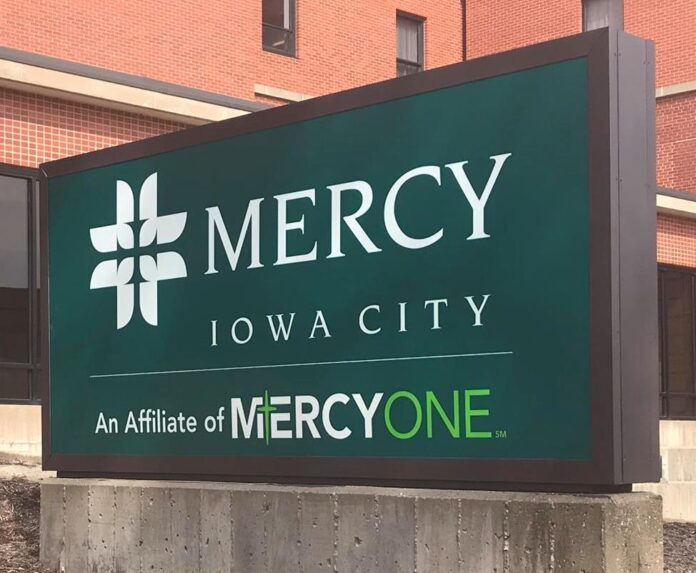 Mercy Iowa City is ending its search to find a new healthcare partner, instead opting to remain affiliated with the MercyOne health network.
A spokesperson with Mercy Iowa City confirmed to the CBJ the hospital is sticking with the status quo, despite "several proposals" from larger healthcare systems. The news was first reported by The Gazette.
"While we have received several proposals and vetted a number of potential partners, we have not identified a partner that is a good long-term fit," said Lisa Steigleder, Mercy Iowa City's spokesperson, in an email. "Therefore, we have made the decision to end our search for a strategic partner and remain an affiliate of MercyOne focusing on serving as the community hospital for the Iowa City area. This focus includes improving our performance, growing our staffing and services, improving facilities, and providing the necessary resources so we can deliver on our healing mission."
The hospital utilized consultant Insight Health Partners to help with overall strategy as the only community hospital in the area. Insight Health Partners completed an assessment looking at "operations, areas of opportunity for improvement and highlighting competitive advantages."
According to Becker's Hospital Review, Moody's Investor Service downgraded Mercy Iowa City to B1 in 2021 to reflect "the near-term challenges that Mercy will face following the large operating loss in fiscal 2020, narrow headroom to the debt service convenant in fiscal 2020 and the pronounced December COVID-19 surge, creating headwinds to retire to historical levels of stronger financial performance."
A B1 Moody's ranking means the business is considered speculative and is subject to high credit risk.
Mercy Iowa City began its strategic affiliation agreement with Mercy Health Network in 2017 before announcing in June 2021 they would explore options to find a new partner.
In June, Mercy Iowa City was named a top performing hospital for treatment of heart attack patients by the American College of Cardiology.
Steindler Orthopedic Clinic also agreed to form a strategic partnership to establish a medical park in North Liberty, officials announced in February. The partnership will serve patients needing high-quality orthopedic care in Johnson County and Eastern Iowa.