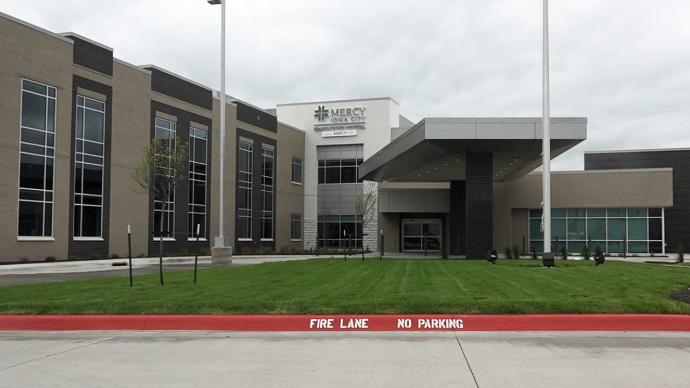 The Mercy Iowa City Rehabilitation Hospital in Coralville on May 20. The new facility is set to open to its first patients on May 28. CREDIT: KCRG
By CBJ News Staff
news@corridorbusiness.com
Kindred Healthcare LLC and Mercy Iowa City, an affiliate of MercyOne, announced Thursday the opening of Mercy Iowa City Rehabilitation Hospital, a 40-bed inpatient rehabilitation hospital in Coralville. The hospital expects to admit its first patient May 28
This is the first freestanding inpatient rehabilitation hospital in Eastern Iowa and the second in the state. In June 2018, Kindred and MercyOne opened MercyOne Rehabilitation Hospital in Clive, a suburb of Des Moines.
Mercy Iowa City Rehabilitation Hospital is dedicated to the treatment and recovery of individuals who have experienced a loss of function due to an injury or illness. The hospital offers intensive, patient-focused, specialized rehabilitation services.
The hospital features all private rooms; a secure, acquired brain injury unit with private dining and a therapy gym; large interdisciplinary gyms; a therapeutic courtyard with golf, bocce ball and varied surfaces, and plants and finishes made possible by the Mercy Hospital Foundation of Mercy Iowa City; rooms specifically designed to treat dialysis patients; and specialty programs dedicated to neuro, stroke, brain injury, spinal cord injury and amputation. The facility also includes a transitional living apartment designed to simulate a residential apartment, to prepare patients for their daily living tasks before they are discharged.
"Mercy Iowa City is known statewide for the high quality of care it provides and its leadership role in working with others to meet health needs in not only Johnson County but throughout southeast Iowa," said Sean Williams, president and CEO of Mercy Iowa City. "We know there is a tremendous need for inpatient rehabilitation care in our service area. By working with Kindred we can provide an extraordinary level of care for patients much closer to home which is beneficial for both the patients and their loved ones."
For more information about Mercy Iowa City Rehabilitation Hospital, go to: www.mercy rehab iowa city.com. CBJ