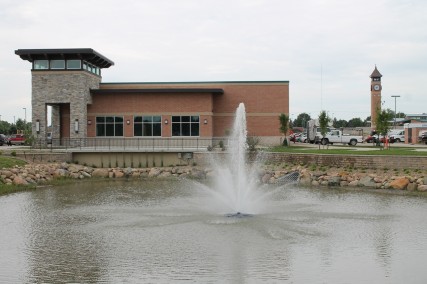 A building in The Fountains development in northeast Cedar Rapids. CREDIT CBJ
By CBJ News Staff
news@corridorbusiness.com
The Accel Group plans to expand and relocate to the second and third floor of a mixed-use building under construction at The Fountains, according to developer Ahmann Companies.
Fusion Architects is finalizing plans for the new office, and Compass Commercial Services broke ground back in April 2020 with a completion date of Spring/Summer 2021. Q4 Real Estate has been working with The Accel Group, Ahmann Companies and The Fountains to broker the transaction.
The Fountains is a mixed-use work/play development on approximately 19 acres, located at the intersection of Edgewood Road, Blairs Ferry Road and the Highway 100 extension. Accel Group will bring approximately 60 jobs to The Fountains with room for future growth, according to the firm.
The Accel Group provides individual, business and benefit solutions across the Midwest, with offices in Cedar Falls, Cedar Rapids, Coralville, Waverly and West Des Moines. Other areas of specialty include its Agribusiness and Wealth Management divisions, and a Claims and Risk Improvement division.
The company's current Cedar Rapids office is at 3100 Oakland Road NE.
"With continued growth and a vision that includes further expansion regionally, we are excited for the opportunity to design and lease a space to better serve our staff and clients," Tim Gassmann, CEO of The Accel Group, stated in a release. "What began as a concept has morphed into a testament of the culture and ambitions of our company." CBJ