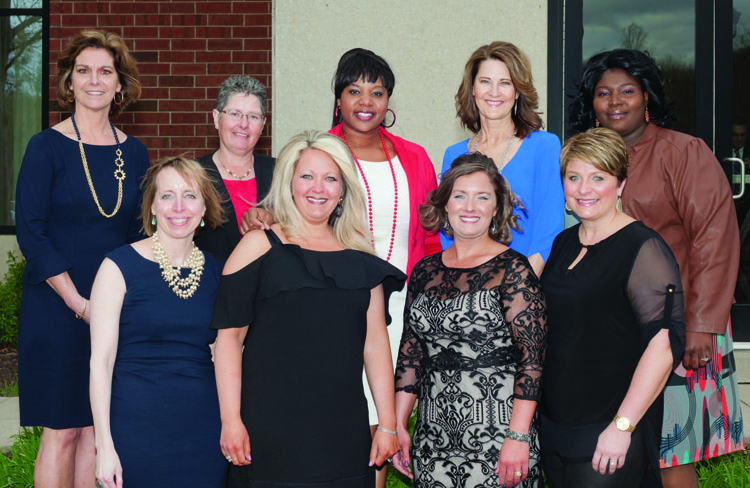 The 2017 class of Women of Influence, shown before the April 20 awards ceremony at the Coralville Marriott.  PHOTO MIRANDA MEYER
By Angela Holmes
angela@corridorbusiness.com
Now in its second decade, the Corridor Business Journal's annual Women of In­fluence program has spotlighted many tal­ented and inspiring women leaders who have dedicated themselves to making our region a better place to live.
Ranging in age from 35-55, the 10 wom­en selected for this year's class have helped shape their businesses and communities through their actions, and continue to set a shining example for future leaders.
As in previous years, nominations were solicited from the Corridor at large, and the completed nomination packets – including résumés, supporting details and letters of recommendation – were given to a selection committee made up of last year's Women of Influence honor­ees. The group then had the task of nar­rowing the field down to 10 women, who were then notified of the honor with a hand-delivered note and flowers.
Once the class was chosen, the CBJ's reporters and contributors had the sim­ilarly unenviable task of boiling down each of these women's extensive and im­pressive résumés to a short profile show­casing their influence and personalities.
You'll find those stories on the pages that follow, and it's our hope that you'll get a sense of just how much these women have accomplished – and continue to ac­complish – in their careers and lives.
Each class in our Women of Influence program seems to develop its own col­lective identity. In working on the fol­lowing profiles and listening to the hon­orees' speeches at the CBJ's annual Women of Influence awards dinner, it became ev­ident that the people surrounding these women have had as much influence on them as they have had on others.
Jennifer Welton, vice president of Bankers Trust, and Cathy Terukina, ex­ecutive vice president of Folience, both es­poused a similar phi­losophy of "you're only as good as the people around you," and spread much of the credit for their accomplishments to their teams.
RaQuishia Harrington, program super­visor for special and underserved popula­tions for the city of Iowa City Recreation Department, spoke of the inspirations re­ceived from her parents.
"From a young age, my parents instilled in me the value of perseverance," she said upon receiving her award. "They've al­ways been there for the community. They demonstrated that foundation."
Alicia Murphy, chief organizational effectiveness officer of Van Meter Inc., spoke of the trepida­tion that came with moving to her hus­band's hometown of Cedar Rapids.
"The Corridor wasn't my home, it was where my hus­band grew up," she said.
But after moving to Cedar Rapids in 2008, she recalled being "overwhelmed by the generosi­ty of the community." The people she met wanted her to love the community as much as they did, but they had one caveat: "If we are going to invest in you, you'd better step up."
She has since answered that call, and now encourages people to pass that inspi­rational message to newcomers and long­time residents alike.
"All of us have the power to use our in­fluence for good. It made all the difference for me," Ms. Murphy said. "I challenge you to step up. The opportunities to get involved are endless. This is a great place to live and being kind to others is an im­portant gift you can give."
Christy Shipley, construction manager for Iowa Valley Habitat for Humanity, said she is inspired every day by volunteers who freely give of their time and talents to help others.
"It's not me being an influence, it's those who have influenced me," she said. "They taught me what it means to give back to the community. If I'm a woman of influence, it is because of those who influenced me."
We hope you'll be inspired by the sto­ries of these 10 women while reading the profiles in this special issue, and take a moment to thank those who have influ­enced you on your path.
2017's Women of Influence: