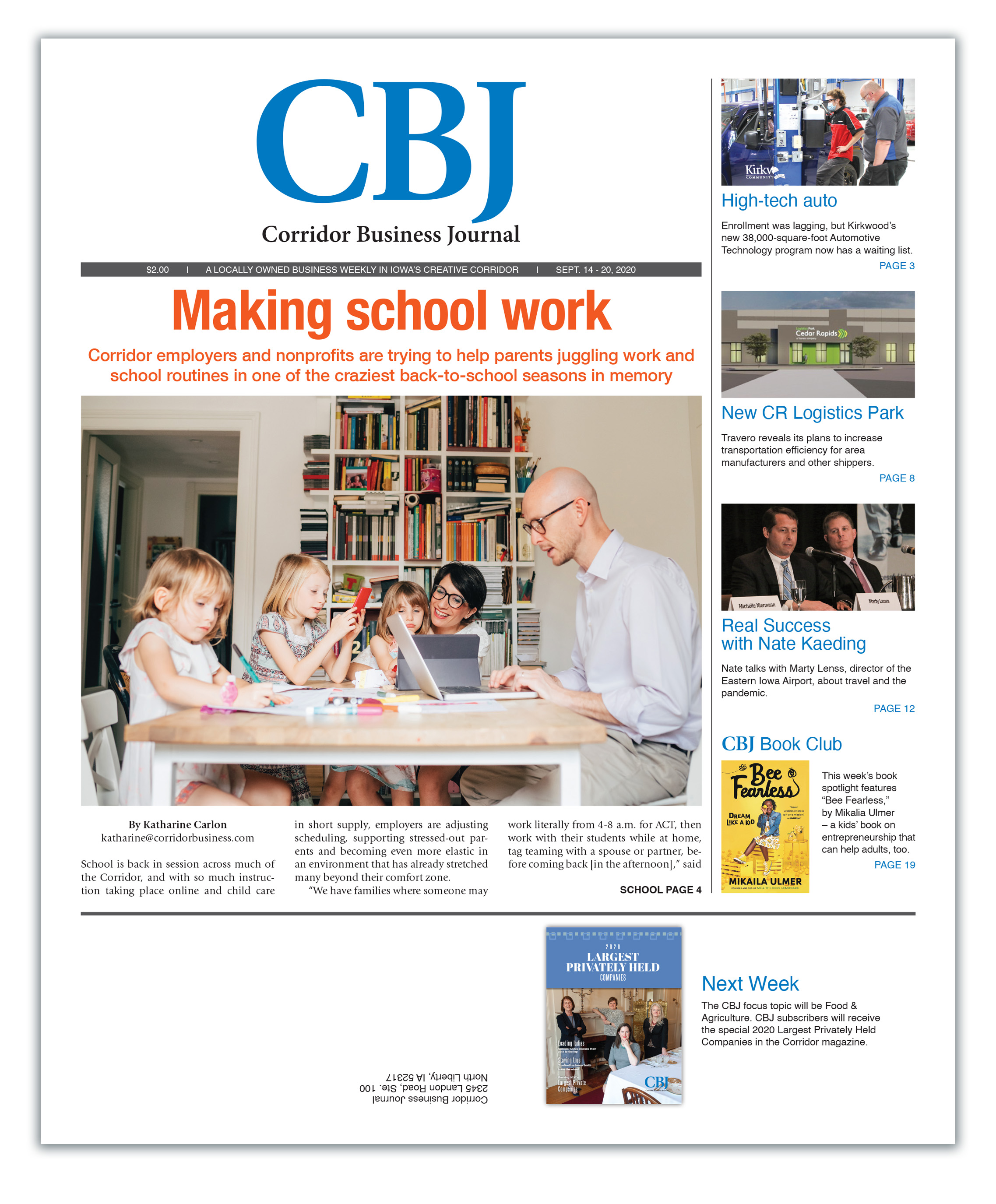 By Katharine Carlon
katharine@corridorbusiness.com
School is back in session across much of the Corridor, and with so much instruction taking place online and child care in short supply, employers are adjusting scheduling, supporting stressed-out parents and becoming even more elastic in an environment that has already stretched many beyond their comfort zone.
"We have families where someone may work literally from 4-8 a.m. for ACT, then work with their students while at home, tag teaming with a spouse or partner, before coming back [in the afternoon]," said ACT Interim CEO Janet Godwin, of one way her organization is handling back-to-school amid a pandemic that will see many children learning at least part-time from home. "We are being as accommodating for different types of schedules as we possibly can."
Ms. Godwin's comments, part of a recent "Business Planning for Fall" webinar sponsored by Iowa City-based Project Better Together, came as school districts across the region prepared to open, with many offering online and hybrid programs that involve a mix of in-person and online instruction. The instructional changes are intended to mitigate the risks of the coronavirus pandemic, but they've left working parents – and by extension, their employers – in a quandary about what to do with kids who would otherwise be in school during working hours.
"I think the most jarring reality of COVID-19, at least for me, with my own students coming home, has been a sudden and dramatic disruption to all levels of education," said Jennifer Banta, vice president of advocacy and community development for the Iowa City Area Business Partnership, warning the disruption could have "deep social and economic repercussions for years."
Organizations like ACT hope to mitigate those repercussions by relieving strain on employees, and a recent business survey suggests others are following suit (see sidebar). About 55% of Johnson County employers are offering flexible scheduling to accommodate parents struggling with child care during school hours, while fewer than a quarter say they are unable to allow any flexibility, according to the survey conducted by Project Better Together, a partnership of the Iowa City Area Development Group, Think Iowa City, the Iowa City Downtown District and the Business Partnership.
Yet, Ms. Godwin said a volatile situation that saw the Iowa City Community School District (ICCSD) sue over Gov. Kim Reynolds' mandate that 50% of classes be conducted in person has made it tougher than it had to be for parents, teachers and employers. The legal tussle laid an extra layer of uncertainty on an already fraught school year.
"I won't lie. This is a very difficult time trying to navigate this," said Ms. Godwin, who also serves on the ICCSD School Board.
It isn't just Corridor schools that ACT needs to be mindful of. With hundreds of employees across the country, navigation involves monitoring local decision-making in a number of regions. The same goes for Iowa City-based MidWestOne Bank, which counts about 800 employees spread across five states.
Soni Harney, MidWestOne's senior vice president of human relations, said the bank learned a number of lessons back in March when it instituted pandemic pay policies to assist parent employees facing immediate school and day care closings and deployed 200 staff to remote work, among other early measures.
"I can't express enough how big a learning curve this was – for our employees, for our managers and for our customers," she said, adding that as soon as lobbies reopened and everyday operations returned to some semblance of normalcy, she turned her attention to assisting working parents, especially those in customer-forward positions. "We knew this was going to be a big thing … probably the biggest thing we learned early on was people were stressed and people knew what was in front of them was very uncertain."
MidWestOne identified about 175 working parents among its staff and created tools for managers to help them develop individual back-to-school plans. The task was made more difficult, in many cases, because school districts themselves were still in the process of determining how they would handle the school year. But by late August, the bank had come up with a set of policies aimed at helping employees care for their school-aged children through flexible work arrangements, reduced work schedules and additional pandemic pay benefits.
"That's in the hands of our managers right now, and already the questions are coming on needing help. It's not easy," Ms. Harney said. "And now in Iowa City … we have increased [COVID-19] spread, one of the top in the U.S., and anxiety levels just went really, really high."
At ACT's sprawling Iowa City campus, just 20-30 people continue to work onsite at any given time, with the remainder working remotely. Ms. Godwin said she doesn't expect that situation to change significantly anytime soon, with recent internal surveys indicating "a large portion of our team member population is really not wanting to come back until we have a vaccine in place and widely available."
The ability to work from home has allowed for flexible scheduling for a large number of employees, who can complete work duties around their children's school day. In roles where that is not possible, such as at ACT contact centers, the organization has tried to think creatively. Although these employees can work remotely, those working phone queues must be available during certain hours of the day. ACT has accommodated parents needing to monitor children in the home by switching them between phone and email queues, which can be handled at nonpeak times of day.
"One thing that could alleviate the need for flexible schedules is if we had good child care options for families," Ms. Godwin noted.
A COVID child care crisis
Unfortunately, that's easier said than done, according to Ms. Banta, who was tasked with bringing more plentiful and affordable child care to the area, even before the pandemic took hold.
Finding child care was already a chore in Iowa – which is tied with Minnesota for the largest percentage of parents working outside the home nationally – and at a crisis point in Johnson County, where 76% of women are in the workforce and there are 2.4 children in need of care for every spot available. Johnson County parents also pay twice the national average for child care, or about $12,000 a year, for a child under four years of age.
"Being a working parent in Johnson County means getting on a waiting list for child care. It means having child care expenses that are higher than your mortgage or your rent," Ms. Banta said. "It also means a conversation about, 'Is it worth me working or should I drop out of the workforce and stay at home to take care of my kids?'"
The coronavirus has added another layer of frustration and uncertainty, thanks to a growing number of outbreak-related closures, leaving parents to make do on the fly. Ms. Banta said an Iowa Department of Human Services official recently told her 43 Eastern Iowa providers were closed at one point during the pandemic.
Rising costs have also made sustainability an issue, with child care facilities suddenly responsible for added safety costs and finding innovative ways of keeping kids physically distanced.
Now, she said, an already stressed child care system is being strained further by working parents asking if there are slots available for older school-aged children while they are remote learning.
"When schools announced they were going online or into this hybrid model, our child care providers' phones started ringing off the hook [with parents asking], 'You have my two-year-old, will you take my second-grader as well?'" Ms. Banta recounted. "Families are scrambling to try to find reliable child care for their school-aged children."
Some providers have been able to set up virtual classrooms and provide a safe space to access school curriculum as well as provide "wrap-around" care when kids are not online or in the classroom, although the cost of that service runs about $200 a week. That's an expense many parents are not prepared to take on.
"The critical conversation we should be having is how is this impacting low-wage earners and, specifically, how remote learning will impact those people who have to be in the workplace because they work on a line, they work in a restaurant, they work stocking shelves," Ms. Banta said. "How are they going to be able to balance that work-life dance we all do?"
NESTS of learning
To help answer that question, the Business Partnership has teamed up to create Neighborhood NESTS (Nurturing Every Student Together Safely) with help from business leaders, community volunteers and area nonprofits, including 4Cs, Dream City, Open Heartland, United Action for Youth and Neighborhood Centers of Johnson County.
Focused on at-risk youth in Johnson County, the initiative is intended to give students a home-away-from home to study and access resources this fall. So far, four NESTS have been established, although Ms. Banta said more could be on the way using a template that conforms to CDC safety guidelines, and offers small groups of students a place to access internet access, tutoring, social-emotional support and other resources.
A fund has been established through the Community Foundation of Johnson County to support the effort.
"Our intention is not to create a school … this is a safe space with reliable internet access, without distractions, with an adult there if they need it, where students can gather for academic success and emotional support," Ms. Banta said. "We're offering a safety net of resources."
Supporting students as they're learning remotely isn't just a matter of helping today's workforce, she noted – it's crucial for the workforce of tomorrow.
According to a study by nonprofit assessment organization NWEA, students returning to school this fall will do so with just 70% of expected gains in reading skills and less than 50% in mathematics. Another study by McKinsey estimates the impact of lost classroom time this year could widen the existing achievement gap for Black, Hispanic and low-income students by an additional 15-20%.
"As our students are about to start the year virtually, experts fear some students may fall off an educational cliff," Ms. Banta said, adding that means "missing milestones, falling behind in grade levels, but most importantly, just dropping out of the educational system altogether."
If there is any silver lining to the pandemic, she said, it is a deeper recognition that education and quality child care matter.
"It's put the spotlight on some more vulnerable parts of our infrastructure," Ms. Banta said, likening child care to roadways. "It's another way for parents to get to work. It's important for our workforce and our children."  CBJ