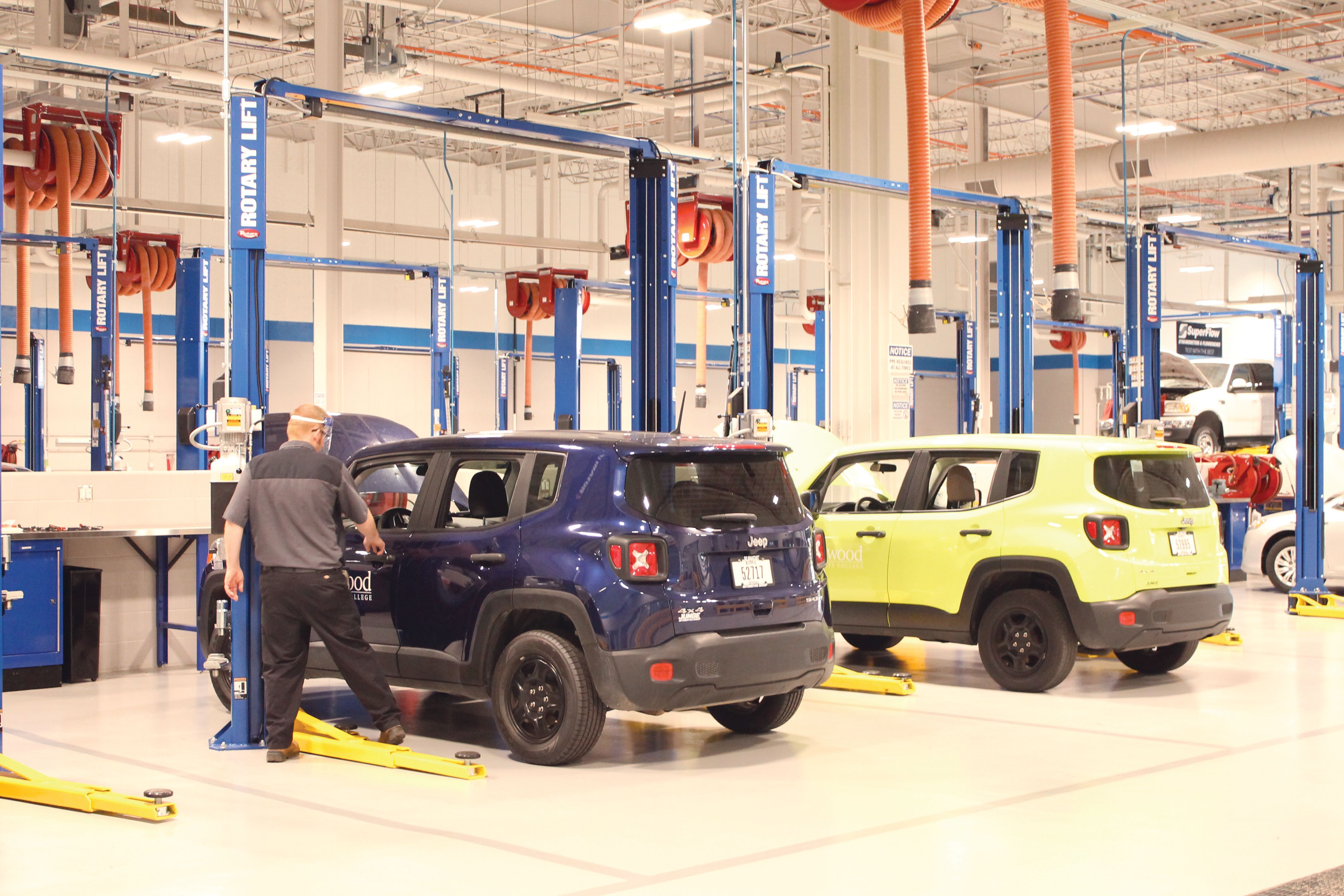 Instructor Jonathon Pope activates "bugs" he installs into vehicle electronics and assigns students to diagnose the problems. PHOTO DAVE DEWITTE
By Dave DeWitte
dave@corridorbusiness.com
When Kirkwood Community College set up a new home for its Automotive Technology program last year, program enrollment was lagging and there wasn't a lot to distinguish it from the offerings of other colleges across the state and country.
This fall, the program's second year in a new 38,000-square-foot facility, there's a waiting list, and it's due only partly to minor class size restrictions due to COVID-19.
The Automotive Technology Center at 101 50th Ave. SW, just north of Highway 30 in Cedar Rapids, is both an incredible setting for learning about cars and a powerful recruiting tool.
"If you're from the automotive industry, you think, 'wow – this looks like the service facility of a huge dealership,'" said Gary Jorgenson, an automotive technology professor who has been with the program for over two decades.
That's no accident.
"We designed it and set it up so it basically mirrors a dealership," Mr. Jorgenson said. "Students learn in an environment that's going to mirror real life."
While there's nearly $1 million worth of new equipment, a surprising amount of the design and equipment is devoted to keeping the combined learning and work environment safe.
Instructors use a GoPro video camera to display their work view on a 65-inch monitor mounted on a cart to avoid crowding around a running engine under the hood. State-of-the-art air quality monitoring equipment and an oversized ventilation system ensures that students aren't breathing in exhaust fumes. And the facility's 34 stalls – almost twice as many as the old facility – have plenty of space between them, so that instructors can observe students for safety reasons, and to prevent bumping into each other or tripping over tools and stands.
Safety has always been a huge issue in automotive tech training, Mr. Jorgenson said, but it's even more of an issue with the new crop of plug-in and hybrid electric vehicles, which have high-voltage electrical systems. When working on the vehicle's electrical components, students wear the same protective rubber equipment that power line crews use to avoid electric shock.
Rubber meets the (stationary) road
"Pretty much any service you can get done at a dealership, we have that equipment and our students are being trained to use that equipment," said Mr. Jorgenson, who was service manager at a major dealership before he came to Kirkwood.
There's even one piece of equipment few dealerships can boast: an in-ground chassis dynamometer, or "rolling road," that can be used to drive a car in place to monitor emissions or performance.
Because Iowa isn't an emissions testing state, dynamometers are mainly used here to evaluate engine performance upgrades, according to instructor Jonathon Pope. However, Kirkwood students go all over the country for employment, and need to learn about emissions control as well.
On a recent Tuesday at the Automotive Technology Center, Mr. Pope was helping students Anthony Akers and Phil Zimmer troubleshoot issues within the electrical systems of a late-model Jeep.
"It's been a rough morning," said Mr. Zimmer, a 50-year-old who decided to change careers after spending most of his life in the Army and as a Veterans Administration police officer. "I didn't think I would ever figure this one out."
Students learn how to diagnose a vehicle's electrical system on classroom simulators, and then move into the shop for hands-on exercises.
Mr. Pope has introduced faults into the electrical system of the vehicles, which can be activated or deactivated by hidden switches he installed. He researches the most common kind of electronic issues that arise, so the faults match those that would be likely to be found on the vehicles students are working on.
The program has a whole fleet of different vehicles prone to different kinds of issues – Fords, Chevrolets, Dodges, Jeeps, Hondas and Toyotas. Students learn how to perform front-end alignments, how to clean fuel injectors and how to machine worn brake parts.
Where have all the students gone?
Enrollments in many auto tech programs slipped during the past few years as the unemployment rate fell and job-seekers pursued other careers they considered simpler or easier, Mr. Jorgenson said. But many individuals have the wrong impression of auto work.
"They don't know how the industry has changed," Mr. Jorgenson said. "When you think of the trades, they think it's going to be dirty, hard work. But now the majority of your diagnostics is in electronics. It's a lot cleaner work, and the pay and benefits are better than they've ever been."
As a result, techs can usually zero in on a problem using the computer diagnostic equipment rather than laborious hands-on testing or disassembly.
"We've had students in computer science transfer over to automotive technology when they realize the technology that's involved," he noted
The return on investment for the educational dollar of an associate's degree in automotive technology is fabulous, Mr. Jorgenson said. Students can typically complete the two-year AAS in Automotive Technology program for $25,000, even counting the thousands it costs to buy the basic tool set students need to work on cars.
By the end of their second semester, Mr. Jorgenson said most students already have a job offer from an independent service facility or auto dealership.
Indeed.com reports that starting auto techs in the Cedar Rapids market make about $19.50 per hour, with about $5,500 per year in overtime. But that's not the whole picture.
"Five to six years out, these guys are making $60,000 to $70,000," Mr. Jorgenson said of those who go to work in dealerships. In addition, "A lot of them want to open their own business. A lot want to work with independents [independent service garages]. We work with all of them."
If a student leaves the Automotive Technology program without a job Mr. Jorgenson said it's usually for one of two reasons. They're planning to complete related studies such as auto body repair or heavy truck diesel repair, or they have a bad driving history that makes them a high insurance risk for the employer.
An award-winning renovation
The building that houses the Automotive Technology Center was acquired from Midland Forge, which for more than a half century made shackles, hooks, chain hoists and other metal castings at the site.
Kirkwood invested about $6.5 million to buy and retrofit the building, using proceeds from a 2017 bond issue. It's such a large building that the automotive program shares it with several training programs under Kirkwood's Continuing Education department.
Architect Monica Davis worked with the automotive technology staff, Kirkwood Vice President of Facilities Troy McQuillen and others to design the facility to meet future needs after years of operating the program in constrained space. At the time, she was on the staff of OPN Architects. Today, she's senior director of construction and facilities planning for Kirkwood.
"I wish you could see how the building looked before," Ms. Davis recalled. "There was dirt and soot everywhere. In terms of insulation, there was almost nothing."
Safety, ventilation and adequate lighting were the top priorities Mr. Jorgenson called for in the new facility. They also had an eye on the latest dealership trends, from their twice-annual meetings with an advisory council that includes several leading dealership and independent shop owners and managers. The design team even visited the new Dave Wright Nissan Subaru dealership in Hiawatha to see what was working well and what wasn't.
Ms. Davis said one of the major challenges was the lack of insulation and energy-saving features in the outdated building. Tackling the energy issues earned the project the 2020 Excellency in Energy Efficient Design Award from Willdan Group, for achieving a 43% reduction in energy usage compared to standard new construction. The award will be presented in a virtual ceremony Oct. 1 to the project team of Kirkwood Community College, OPN Architects and Design Engineers.
Yet another challenge was posed by the floor of the structure itself. Parts of it were cracked and deteriorated from years of use, while another large section could not be excavated because it held more than eight feet of concrete, needed to support the massive weight of Midland's metalcasting equipment. Today it's all smooth and covered by a shiny coat of epoxy.
Key changes to the building included a new air handling system and all-new LED lighting which provides even illumination throughout. The four Automotive Technology classrooms all have overhead doors that can be used to drive a vehicle inside.
Pandemic precautions
Because so much of the training is hands-on, Mr. Jorgenson explained that the Automotive Technology program cannot offer the same online learning option as most other Kirkwood programs. However, the size of the new facility and its classrooms helps.
Meeting social distancing standards, classrooms can hold 14 students, down from a maximum of 20. The vehicle service lifts and other service bays are about six feet apart for safety reasons, which also helps with social distancing.
The Aug. 10 derecho damaged the building, as it did many others at Kirkwood. Ms. Davis said the dynamometer is temporarily shut down because some of the rooftop ventilation equipment was destroyed.
Kirkwood's Automotive Technology program offers a number of advantages beyond a modern facility. Beyond their AAS degree, students can get factory certification and factory training credit with Ford, Chrysler and Subaru that stay with them as they enter the workplace.   CBJ