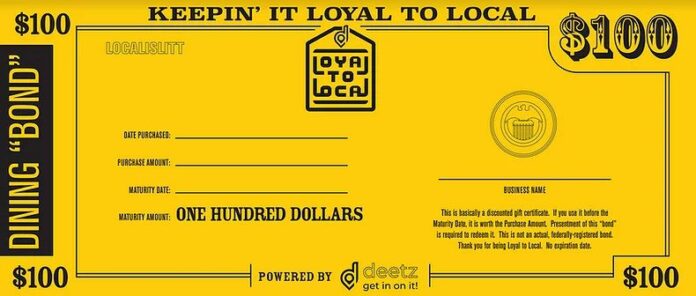 Loyal to Local, a campaign launched in November encouraging the community to patronize locally owned retail shops and eateries, has introduced a "Bond" gift certificate program.
Local entrepreneur Steve Shriver collaborated with local tech startup Deetz to launch Loyal to Local. As part of Deetz' app, the Dining & Retail "Bond" program works like a traditional savings bond, where you can purchase a "bond" at a discounted rate to be redeemed for face value at a future maturity date.
Under the program, 100% of the purchase price will go to the participating business. The purchaser will receive a paper copy of the "Bond" in the mail, and must present the paper copy to the participating business in order to redeem it.
For example, a "Bond" purchased for $75 becomes a $100 gift certificate starting March 1, 2021. The business gets the $75 immediately to use toward rent, payroll and staying in business, and the customer is rewarded for "investing" in the business by honoring the bond at $100.
Loyal to Local is the facilitator of the "Bond," but the restaurant or retailer has agreed to honor the purchase like a gift certificate. The certificates are not transferable, Mr. Shriver said. They have no expiration date.
Mr. Shriver stressed that this is not an actual government-issued bond, but it does have a value. The program is bound by the rules of gift certificates and gift cards, not an actual offer to buy securities under federal securities laws.
For details on purchasing a "Bond" and a full list of participating businesses, visit here.