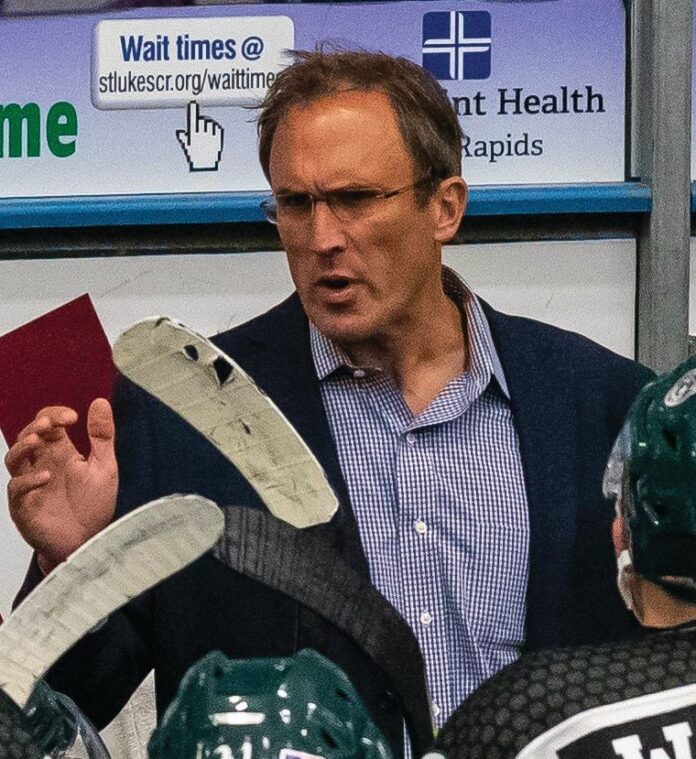 Sponsored by MidWestOne Bank, this is the latest edition of the CBJ's new podcast feature with Nate Kaeding and notable Iowa business and cultural leaders, available first to CBJ members. Listen to this episode below, and subscribe on Spotify, iTunes, Google Play, Stitcher and SoundCloud.
It's fair to say that Mark Carlson is synonymous with the Cedar Rapids RoughRiders.
He's been the USHL hockey team's head coach and general manager since the team was founded in 1999, and has been the RoughRiders' co-president since 2012. He's a native of Lawrenceville, New Jersey, and earned his master's degree in education from Northeastern University in Boston, but now calls Ely home.
He's become firmly ingrained in Eastern Iowa over the last 21 years, due in no small part to his teams' winning legacy. The RoughRiders won the USHL's Clark Cup league championship in 2004-05 and the Anderson Cup regular-season three times, in 2004-05, 2010-11 and 2015-16. Mark was also named the USHL Coach of the Year in 2004-05, 2010-11 and 2015-16, and earned his 600th USHL victory in 2017-2018.
So his hockey chops are well-established. But what struck me most during our conversation was his relentless focus on personal character and passion.
"I know that everybody talks about [character], but to get out and to do the work and to do the research to make sure that you're getting good people that really care about, in our case, the RoughRiders organization," he told me. To us, that's first and foremost. And … having a passion for it and loving what you do and having that excitement every single day. When you combine those two things … it's a lot simpler to have success."
Check out our full, uncut conversation this Thursday at corridorbusiness.com, or wherever you listen and subscribe to podcasts.
How would you describe the differences between leading a business and leading a sports team as a coach?
I've got a huge passion for leadership and management, and I do a lot of reading to get better. And a lot of the books that I've read are a bit on the business side of things, as well. I think there's a lot of things that apply to what I would say are on ice and off ice on the business side and a lot of things are simple  as far as work ethic and teamwork — doing things together, battling adversity, finding a way to get things done on a daily basis.
What are the key tenets of your leadership style that apply both to leading your business and leading your team on the ice?
Well, number one, I would say, getting out there and being relentless every day. There's always a way to find a way to get something done, whether it's getting out and meeting with more sponsors or selling more season tickets. To me, it all comes down to being relentless and getting after it every day. And, number two, is teamwork. And I think one of that's one of the great things about sports and any successful organization is looking at people's strengths and looking at things that maybe they're not great at or maybe the you don't agree with, but bringing those groups together and having that teamwork and getting after it together every day.
Read the full interview with Mark Carlson in the Dec. 7 print or digital editions of the CBJ. Not a CBJ member? Join today.