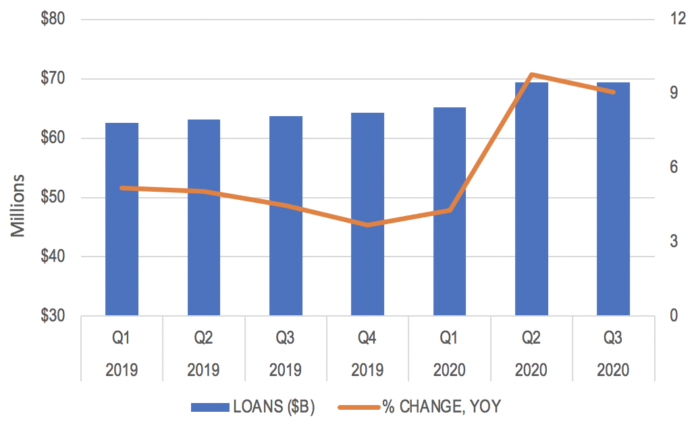 INDEX: A chart showing loans among Iowa-chartered banks through the past seven quarters and the year-over-year change for each quarter. SOURCE FDIC
Iowa's banking industry continues to ride out the rocky economy, with loans up but earnings and credit quality ratios weakening through the third quarter, according to the latest FDIC data.
Iowa-chartered banks reported $69.4 billion in active loans as of Sept. 30 – roughly flat with the second quarter's mark but a 9.1% increase over the prior year.
Credit quality ratios increased slightly, with net loan charge-offs – a measure of debt that is unlikely to be collected – rising to 0.10%, compared to 0.08% in the third quarter. The national average among commercial banks in the third quarter was 0.49%, according to the Federal Reserve. Customers are increasingly falling behind on payments, however, with the percentage of noncurrent loans rising to 0.93%, from 0.73% last year and 0.86% in the second quarter.
Customers also continued to focus on saving amid the uncertainty of the pandemic and recession, with deposits swelling 14% over the prior year, to $84.6 billion.
Year-to-date net income for Iowa's banking industry was $836 million in the third quarter – down 5.3%, or $47 million, from the same point last year. Return on assets, another indicator of overall bank performance, declined to 1.15% from 1.34% last year.
"The performance of Iowa banks rises and falls with the economic health of the communities we serve. Like our small business customers, Iowa banks have shown resilience despite the pandemic-induced challenges and uncertainty we've all experienced," said John Sorensen, president and CEO of the Iowa Bankers Association, in a release. "With hopeful vaccine news of late, we look forward to supporting the economic renewal 2021 may bring."
Nationally, the FDIC said the banking industry reported better results in the third quarter relative to the first half of the year, which coincided with the nation's improved economic activity. Overall, the decline in net income has slowed and deposits have continued to grow, according FDIC Chairman Jelena McWilliams.
"The low interest rate environment, flat yield curve and continued economic uncertainties related to the trajectory of the COVID-19 pandemic will likely continue to exert downward pressure on revenue and challenge the banking industry over the near to medium term," Ms. McWilliams said in a release. "Nonetheless, the banking industry remains well capitalized with ample liquidity and has, to date, weathered the economic effects of the pandemic."