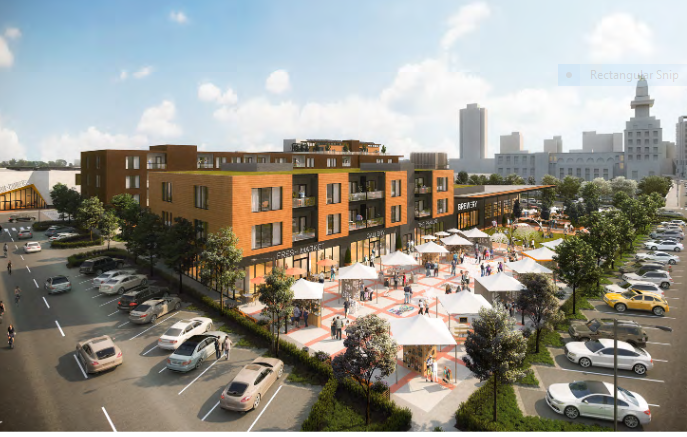 Project view looking northeast from Second Street West and Second Avenue. CREDIT: 1st & 1st LLC
By CBJ News Staff
news@corridorbusiness.com
The Cedar Rapids City Council has chosen a high-profile local development group to enter final talks with for the prominent eight-acre First & First West site the city is offering for development in the Kingston Village district.
The project, proposed by 1st & 1st LLC, calls for spending close to $100 million to develop a Spare Time Family Fun Center, 600-stall parking garage, a 12-screen or larger multiplex cinema, a Big Grove Brewery location, an outdoor plaza and public space, and multi-use buildings incorporating housing and retail.
1st & 1st LLC includes Ahmann Companies, Southgate Companies, entrepreneur and former pro football player Nate Kaeding and restaurateur Matt Swift. OPN Architects, Fusion Architecture and Hall & Hall Engineers round out the project team.
A public-private RFP review panel that recommended 1st & 1st as the developer found its proposal responded to the city's call for a master planned development that would attract people downtown, offer walkability and have public gathering spaces.
City Economic Development Analyst Caleb Mason said the panel considered 1st & 1st LLC a "capable team that has demonstrated experience with similar projects and has the bandwidth to take this on."
During a unanimous decision to support the recommendation Tuesday, Cedar Rapids City Council members also chimed in with their own preferences and priorities. Council member Tyler Olson said the project should take a long-term view and be flexible, because it could take years to complete and market needs will change in that time.
Council member Patrick Loeffler was emphatic that it should include lower-cost housing so that young professionals can afford to move in. Council member Ann Poe emphasized sustainability features, adequate parking for the neighborhood and visual appeal from nearby I-380.
At least one council member called for a pedestrian bridge over First Avenue West to make it safer to walk between the two parcels of the site.
One other developer, Indianapolis-based Flaherty & Collins, submitted a proposal for the site. It called for spending about $63 million to develop one large multi-level mixed-use building in an L configuration, a second building on another block with 200 housing units and surface parking, and a third parcel to be developed with a public plaza. CBJ