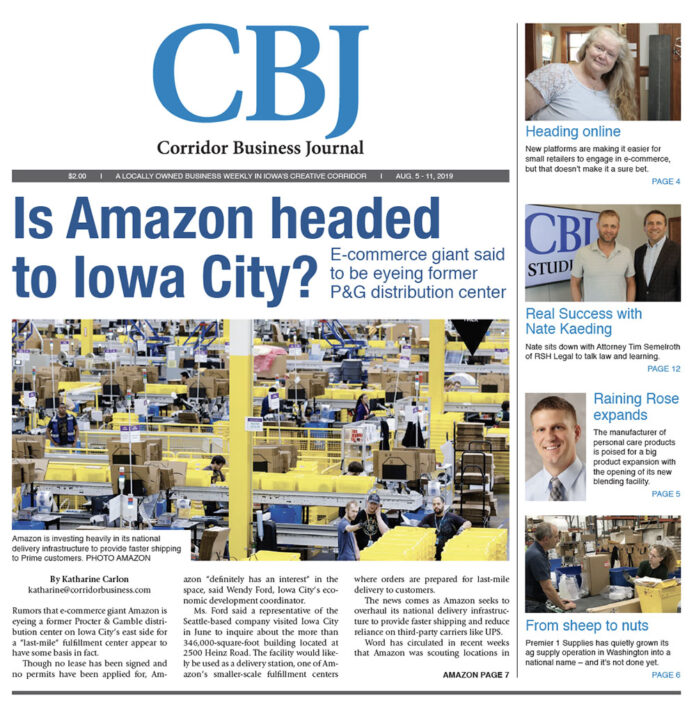 The cover of the Aug. 5, 2019 edition of the CBJ featuring 2019's Best Scoop, "Is Amazon headed to Iowa City?"
By CBJ News Staff
news@corridorbusiness.com
The Corridor Business Journal was honored virtually on June 25 with five awards by the national Alliance of Area Business Publishers (AABP), including three gold awards and a bronze as Best Newspaper – Small Tabloid.
The CBJ received gold awards for:
• Best Scoop, for Reporter Katharine Carlon's region-leading coverage of Amazon's decision to open a distribution center in Iowa City.
• Best Feature, for the 2019 investigative series (Un)Hired Help, which focused on the state's workforce shortage. It was edited by Adam Moore, written by Senior Business Reporter Dave DeWitte and Ms. Carlon, and designed by Becky Lyons and Julia Druckmiller.
• Best Recurring Feature, for the CBJ's monthly print and digital Workspaces feature, which spotlights the region's best in office and workplace design. The column is written by Ms. Carlon, with design by Ms. Druckmiller.
The Fifth Estate, a monthly media criticism column written by veteran journalist Joe Coffey, received a silver award for Best Bylined Commentary, while the CBJ received a bronze award as Best Newspaper – Small Tabloid.
This year also marks the second consecutive award for a CBJ series. The publication won its first-ever gold award in 2019 for "Working for a Living," which examined the challenges facing low-wage workers in the region.
"This is what solid reporting is about. This is what graphic design of that reporting looks like. This is what we talk about at our events," said Associate Publisher and COO Andrea Rhoades. "This is why you want to subscribe to the CBJ, and market your business in the CBJ, because we're the voice of business news."
AABP annually recognizes the best in business journalism from its member publications across the country. This year's competition drew nearly 450 entries, and gave out 124 awards across small, medium and large categories.