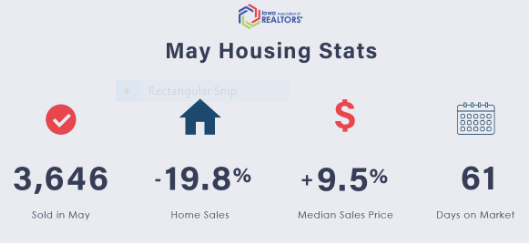 By CBJ News Staff
news@corridorbusiness.com
May home sales in Iowa fell 19.8% according to the Iowa Association of Realtors, as the effects of the COVID-19 lockdown on spring contract signings hit the data.
A total of 3,646 homes were sold in May compared to 4,546 in May of 2019. Year-to-date home sales in Iowa are down -0.8% through May.
The slowdown in May reflected the drop in contract signings during the height of the COVID-19 lockdown in March and April, National Association of Realtors Chief Economist Lawrence Yun, said in a news release. Monthly sales data is based on sales closed rather than new contracts signed. He predicted sales will rise in the upcoming months as the economy reopens.
The available number of listed homes, at 13,274, was down 10.5% from May of 2019, and the number of pending home sales dropped 7.9% from last year, with 4,301 deals pending.
The median sales price of $185,000 for May was 9.5% higher than a year ago.
"Low interest rates coupled with the pent-up demand due to buyers sitting in their house for most of spring makes it a great time to buy a home," Iowa Association of Realtors President Scott Wendl said in a news release. "With most businesses opening back up, we hope June and July's real estate activity will help Iowa's economy recover. I have heard from a lot of colleagues across the state that buyers and sellers have been more active in June. CBJ