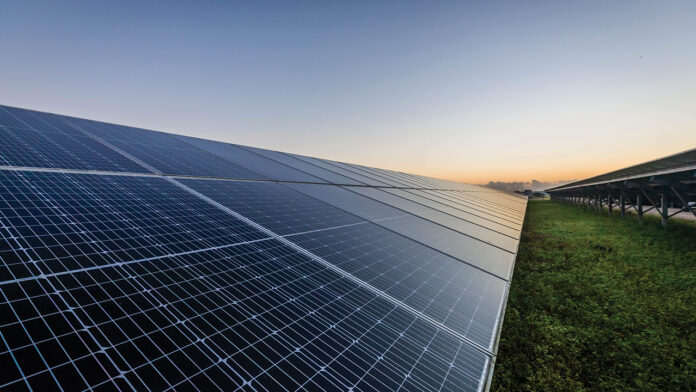 The Linn County Board of Supervisors will hold a public hearing and first consideration Monday, Oct. 3 on an ordinance that, if passed, would place a moratorium of up to 12 months on accepting rezoning applications for the renewable energy overlay district designation for utility-scale solar projects.
The meeting will be held during the Board of Supervisors' regular Monday meeting at the Jean Oxley Linn County Public Service Center, 935 2nd St. SW, Cedar Rapids. Public comment will be taken during the public hearing.
The second reading is slated for Oct. 5, with the third and final reading planned for Wednesday, Oct. 12 All meetings will begin at 11 a.m. at the Jean Oxley Linn County Public Service Center, 935 Second St. SW.
Linn County officials say the solar moratorium will allow staff to closely examine and analyze Linn County's renewable energy standards taking lessons learned from the two recent utility-scale solar rezoning applications – the Coggon Solar project approved in January and the Duane Arnold Solar projects green-lighted in September.
"Linn County's code for renewable energy projects such as utility-scale solar is one of the best codes in the country," Linn County Planning & Development Director Charlie Nichols said in a news release. "We believe we can now make it even better after our experience with the two recent rezoning applications from Coggon Solar LLC and Duane Arnold Solar LLC."
If the moratorium passes, Linn County's Planning & Development Department will create Renewable Energy Review Committees to help look at specific areas of the renewable energy code including, but not limited to, setbacks, vegetation, screening, agrivoltaics, and battery energy storage systems – all of which generated debate during the county's consideration of the Coggon Solar and Duane Arnold Solar projects.
The committees will begin meeting in late October or early November to help evaluate code updates and have input on the updated code.
"The review committees will include Linn County residents, subject matter experts, and conty staff," Mr. Nichols said. "Together, we will review our current code and identify specific areas where we can make it even better than the current version."
Members of the public interested in being considered to serve on the voluntary review committees should complete an application available at this link on Linn County's website: https://www.linncountyiowa.gov/FormCenter/Planning-Development-6/Renewable-Energy-Review-Committees-148 or call Planning & Development at 319-892-5130 for a paper application.
For more information on the utility-scale solar permitting process in Linn County, go to www.LinnCountyIowa.gov/SolarFarms.