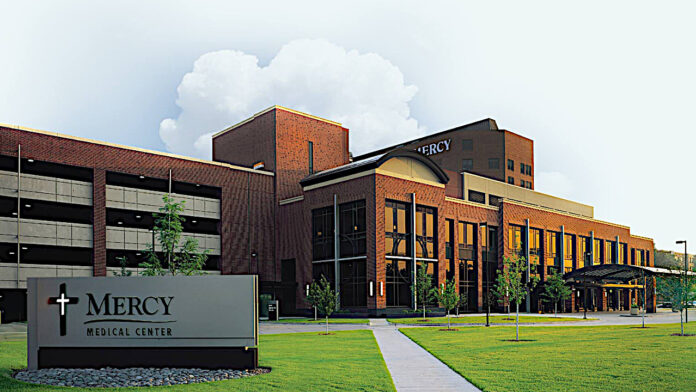 As work continues on the Jewel & Jim Plumb Heart Center at Mercy Medical Center in Cedar Rapids, the next phase of construction will involve the placement of a skywalk over Eighth Avenue SE. When completed, the skywalk will connect the Heart Center to level 1 of the hospital.
Beginning Monday, Oct. 3, and lasting several weeks, skywalk construction and related work will result in modifications to traffic patterns on Eighth Avenue SE:
Eastbound lanes of Eighth Avenue SE between Eighth Street and Tenth Street SE will be closed first, reducing traffic to two lanes with access to Mercy from Eighth Avenue until  Oct. 20.
From Oct. 20-24, all lanes will be closed on Eighth Avenue between Eighth Street and Tenth Street SE. That weekend, large cranes are scheduled to hoist the skywalk into place. Eighth Avenue will reopen on Oct. 24.
A section of Eighth Avenue will remain open for ambulance access to Mercy's Emergency Room. Road closures will occur throughout the construction of the skywalk over the course of the next several weeks to months.
Mercy broke ground on the Heart Center in September 2021. The facility, scheduled to open in mid-2023, will offer integrated, patient-centered care and state-of-the-art technology. Funding for the facility was made possible through an estate gift from the late Jewel and Jim Plumb of Cedar Rapids. Ryan Companies US, Inc., designed and is building the Heart Center.
For more information, visit www.mercyheartcenter.org/construction.